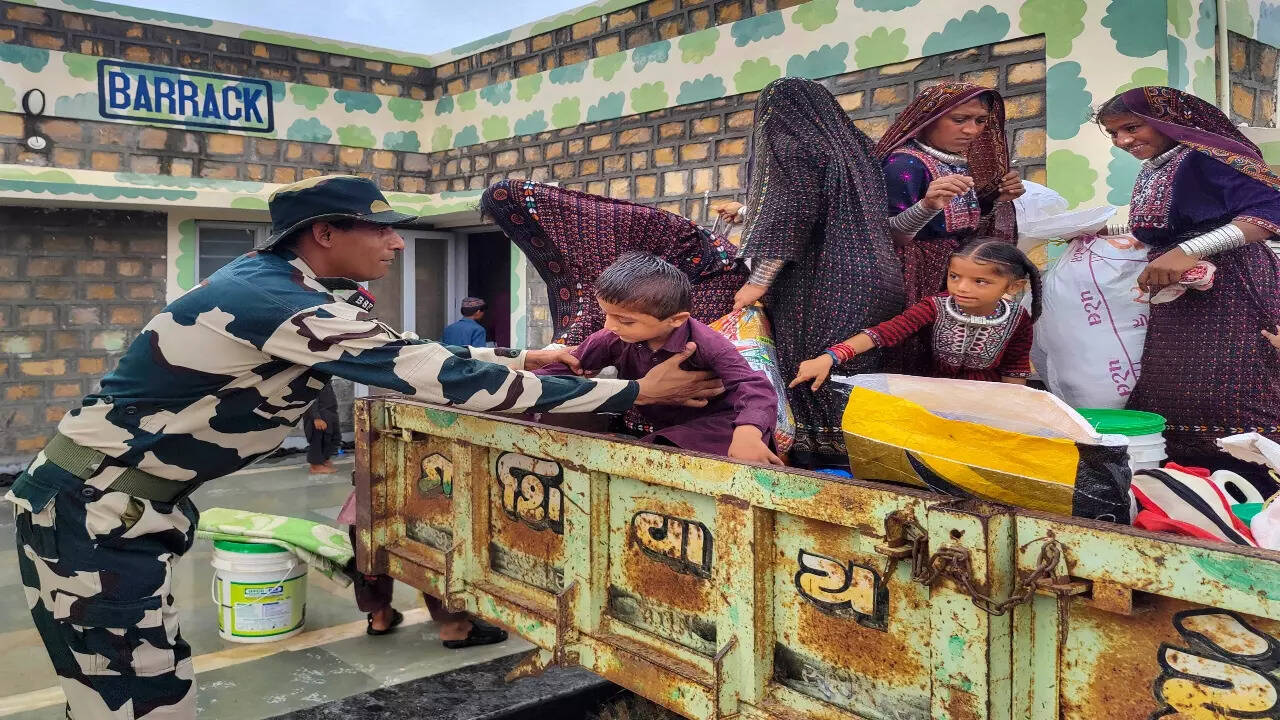 MANDVI (KUTCH): Often hailed for the resilience of its people and for scripting industrial success after rising from the 2001 killer earthquake, Kutch once again faces nature's wrath as Cyclone Biparjoy is set to muscle its way into the desert district on Thursday with a ferocity that can cause widespread damage.
On course to becoming possibly
the cyclone with the longest lifespan in recent times in the Arabian Sea
, Biparjoy is expected to crash ashore between Karachi (Pakistan) and Mandvi (Gujarat), with its centre most likely to pass near the fishing port of Jakhau (in Gujarat) between 4pm and 8pm, packing winds of 125-135 kmph and gusting up to 150 kmph along the districts of not just Kutch, but Devbhumi Dwarka, Porbandar, Jamnagar, Rajkot, Junagadh, and Morbi, too.
The cyclone is expected to completely flatten thatched houses, uproot electricity, inflict severe damage to roads, flood escape routes, disrupt railways, overhead power lines, and signalling systems, hit visibility severely due to salt spray, damage small boats and country craft and cause massive damage to standing crops and plantations. Districts that will face these consequences include Kutch, Devbhumi Dwarka, Porbandar, Jamnagar, Morbi and Rajkot, an IMD bulletin said.
Various government agencies are working overtime to ensure "zero casualty". Of these, some 36,000 were in shelters in Kutch alone, brooding over losses that the storm would inflict on their livelihoods.
Gujarat commissioner of relief Alok Kumar Pandey said 5,000 more people had been shifted by late evening. On Wednesday, entire Saurashtra region – about 66,000 sq km across 11 districts – and Kutch bore a haunted look as big vehicles were completely off the roads and people had been forced indoors by gales, lightning, and rain. In all, 32 talukas in 12 districts experienced a wet spell, albeit light to moderate.
IMD DG Mrutyunjay Mohapatra said, "The cyclone had become very slow, practically stationary, on Wednesday morning. This is an indication that the direction of movement of the cyclone will change now. We are expecting that it will move towards the northeast and hit Saurashtra, Kutch, and adjoining Pakistan between Mandvi and Karachi, near Jakhau port."
Defence minister Rajnath Singh, who spoke to the three service chiefs, said the armed forces are ready to provide every possible assistance to civil authorities.
– With inputs from Vishwa Mohan in New Delhi