NEW DELHI: A day after Prime Minister Narendra Modi's strong pitch for a uniform civil code (UCC), Aam Aadmi Party (AAP) on Wednesday broke from the opposition ranks to extend "in principle" support to the proposal, citing Article 44 of the Constitution, even as Congress called it a tactic by an "agenda-driven majoritarian government" to divert attention from its failures.
Although
AAP qualified its support
by stressing the need for consultations and consensus, it stood out among the opposition parties, which attacked the idea of UCC itself. Shiromani Akali Dal (SAD), a former NDA constituent, also
rejected UCC, saying it would impact minorities
and tribals. DMK, JD(U), NCP and IUML attacked the PM, although AIADMK withheld its response. NCP also said such decisions should not be rushed through.
"AAP supports UCC in principle because even Article 44 (of the Constitution) supports the idea of a UCC. But the government should bring in UCC only when there is a consensus among stakeholders," the party's national general secretary (organisation) and Rajya Sabha MP Sandeep Pathak said on a day when Law Commission chairman Justice Ritu Raj Awasthi (Retd) said 8.5 lakh responses had been submitted since the commission sought public consultation on the fraught issue on June 14.
Taking a contrasting stand, Congress functionary P Chidambaram said UCC could not be forced on people as it would "widen divisions". He claimed the PM was batting for it only to divert attention from the government's failures and accused BJP of using UCC to polarise society ahead of the 2024 elections.
He said that it was intended to "divert attention from inflation, unemployment, hate crimes, discrimination and denying states' rights".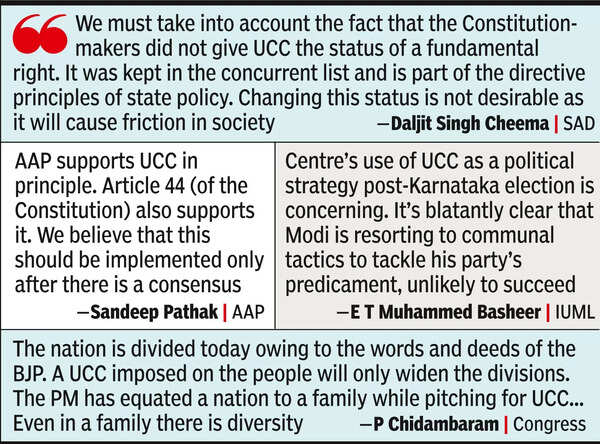 BJP's TN ally ADMK coy on UCC, JD(U) calls it a 'stunt'
The Constitution of India recognises diversity and plurality among the people of India," he said.
SAD spokesperson Daljit Singh Cheema said, "SAD believes that the country's civil laws are influenced by faith, belief, caste and customs, and are different for different religions, a character that should be preserved for protecting the social fabric as well as the unity in diversity." He accused the AAP of exposing its anti-minority face by supporting the UCC.
Taking a swipe at opposition parties, BJP's Mukhtar Abbas Naqvi said the time had come to make UCC free of "communal crafters" as it was not for any particular community but for the entire society. He said Congress should clarify whether it stood with the constitutional commitment to UCC or was part of the "communal conspiracy" against its implementation.
JD(U) called the PM's statement a "political stunt". "Our party considers it a political stunt for the upcoming general elections and Modi's recent statement has nothing to do with the welfare of the minorities," JD(U) chief spokesperson K C Tyagi said. In Tamil Nadu, while DMK asked BJP to first introduce a uniform code for Hindus, AIADMK, an ally, was careful in its response.
DMK spokesman TKS Elangovan said, "The government has no authority to violate fundamental rights. If they want to bring in UCC, let them first start with Hindu religion where some people are denied temple entry and not allowed to perform puja."
AIADMK leaders, however, preferred to leave it to their general secretary, Edappadi K Palaniswami, to take a stand.
The Sharad Pawar-led NCP said broaching the issue of UCC ahead of elections was a political ploy. "We have neither supported nor opposed UCC. We are only saying that such a big decision should not be rushed through," NCP working president Praful Patel said."Suddenly, after nine and a half years, the government is now talking of UCC," he added. IUML said the talk of UCC was an "attempt to set a poll agenda". which could have serious consequences.
Watch "PM Modi actually speaking about Hindu Civil Code," says AIMIM Chief Owaisi on UCC remark