Abhishek Bachchan
completes 23 years in the industry on June 30. It's been so many years in the business and the actor has certainly come a long way. Off set, he seems elusive (in a good way), in the last few years. That explains why it's such a pleasure to sit down with him and have this freewheeling conversation about his journey and the person he is. There are several layers to him which one discovers as you begin talking to him.His aura is felt, just as you enter the room, just like his father and only those who've been in a close proximity with him, can sense that. As we settle down to have this conversation on a sunny yet breezy Monday afternoon, AB dons a very casual avatar in a black hoodie and jeans and greets us with a warm smile. Here's presenting AB in a rare, all-heart chat with ETimes. Excerpts:
On June 30, it'll be 23 years since '
Refugee
' released. Does that sink in? How do you see this transition from a naïve boy to a more settled actor over the course of these years?
It's weird. If we sit here today and if I reflect, it doesn't seem like 23 years. As a number, it sounds huge. That technically means that when Refugee released in 2000, I looked at actors from my parents' generation. My father started in 69, but a lot of others like Rishi Kapoor and all started in the mid 70s. So, when I started out in the 2000s, for me those people were legends. I'm not saying by any stretch of imagination that I'm a legend, but talking in terms of the seniority and years spent within the industry. When I reflect upon it today, I'm like, 'Wow! I've been around for a long time and it just feels like a flash'. I feel as excited and invigorated and up for the challenge as I was 23 years ago. But I feel that experience in front of the camera. When the camera rolls today, I feel a lot more settled. Those butterflies aren't there during the take, they're there before I get on to set. I would say I'm a bit more controlled over my craft and a bit more controlled over my faculties in front of the camera. That comes only with experience. In front of the camera, you realise that you've been in the rodeo for a long time to be comfortable with the surroundings. You aren't fully comfortable and that you should never even be, but there's a lot more understanding. But the minute I get off set, and if someone asks me, I can't believe it's been 23 years because the memories are just so fresh!
Apoorva Lakhia said in an interview recently that 'if Salman Khan is Superman, Shah Rukh Khan is Spiderman, then Abhishek Bachchan is the Batman of the industry and he is my superhero'. Your reaction?
I'm very embarrassed. Apu is family for me. From the first time we met, when he came to pitch 'Mumbai Se Aaya Mera Dost' to now, he instantly became family. He's been a part of my life for over 20 years. He's a close collaborator of mine, he's like my elder brother. He's a part of every momentous occasion in my life – be it my wedding or my daughter's birth or any milestone. He's considered family at home as well. So, I think his emotions towards me may have made him say that.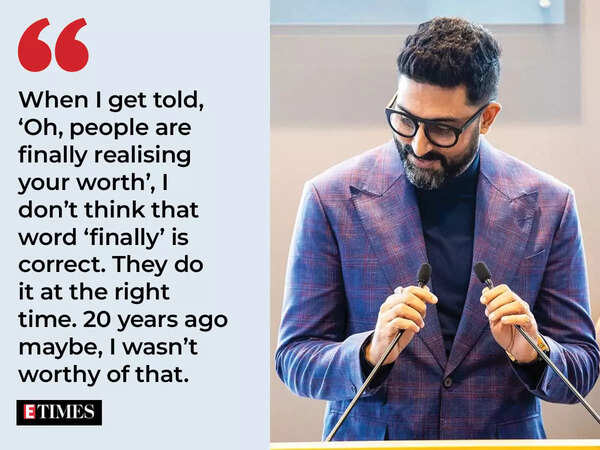 You're being modest! But do you feel that very few people have been able to truly understand you perhaps?
No, I think each to their own. I will respect his sentiments and thank him for it. I know where it's coming from and it's coming from a good place. You're immensely blessed and lucky if in life you have more than five people in your life, apart from your family that become like family. You're very lucky if you can do that. To be able to have the privilege of meeting such people and have the privilege of sharing that bond where they become family is a blessing, more so in today's day and age where it's become a lot more insular. I consider myself very lucky, because I have, not just a handful but two-three handfuls of people who if I call at 4 in the morning if I'm in trouble, they will show up. It makes me feel very good because it means that you've done something correct and hence they've reciprocated. I'm very lucky to have friends like Apu who are also within the industry and I thank him for that.
In retrospect, how do you look back at your journey, the highs and lows today?
When you're in your youth, it's like you against the world, because you're starting off and want to prove something, but sometimes in life, things don't go your way or as you planned them. Only with some experience and maturity, you realise that it wasn't that things weren't going your way, they were just going as per the plan. It's just that you weren't looking at it in the right way. A saying goes, there are no mistakes, they're just learnings and only time and maturity teaches you that. Today I feel and if anyone asks me, I tell them that it's very important to fail because failing will help you become a better version of yourself. Failure or not achieving your goal at that point of time is the world's way of telling you that you're not ready for it or not worthy enough, so work on yourself more. If you ask any great sportsman, they'll tell you the same thing – before they made that last winning shot, they've missed 10,000 before that, but it's those 10,000 which prepared them for that one winning shot. Everyone has their own way of looking at it. When people come and tell me, 'Oh people are finally realising your worth', I don't think that word 'finally' is correct. They do it at the right time. 20 years ago maybe, I wasn't worthy of that.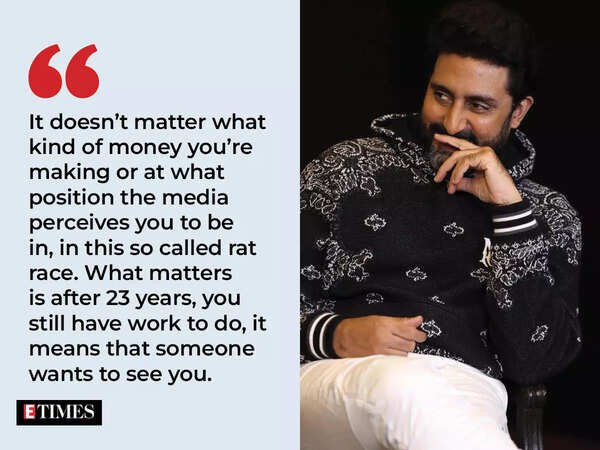 Not worthy of it? In 2004, you had five movies – Run, Yuva, Phir Milenge, Dhoom and Naach and all the characters were starkly different from the other…
If you allow me, my immodesty, there was Run, Yuva, and then Phir Milenge and Dhoom on the same day. Then Naach was followed by Bunty Aur Babli, Sarkar, Dus, Bluffmaster in 2005. In 2006, there was Kabhi Alvida Naa Kehna, Dhoom 2, Umraao Jaan. And then 'Guru' in 2007. But isn't it how it should be?
Any other actor would have really made a big deal about it!

I find it very uncool to just tom-tom about myself and at the end of the day, I'm a film actor and my audience decides my fate and future. They're the only people who will do that. It's not going to change by me giving 30 interviews. I say this to a lot of younger actors, that if you can continue to be an employed actor for a long period of time, it's a huge feather in your cap. Nobody does you favours in the industry. I've been on both the sides of the coin. It is a very cut-throat industry because in the end, it's business and all business comes down to the fact that – is this person making me money? Is this person saleable? You're not going to get a job if you're anyone's kid or friend. If you've managed to be around for a sizeable amount of time, you've done something right and that's your greatest endorsement. That's an endorsement of the audience. In my case, even after 23 years, I'm working, it means people want to see me. There's no greater honour than that. It doesn't matter what kind of money you're making or at what position the media perceives you to be in. In this so-called rat race, what matters is that after 23 years, you still have work to do, which means that someone wants to see you. What greater endorsement do you need than that? By me talking about it, is not going to change a thing. Plus I find it really crass to tom-tom about myself.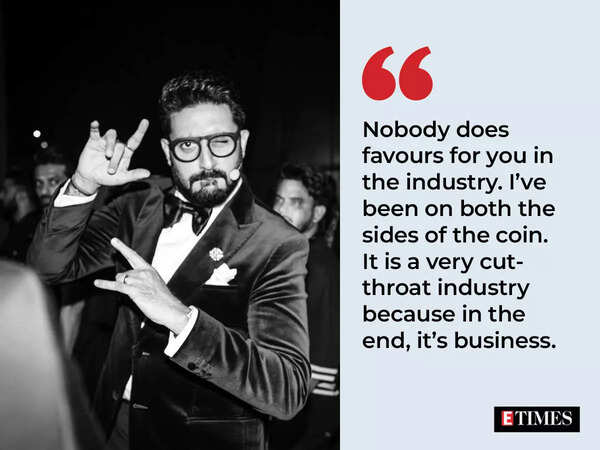 While you say that every knock at the door counts eventually in the long run towards the victory shot, did it require a lot of patience?
Life teaches you patience. You have to keep believing in your dream, hold on to that, not allow anyone to deter you from that. That itself is an exercise in patience. Every time you start to get ahead of yourself, the world has a wonderful way of telling you, 'okay slow down'. That's life, there's nothing special about that.
Are you comfortable seeing your earlier work as you grow with time?
I don't like what I see because maybe I've grown so I think of so many things I could have done better or been more prepared. There's always that frustration in you as an actor that I wish I had more knowledge then or the abilities that I have today, then.
Do you feel the same even when you see something like 'Guru' which is considered your best work so far?
More so in 'Guru' than all the other films because 'Guru' is one of the first characters where you could completely sink your teeth into. It had so many layers, there's so much you could have with it. So, I feel I could do so much more with it now when I see it.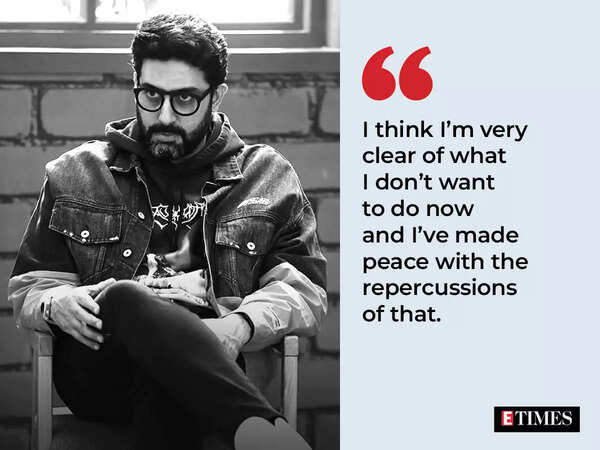 AB, you've told me earlier that when you started out, you were slightly more western, more subtle in your approach as an actor. I also felt perhaps, not many directors could tap on to that side or portray it well on-screen. But now with OTT, has that changed?
Things have certainly changed, for better or worse, I'm nobody to comment on that. The audience is consuming a variety of content and nobody is above them. Maybe because I was educated abroad, my mannerisms and everything was influenced by my western upbringing and that conflicted with the work I was doing at that point of time. Early on, in my career, there were only one or two directors who had that sensibility so there was a comfort zone in that, someone like say, a Rohan Sippy. When we did 'Kuch Na Kaho', we studied in boarding school together, we both had our sense of comedy or our sense of timing was a bit western. Then if you see 'Bluffmaster', at that point of time the body language was something that you need to serve up to the audience where Rohan and I would just hold back. But that's something you need to change because what we learnt from that was that you are making a film for someone else, so you need to speak to them in a language that they want to be spoken to. By and large, you have to cater to their wants and desires, even if you push the boundaries.
Go on…
Obviously, with first satellite coming in, if you see the history of cinema, our cinema is unique. But there was a larger western influence which started coming in the 90s when we started making these NRI romances with DDLJ and Kuch Kuch Hota Hai. But that's also because the Indian audience's taste started changing because satellites came in and they were exposed to western content on television. That kept increasing and today with the digital revolution, with the press of a button, you can watch movies from five different continents within the same hour. You are exposed to that kind of creativity and all those voices you process in your own Indian way. Indian films will also adapt and evolve, somewhere intrinsically, we still hold on to what makes us Indian and we should never lose that, I hope we don't. But with that, the tastes are also changing and as an actor I also have to evolve with that. Today your performance has to be on a global level, especially when you're working on OTT because if your performance is not good, then they will switch to another Indian show or a Korean show or Spanish or American or French content. So, you're not confined as an actor, there's more freedom. So, the tastes will keep evolving.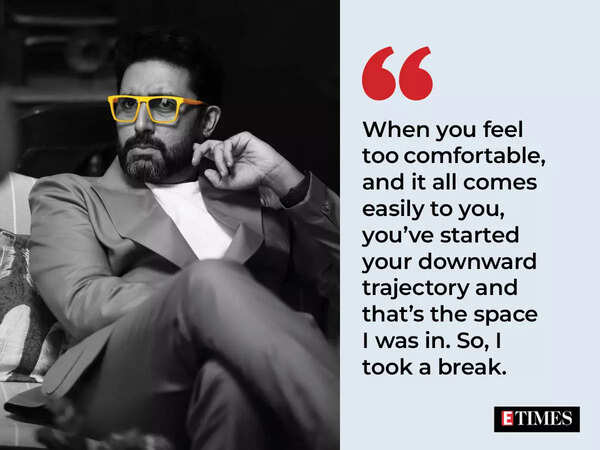 Did you take that break post 'Housefull 4' because you felt that you needed to step back in order to get work which was worthy enough for you as an actor?
No, that's not why I did that. I took that space because I wasn't happy with the mindspace I was in. I was very complacent. I was getting great work, great money, all the films were becoming superhits. But I knew I wasn't pushing myself. I very conveniently eased myself into this rut of 'okay I'm happy doing these kinds of roles, the films are doing well' but I was not challenging myself. I had gotten very comfortable and as an actor you should never be comfortable because then you get complacent and when you get complacent, that's the death of creativity. You should never think that I can sleep-walk through a film! No, you're not meant to sleep-walk through a film because people are putting hard earned money on you! You have to have sleepless nights. Somewhere that's the price you pay as an actor for your gift. God has given you this gift to be an actor and a part of the price you pay for it is that you're not a content soul on set. You have to find content at home but when you're working, it's tough work, it's do or die, you have to give it everything. When it stops meaning that and it comes easily to you, you've started your downward trajectory and that's the space I was in. So, I said, let me stop. Whichever films I had signed that time, which hadn't started, I returned the signing amounts to them. I told them I need to re-evaluate things, I took that time off, I came back and started selecting work which gave me sleepless nights. Initially I was like, 'hey will I be able to do that?' But it's important to feel that because that's when you will work hard.

And then you had 'Manmarziyaan', 'Breathe: Into The Shadows', 'The Big Bull', and so on and so forth…
The first one I signed on to was 'Manmarziyaan' and obviously, getting the opportunity to work with Anurag was wonderful. I enjoyed working with him. Immediately after that, I started 'Ludo' and that was challenging. Then I got on to 'Breathe: Into The Shadows' which was a really tough show to do for me. Then, I think you have to keep looking out and now I gravitate towards stuff which scares me, and I wonder, 'is this something they'll accept me in?' If the answer is straight away no, I'll leave it but if I am at least a little sure that I can try hard and convince the audience, then I go for it.
Even when you started off, you weren't this quintessential Hindi cinema hero. You didn't show six pack abs or the perfect looks. How have you managed to maintain your individuality and not try to fit into a box?
I'd like to believe I still manage to do that because I feel strongly about it. An actor should be unique, in the sense that 'what are you trying to bring to the table which nobody else can?' I ask all my directors this after they cast me, 'why me?' I'm very intrigued to know why they chose me and everyone gives me a different answer which is very good. If they all gave me the same answer, it would mean that I'm in a box. Every actor needs to think, 'What am I bringing to the table that's unique to me or that nobody else can bring?' Because that makes you irreplaceable. I'd like to believe that when directors come to me, they see something in me and they perhaps feel that I'll get something to the table which nobody else can. That's what every actor should strive for.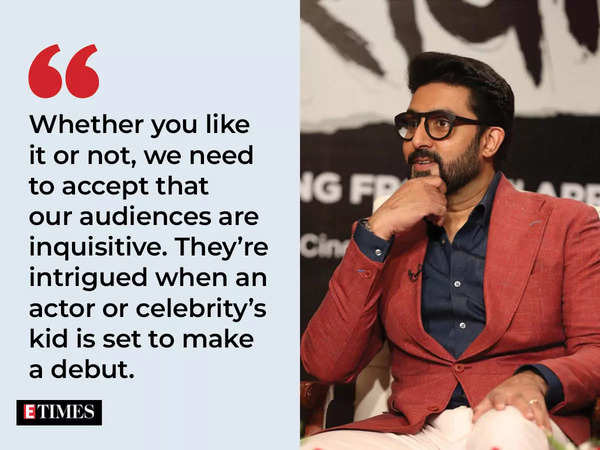 The debate on nepotism wasn't much when you made your debut as it is now. While people feel that star kids have it easy, in your case, would it be right to say that it worked against you because people constantly kept comparing you to your father?

There's no right way to answer this, it's what the audience wants to hear. I'd like to go back and discuss, argue the voracity of this debate in the first place. I'm not accusing anyone but the media has just found this one word which they can throw around. Let's not go by perception, go by the numbers, they never lie. It's as simple as that, perception doesn't matter, facts matter. The fact is, if you're good at your job, you'll get your next job and that's what matters. It doesn't matter who you relate to, that will help you in your first film. Whether you like it or not, we need to accept that our audiences are inquisitive. They're intrigued when an actor or celebrity's kid is set to make a debut. The sad part is that star kids know that they're being cast for that reason and not because they're wonderful actors who've trained themselves. They know they're being cast because the audience wants to see you because you are an 'X' person's kid. But, getting your first film is that much easier and that's got nothing to do with you. At the end of the day, the only thing an actor needs to concentrate on is how can I better myself, improve myself and be the version of me. Let's dial back to this course. How many of these star kids have succeeded in comparison to those who have not come from a film background. The numbers are there for you to see. The discussion starts and ends right there.
And what about you? Did you feel people were unfair or harsh with you?
I have a very different way of looking at things. The way I looked at it, is that you're comparing me to someone I consider the best actor in the world. If I'm worthy of being compared to him means I'm doing something right. I might not be there entirely but if you're speaking about me in the same ballpark as Amitabh Bachchan, I might be doing something right. I looked upon it more as an appreciation.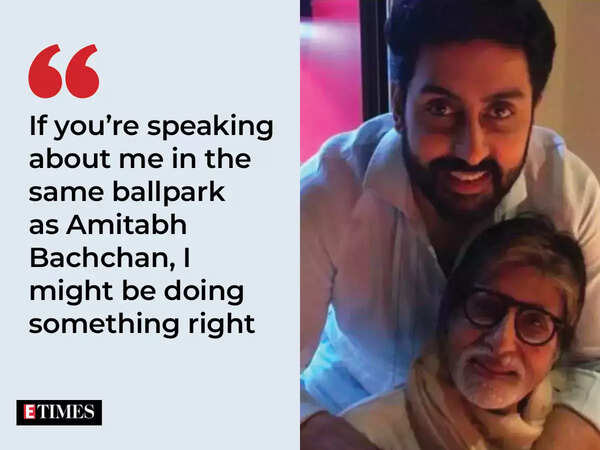 But since you're his son, some of his traits would just be coming in more naturally without even trying, right? More so, because you've also seen so much of his work!
For me, it's once in a lifetime or possibly once ever that an actor comes along which becomes a part of a collective conscience of a nation. I'd love to have a discussion with any actor who came after my father who would tell me, 'no he hasn't influenced me'. Most actors are influenced by him subconsciously. He's become such a part of our subconscious, that somewhere you just think how would he have done it? That mannerism just comes in. That's the case with dad. He's the OG! Everything starts with him! His greatness as an actor apart from his ability to perform in front of the camera, I think what makes him truly great is the way he can elevate his co-stars in a frame with him. First, he makes them very comfortable. Because anyone who is working with him is very aware that they're standing in the same frame as Amitabh Bachchan. But he puts you at ease and by doing that, he elevates your performance and that's what movie making is all about. It's not just about 'me me me'. It's about how I can make the film a more pleasurable experience and he manages to do that. I think that's a part of his greatness.
How have you changed as a person over these years? Do you agree that you've gone into your shell, become a little detached and are slightly more clear about what you want and don't want?
I think I'm very clear of what I don't want to do now and I've made peace with the repercussions of that. For example, if today the trend (I don't like that word) or mood today on social media is that people need to be aware of what you're doing, I can't do that. I tried but I can't because that's not on my priority list. If I am driving to work, then I'd much rather listen to music or go through my scenes of the day or prepare for what I need to do. I'm okay with not being in the news 24/7. I don't want to be in the news 24/7. I want my films to do the talking. With experience and maturity, you realise that's how it should be. I cannot affect change to my film, the film has to be good. I have to be good in a film and the film has to be good, all these other things are just white noise. So, that's when you draw a line between the things which you need to do and things which aren't important enough to be done.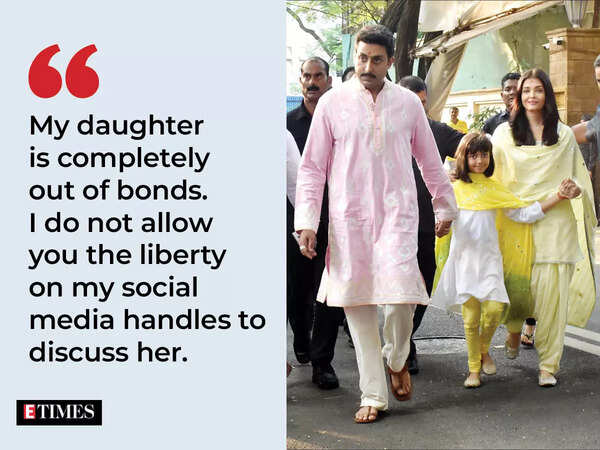 At what point did you decide that you would have to voice your opinion or set some boundaries on social media?
I'm very clear on social media, and there are some things which I enjoy. I enjoy the banter, the information and the fun it has. There are certain things I'm not going to be comfortable with. My daughter is completely out of bonds. I do not allow you the liberty on my social media handles to discuss that. It's something I'm not going to engage in and if I feel a boundary needs to be drawn, I will draw that. I understand, reluctantly, that my parents and my wife are public personalities and by virtue of that, they are up for discussion and comment, but only to a certain extent of decency. If I chance upon something which crosses those limits, I will express my displeasure because that's my right to answer. Some people are there for attention and they don't want to engage in any healthy discussion, so it's better to ignore them. But if there are some things I feel strongly about at that point in time, I'll say it.
Talking about your daughter, she seems to have adapted to this world quite beautifully. Does she watch movies or does she have a favourite amidst your movies?
Thankfully, her mother has seamlessly eased her into this world. I think it was very important and Aishwarya handled it beautifully that it wasn't made into a big deal for her that both her grandparents are from the film world and both your parents are from a film world. We didn't make it into a 'big thing'. It was very normal. She's a very normal kid, the credit of that should entirely go to my wife because she allows me to go out and make my films and she takes care of Aaradhya. I'm sure it can't be easy but she's just a normal kid and being that, she's happiest playing, going to school, interacting with her friends. She doesn't really want to compulsively watch movies, she's happy doing other things. At some level, I don't want to ask her which is her favourite film of mine. I don't think I want to because I'll get a brutally honest answer and I don't think I'm ready for that (Laughs).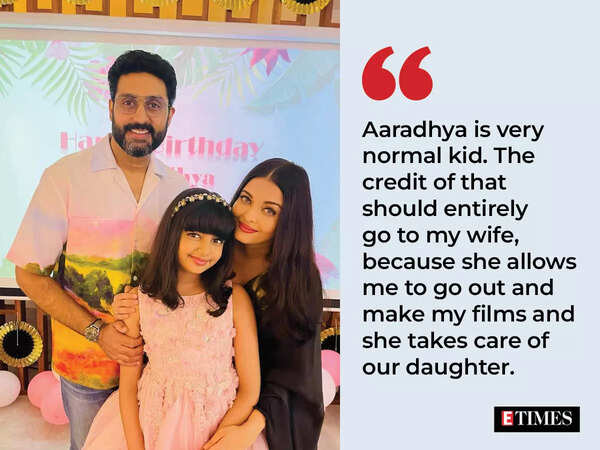 Tell me about your upcoming projects as we wrap up!
In the first six months of the year, I finished two films. The last 3-4 years have been thankfully very busy. We produced a film called 'SSS7' which I did more as a personal exercise because I thought it would be very challenging to be the only actor in the frame. That kind of thing hasn't been done in Hindi for over 40-50 years. I think Dutt Sahab did it in the 50s or 60s. I can't remember the exact date. I had a month off, I went to Chennai and we shot that film. We're in the last leg of the post-production and after that we'll slate it for release. 'Ghoomer' is ready for release. I finished a film with Emmay Entertainment earlier this year and in a couple of months, it should be ready. I just wrapped a film with Remo D'souza. In August, I start my next film with Shoojit Sircar. So, next year I will have a flurry of releases.