MUMBAI: The Narendra Modi Stadium in Ahmedabad — one of the world's biggest, seating 1.32 lakh spectators — will stage the big-ticket India Pakistan group match in the
2023 ODI World Cup
, hosted by India, on October 15. The Cup schedule was announced by the International Cricket Council here on Tuesday.
The Pakistan Cricket Board, however, said it needs to get its government's clearance for its participation.
"PCB requires the government of Pakistan's clearance for any tour to India, including the match venues. We are liaising with our government for guidance, and as soon as we hear something from them, we will update the event authority. This position is consistent with what we had told the ICC a couple of weeks ago when they shared with us the draft schedule and sought our feedback," a PCB spokesperson said.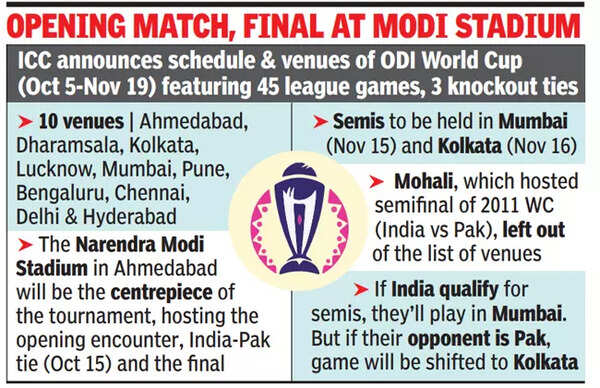 The ICC, though, is confident that Pakistan will travel to India to play in the Cup.
Pakistan have signed the participation agreement to compete in the World Cup. We 100% expect them to be there and have had no indications to the contrary that they won't be. We're focused on delivering a 10-team men's World Cup with Pakistan very much a part of it. All members have to abide by the rules and the laws of their country, and we respect that. But we're confident Pakistan will be in India for the event," said an ICC spokesperson.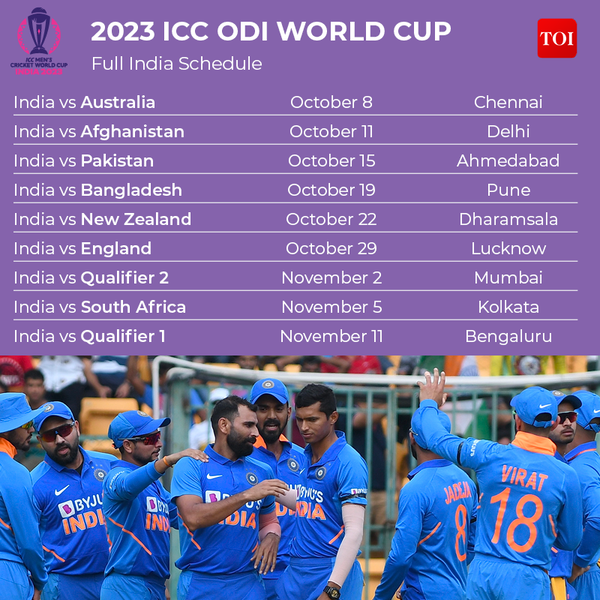 PTI reported from Karachi that some objections were raised by the PCB on the schedule and venues for the World Cup, which were rejected by the ICC. Specifically, PCB's request to switch venues for the matches against Afghanistan and Australia have been ignored. The PCB had asked ICC and BCCI to reschedule the match against Afghanistan from Chennai to Bengaluru and the game against Australia from Bengaluru to Chennai.
The Pakistan team management had concerns that given the Chepauk's history of helping spinners, it would leave the side at a disadvantage against Afghanistan, who have quality spinners.
Pakistan last played in India in 2016 in the T20 World Cup.