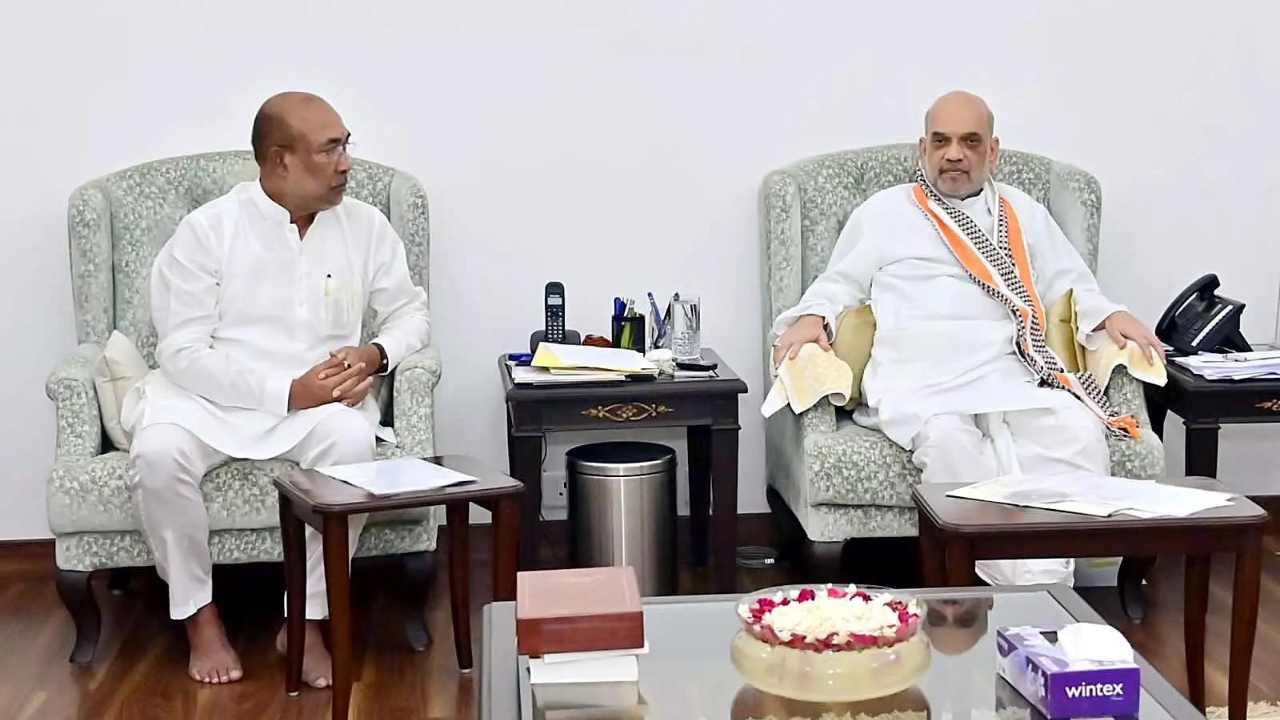 IMPHAL
:
Manipur
Chief Minister N Biren Singh said that Union Home Minister Amit Shah has expressed concern over the changing nature of violence in the northeastern state.
The union home minister is reportedly concerned over the shifting of violence and civil unrest from peripheral areas to districts in the Imphal valley.
"The changing nature of violence from exchange of fire in the peripheral areas to the civil unrest in the valley districts has become a matter of concern for Amit Shah ji," the chief minister told reporters here after his return from New Delhi late on Sunday night.
Singh briefed Shah in New Delhi about the "evolving situation" in Manipur and said the state and central governments have been able to control the violence to a "great extent".
"Shah raised issues such as the attacks on the house of Union Minister of State for External Affairs RK Ranjan Singh and the residence of state minister Sushindro Meitei, the ongoing arson and destruction of government properties and the hampering of movement of security forces," the chief minister said here.
Singh said that he has submitted a report to the Centre on the measures taken up by the state government to restore peace and normalcy in Manipur.
"He was very concerned with the blocking of security forces, police and ambulances on the roads and preventing them from carrying out their duties, which is giving the perception of lawlessness, " the chief minister said.
He also said the union home minister assured him that the central government will take all possible steps to bring back normalcy in Manipur.
"It's time for all the stakeholders, civil bodies, MLAs and political leaders to sit together and identify the areas where all must work," Singh said.
The meeting between Shah and Singh was held a day after the home minister chaired an all-party meeting in New Delhi over the Manipur situation.
Eighteen political parties, four MPs from the northeast and two chief ministers from the region attended the three-hour-long meeting.
The home minister told the all-party meeting that Prime Minister
Narendra Modi
has been monitoring the situation in the violence-hit state since day one and "guiding us with full sensitivity" to find a solution to the problem.
Meanwhile, the state reported a fresh incident of violence at Chingmeirong in Imphal West district when a shop was set on fire by unidentified miscreants past midnight, army sources said.
More than 100 people have lost their lives in the ethnic violence between Meitei and Kuki communities in the northeastern state so far.
Clashes first broke out on May 3 after a 'Tribal Solidarity March' was organised in the hill districts to protest against the Meitei community's demand for Scheduled Tribe (ST) status.
Meiteis account for about 53 per cent of Manipur's population and live mostly in the Imphal Valley. Tribals — Nagas and Kukis — constitute another 40 per cent of the population and reside in the hill districts.