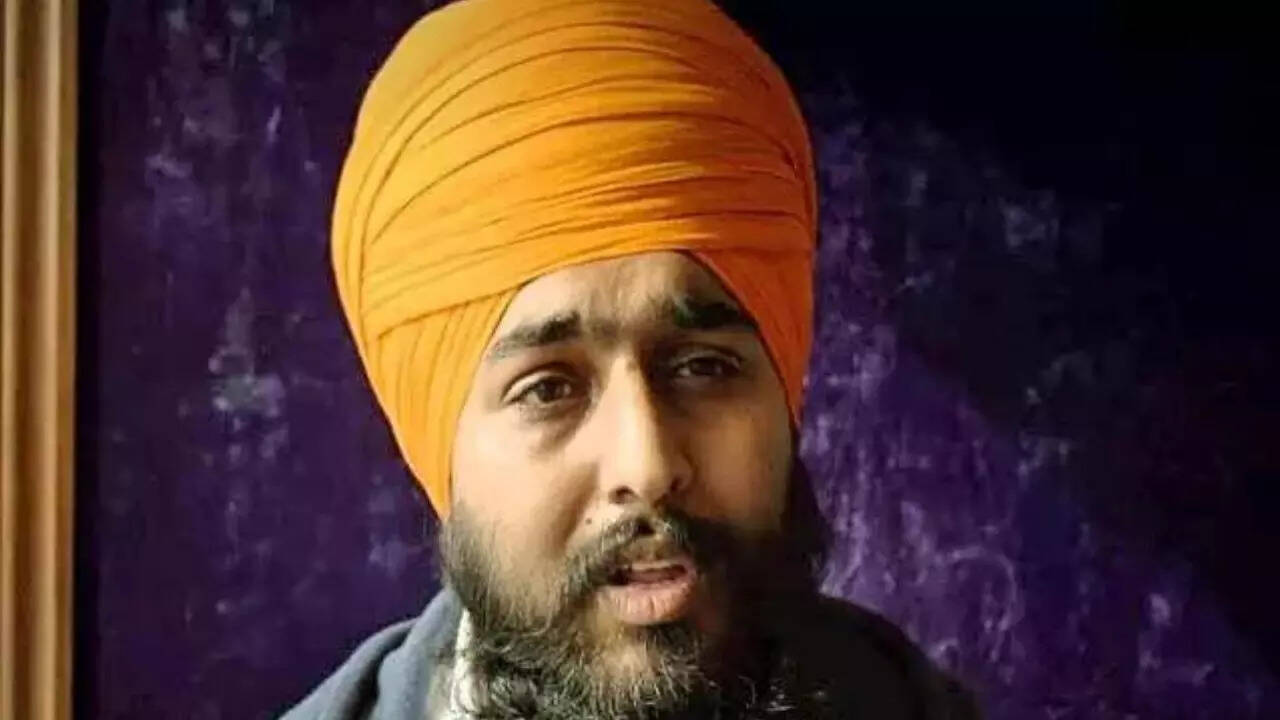 LONDON/NEW DELHI: Avtar Singh Khanda, a leading exponent of Khalistan who groomed Amritpal Singh to lead the attempt to revive secessionism and the mastermind of the March vandalisation of the Indian High Commission in London, died in a hospital in Birmingham,
UK
, on Thursday morning, leaving radical British Sikhs shocked and suspicious. He was 35.
Khanda, as per the accounts of pro-Khalistan, UK-based Sikhs, had recently fallen ill and was diagnosed with terminal blood cancer, report Naomi Canton & Bharti Jain. However, pro-Khalistan elements did not seem impressed by this version and expressed surprise over the sudden death of Khanda, a close associate of Gurpatwant Singh, the rabble-rousing leader of Sikhs for Justice campaign, and Babbar Khalsa International terrorist Paramjit Singh Pamma.
Sources in the Indian security establishment told TOI that Khanda was instrumental in shaping up Waaris Punjab De, first in association with its founder and actor Deep Sidhu, and after the latter's death, by anointing Amritpal Singh, until then an obscure trucker based in the UAE, as his successor. Not only was Khanda believed to have groomed Amritpal to look and act like Khalistani icon Jarnail Singh Bhindranwale to capture the imagination of radical Sikhs but he also ensured the Waaris Punjab De chief's meteoric rise by tutoring him to espouse Sikh puritanism, while using the power of social media.
Khanda's hold over his protege seemed to be total as it was he who "arranged" Amritpal's marriage to Kirandeep, an NRI from the UK, and, as TOI has learnt, was instrumental in arranging all the hideouts used by Amritpal while he dodged Indian law enforcement agencies for 37 days. Amritpal was ultimately arrested and is lodged in Dibrugarh jail in Assam.
The news of his death immediately spawned several conspiracy theories. Some of his supporters and Sikh extremist bodies claimed he was a victim of poisoning by pro-India elements, with one even hinting at "chemically induced leukaemia".
"He had been unwell for just about two weeks," said Dabinderjit Singh, principal adviser to Sikh Federation, UK. "People are shocked that he died so young. He had never seen a doctor in his life. The authorities need to carry out a proper autopsy and toxicology report to put the speculation to bed."
Jaspal Singh, national press secretary, Sikh Federation UK, added, "There is much speculation across the globe about the cause of his sudden and sad demise. It has been reported that he was on the Indian radar since 2015. However, in the last three months, Indian authorities became obsessed with him and began a vindictive hate campaign against him and his family."
Even as sources in the Indian security establishment slammed the suggestion as nonsense, there was intense speculation in certain quarters here about the possibility of Khanda falling victim to the duplicity of the ISI, the notorious spy agency of Pakistan which continues to nurture its Khalistan project and is known for abandoning its allies with ruthless ease.
Khanda, who still held an Indian passport and was clearly identified by the NIA as the leader of the rowdy Sikh mob that pulled down the tricolour at the Indian mission in London in March, had become a liability for the ISI which got rid of him through footmen of Canada-based Khalistan Tiger Force (KTF) chief Hardeep Singh Nijjar, sources said.
"With Amritipal exposed and in the clear risk of being sent back to India, ISI would have been scared of being exposed of supporting violence in UK. Moreover, once in India's custody, there was fear that he could spill the beans on ISI's network in Punjab," an officer of the Indian security establishment said.
Of course, Sikh outfits based in the UK have a different take on Khanda. Dabinderjit Singh said Khanda was present during the March 19 protest but was not the organiser. He claimed Khanda did not pull down the flag.
Khanda's association with Khalistani terror ran deep as he inherited the secessionist aspiration from his father, Khalistan Liberation Force (KLF) terrorist Kulwant Singh who was killed by security forces in 1991. Kulwant was allegedly linked to the killing of 24 people in the infamous 1989 attack on an RSS shakha in Moga.
Originally from Khukhrana village in Moga district of Punjab, Khanda went to the UK in 2007 on a study visa but filed for asylum in 2012 and stayed on. He is learnt to have been heading KLF, allegedly with the sponsorship of Pakistan's ISI, under the code name Ranjodh Singh. A source said he took over the reins of KLF after the killing of its erstwhile head Harmeet Singh, aka PhD, in Pakistan in January 2020. Khanda was also associated with a pro-Khalistani channel KTV in the UK.
An old dossier against Khanda had claimed he was holding theoretical training classes for Sikh youths to radicalise and indoctrinate them. It alleged that he had tried to make improvised explosive devices using common chemicals by giving live demonstrations in Birmingham and Glasgow.
Jasveer Singh, spokesman for the Sikh Press Association, said the poisoning claim was an unsubstantiated rumour, as were the other allegations about him being a bomb-maker.
(With inputs from Yudhvir Rana in Amritsar)