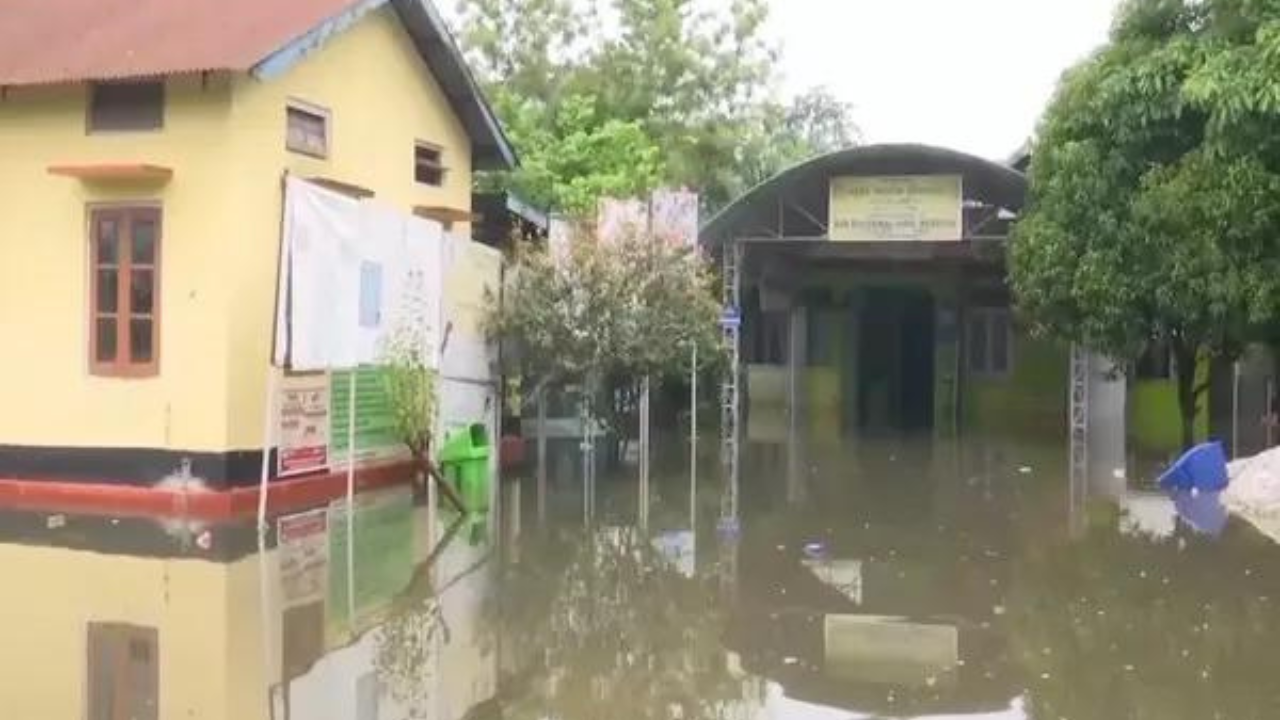 GUWAHATI: The flood situation in
Assam
is still grim as nearly 4.89 lakh people in 19 districts have been affected.
In the last 24 hours, one person drowned in flood waters in Nalbari district taking the death toll to two.
According to the flood report of Assam State Disaster Management Authority (ASDMA), nearly 2.67 lakh people have been affected alone in Bajali district followed by 80,061 people affected in Nalbari, 73,233 people in Barpeta, 22,577 people in Lakhimpur, 14,583 people in Darrang, 14180 people in Tamulpur, 7,282 people in Baksa, 4,750 people in Goalpara district.
The flood waters have submerged 10782.80 hectares of cropland.
1,538 villages under 54 revenue circles in Bajali, Baksa, Barpeta, Biswanath, Bongaigaon, Chirang, Darrang, Dhemaji, Dhubri, Dibrugarh, Goalpara, Golaghat, Kamrup, Kokrajhar, Lakhimpur, Nagaon, Nalbari, Tamulpur, Udalguri district have been affected in the deluge.
Following the torrential rains, the water level of the Brahmaputra River is flowing above the danger level mark at Neamatighat in Jorhat district and at Dhubri, Manas River at Nh Road Crossing, Pagladiya River at Nt Road Crossing, Puthimari river at Nh Road Crossing.
The district administration has set up 140 relief camps, and 75 relief distribution centres in flood-hit districts and 35142 people have taken shelter in these relief camps.
On the other hand, many others have taken shelter on roads, highlands, and embankments.
The ASDMA flood report also stated that 427474 domestic animals have also affected by the flood.
In the last 24 hours, the flood waters breached 1 embankment and damaged 14 other embankments, 213 roads, 14 bridges, several agri bundhs, school buildings, irrigation canals, and culverts.
Meanwhile, the flood situation in the Bajali district is still critical as 2,67,253 people from 191 villages have been affected.
According to the ASDMA, 176678 people have been affected in the Bajali revenue circle and 90575 people in the Sarupeta revenue circle in the district.
The flood waters also submerged 368.30 hectares of cropland in the district.
Around 200 families in the Doloi Gaon Shantipur village area have been badly affected after the flood waters of the Pahumara River breached a large portion of the embankment and the villagers are now taking shelter on the embankment, road by making makeshift tents.
Kamal Barman, a flood-affected villager said that as many as 8-10 houses in the village were washed away by the flood waters.
"The flood waters breached the embankment at around 3 am morning and all villagers were sleeping at that time. The villagers didn't able to get out their stuff at that time. The people just moved to a safer place. The villagers are now facing lots of problems as
rain
is also continuing and they are also facing a food crisis," Kamal Barman said.
Abanita Das, another villager said that the flood waters submerged the entire village and entered their homes.
"We weren't able to get out our household goods, stuff because of the high level of water. We are now taking shelter at this embankment. The flood waters washed away all stuff from our home. We don't have any food. We don't have tarpaulin to make a makeshift tent or items for cook. Now there is 4-5 feet of water on the road and can't go to another place. We are also facing a drinking water problem," Abanita Das said.
Hriday Talukdar said that the flood waters totally damaged his house and washed away all household goods.
NDRF, SDRF, Fire and Emergency services and Civil Defence personnel are engaged in rescue operations in different flood-hit districts.