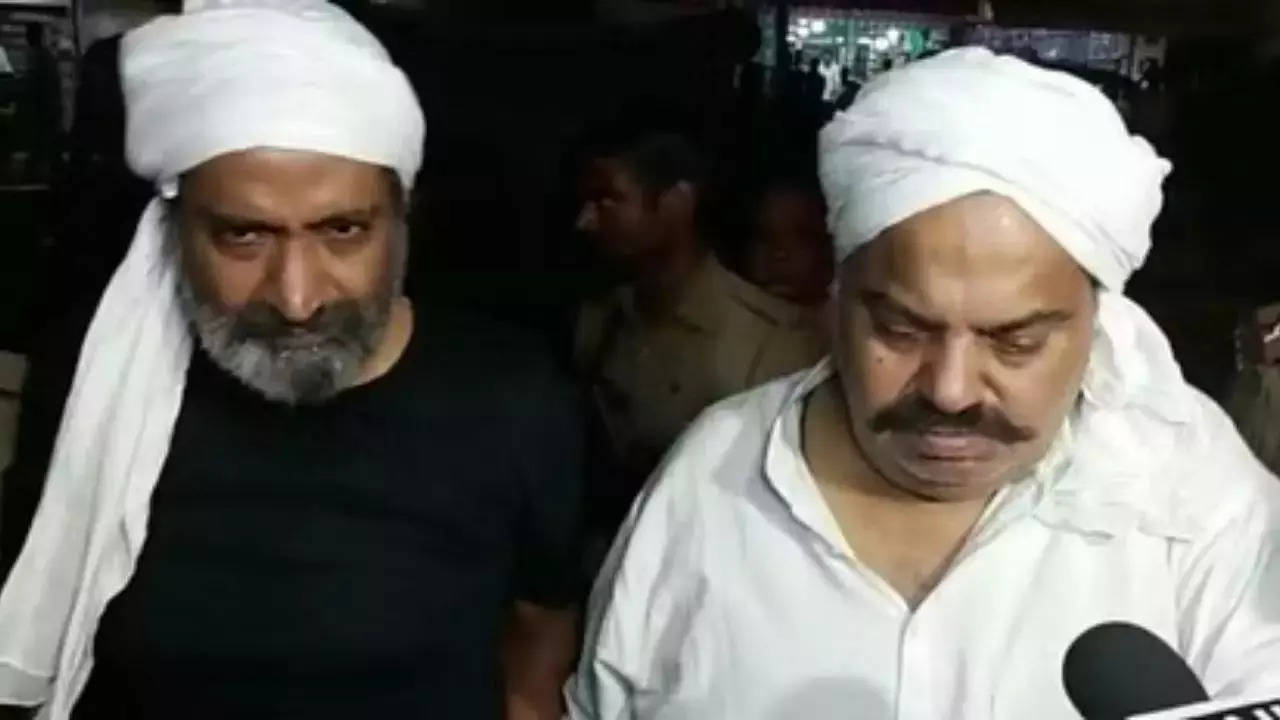 NEW DELHI: The sister of gangster-turned-politicians Atiq Ahmed and Ashraf Ahmed, who were gunned down while being in police custody in
Uttar Pradesh
, moved the Supreme Court on Monday seeking inquiry by a retired apex court judge alleging that it was "state-sponsored killing". She also sought a probe into the encounter killing of Atiq's son and her nephew.
In a petition filed through advocates Somesh Chandra Jha and Amartya Ashish Sharan, Aisha Noori alleged that an independent probe into the "custodial and extra judicial killings" was necessary to catch "high-level state agents who have planned and orchestrated the campaign" to kill her family members. She alleged that police authorities are enjoying the full support of the Uttar Pradesh government which "appears to have granted them complete impunity to kill, arraign, arrest and harass her family members as part of the vendetta.
"A piecemeal inquiry that only looks at singular encounters that have taken place during the campaign will fail to bring home the responsibility of the higher authorities who are ultimately responsible for killing of the petitioner's family members. Furthermore, it would put the blame for the deaths on the officers present on the spot in each case rather than the authorities who are responsible for authorising, planning and coordinating such acts," she alleged in her petition.
"If liability is fastened only on lower-level officers and not against the persons ultimately responsible for killing the petitioner's relatives, there would be no deterrent effect on the state government. In order to deter the respondent government from continuing with its unconstitutional program of terror and to restore the rule of law in the state, it is essential that an agency independent of the said government carries out an across-the-board inquiry which can evaluate the role played by high-level state agents who have planned and orchestrated the campaign targeting the petitioner's family members," the petition said.
The apex court has already taken cognisance of the killing of Atiq and Ashraf while hearing a PIL and asked the state government to file a status report before it. The court had also raised questions on why they were paraded before the media while being taken to hospital which led to them being killed on live television. The court had passed the order while hearing a PIL filed by apex court lawyer Vishal Tiwari seeking independent probe into the killing of the Ahmed brothers and also into the 183 police encounters which occurred in Uttar Pradesh in the past five years.
Alleging that she lost both her brothers and nephew in state-sponsored killings, Noori submitted that the state "conducts" encounters as a normal mode of law enforcement mechanism which must be stopped for being unconstitutional and violative of the apex court's guidelines.
Atiq and his brother Ashraf were shot dead in the presence of police personnel and media persons in Prayagraj, Uttar Pradesh. Three men posed as journalists had shot the two brothers from a close range. The killings were captured live on camera.