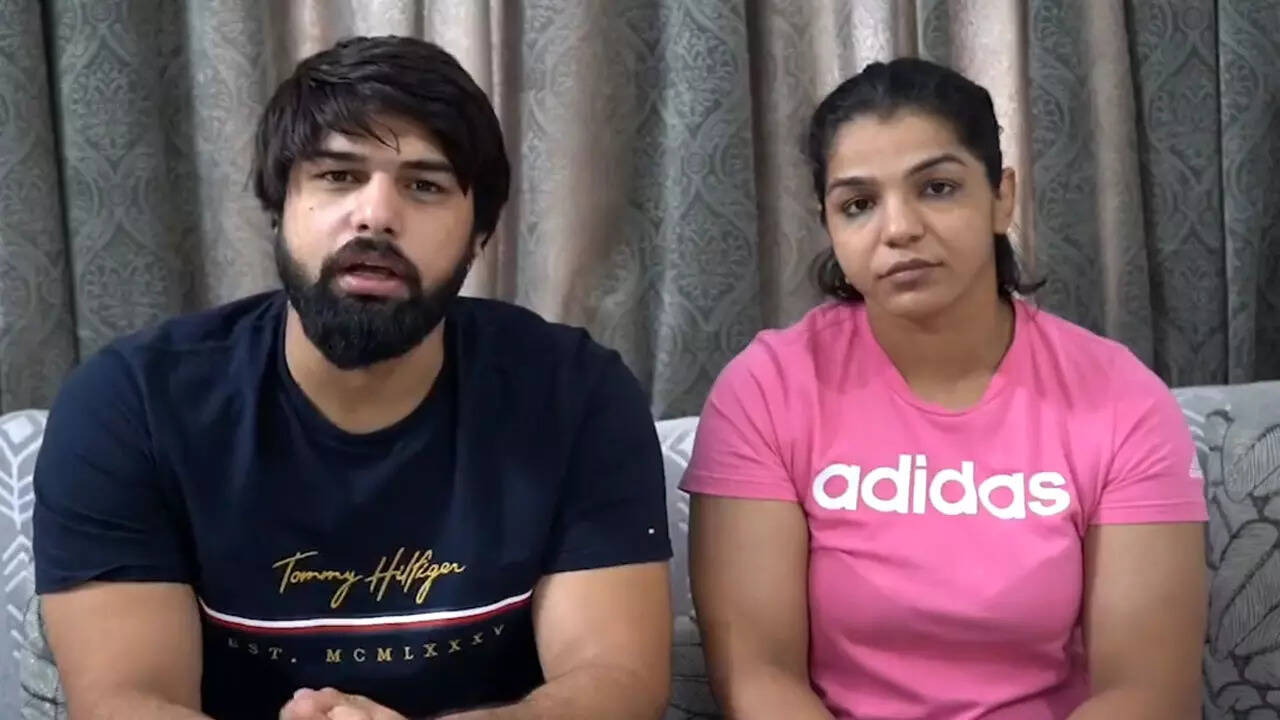 NEW DELHI: Olympic Games medallist Sakshi Malik on Sunday accused BJP leader and former Commonwealth Games gold medallist grappler Babita Phogat of trying to use the wrestlers for selfish motive and weaken their protest.
Sakshi and her husband Satyawart Kadian had also posted a video on Saturday alleging that it was Babita and another BJP leader Teerath Rana who had initially taken permission for the grapplers to protest at Jantar Mantar but later started advising them that the platform should not be used by parties for political purposes.
The country's top wrestlers including Sakshi, Vinesh Phogat and Bajrang Punia have accused outgoing Wrestling Federation of India (WFI) chief and BJP MP
Brij Bhushan Sharan Singh
of sexual harassment and demanded his arrest.
Satyawart and Sakshi also furnished a letter, which allegedly showed Babita and Rana had taken permission from the Jantar Mantar police station for the wrestlers to stage a sit-in.
Sakshi, in a tweet on Sunday, wrote, "In the video (posted on Saturday), we had taunted Teerath Rana and Babita Phogat that how they were trying to use wrestlers for their selfishness and how when the wrestlers were in trouble, they went and sat on the lap of the government."
"We are definitely in trouble, but our sense of humour should not become so weak that we cannot even laugh at the jokes of the powerful," she added.
In April, Vinesh — one of the three top wrestlers leading the protest against Brij Bhushan — had also requested her cousin Babita "to not weaken our movement" by issuing contradictory statements on social media.
Satyawart, a heavy-weight wrestler, has said their fight is apolitical and not against the government.
"We are protesting for the last several months demanding the arrest of outgoing WFI president Brij Bhushan Sharan Singh because he has sexually harassed women wrestlers.
"A narrative is being created in public that our movement is politically motivated. Everyone knows that we initially came to the protest site at Jantar Matar in January and the permission for the protest was taken by two BJP leaders. We have proof of the permission taken from Jantar Mantar police station. It was taken by BJP leaders Teerth Rana and Babita Phogat," he said.
Babita had also joined the oversight committee formed by the Sports Ministry to investigate the allegations of sexual harassment against Brij Bhushan.