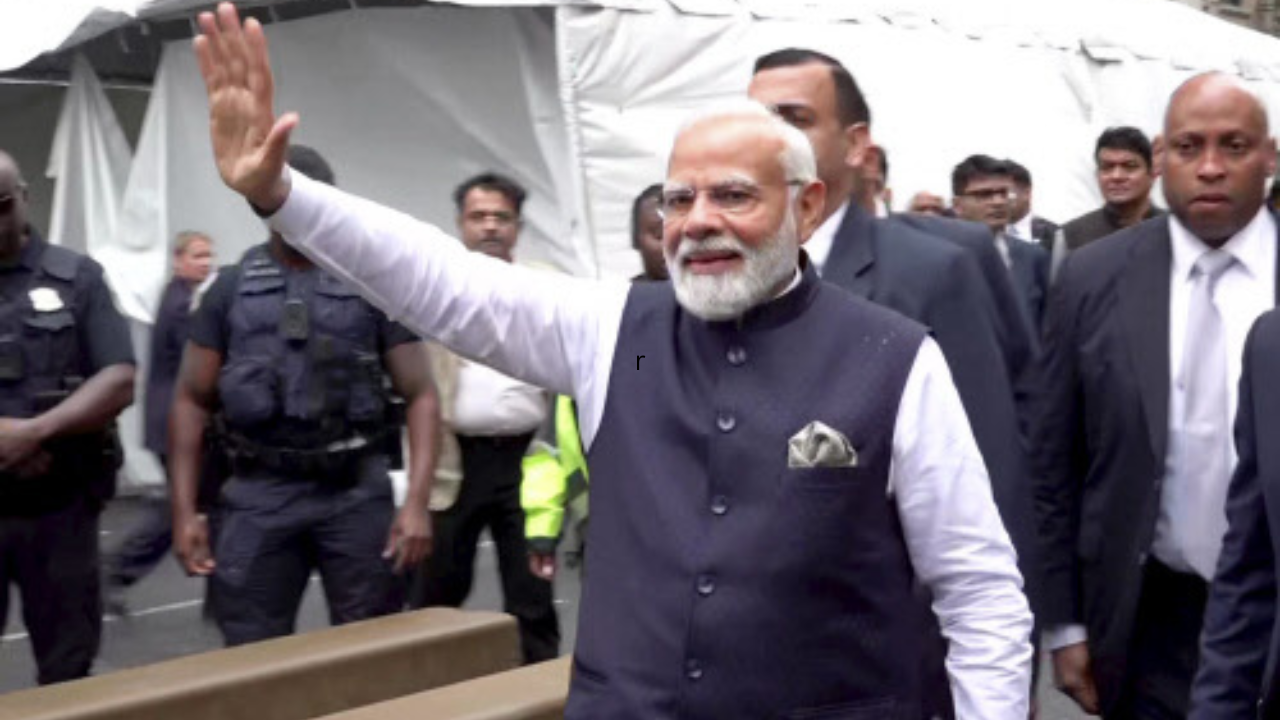 WASHINGTON: Past Indian Prime Ministers going back to
Jawaharlal Nehru
to PV Narasimha Rao to Atal Behari Vajpayee to Manmohan Singh loved meeting public intellectuals privately and with little fanfare. But for sheer range of engagement and showmanship, involving both statecraft and stagecraft, Prime Minister Narendra Modi hit it out of the park in the Big Apple on Tuesday.
Some of the most iconic names in academia, business, science, spirituality, and entertainment got 15-minutes of facetime each with Modi in a New York hotel that was once owned by the Sultan of Brunei and was home to entertainers Michael Jackson and Whitney Houston among others. The Prime Minister's checklist of meetings included one-on one's with Lebanese-American essayist, mathematical statistician, and risk analyst Nassim Nicholas Taleb, astrophysicist, author, and science communicator Neil deGrasse Tyson, billionaire investor and hedge fund manager
Ray Dalio
, Nobel laureate economist Paul Romer, and Buddhist academic Robert Thurman, among others.
Remarkably, each found a stage after the meeting to talk up India's promise and potential, often in the process lavishing praise on the Prime Minister. From Neil deGrasse Tyson: "I was delighted to spend time in the company of a head of state who is as scientifically thoughtful as Prime Minister Modi." From Paul Romer: "It was a great meeting. We talked about the importance of successful urban development. He understands these issues very well. PM articulated it very well that urbanisation is not a problem. It's an opportunity. I take this as a slogan. India can show the way to the world on the authentication front with programs like Aadhaar." And from Ray Dalio: "Narendra Modi is a man whose time has come when India's time has come."
Prime Minister Modi too tweeted brief notes about meetings:
"The interaction with Bob Thurman was outstanding. I admire his passion towards research and scholarship on aspects relating to Buddhism. I highlighted India's Buddhist heritage and how Buddhism can help overcome many challenges our world faces."
"Talked space, science and related issues with @neiltyson Highlighted steps India is taking to reform the space sector and draw more youngsters towards science as well as innovation."
"Glad to have met noted economist and Nobel laureate, Professor@paulmromer. We had extensive conversations on leveraging technology to improve lives. We also talked about how to make our cities more sustainable and people friendly."
"Professor @nntaleb has interesting perspectives on many issues and I had the opportunity to hear them on some of those subjects. He was greatly interested in India's development strides. I emphasised on how we are nurturing a spirit of enterprise and risk taking among our youth."
Indeed, one the more engaging exchanges came following Modi's meeting with Taleb, who is also author of the 2007 book The Black Swan: The Impact of the Highly Improbable, which looks at the impact of rare and unpredictable outlier events. Taleb later revealed that his conversation with Modi covered anti-fragility, risk taking, and the ability to bounce back from adversity — lightning rod topics for a Prime Minister pilloried for Covid response and demonetization.
"I commended India for its response to Covid and how India has very efficiently dealt with it, particularly with food distribution," Taleb later tweeted, adding, "Early failure is tuition. Late failure is punishment."
Illustrative of the wide range of opinion Modi sought, he also meet Elon Musk, who has often clashed with Taleb, and who believes the covid response was excessive and disproportionate.
Modi also met leaders of academia, including presidents and vice-presidents of major American universities (some of them Indian-Americans), briefing them about the "transformative potential of our National Education Policy" and seeking ideas to further strengthen the education sector in India with a focus on skills and innovation, a subject he has been engaged with them in the past.
"Thank you for instructing your amazing team to follow up on our ideas for scaling skills-based training of health tech innovators and healthcare workers anchored in @Stanford @SUBiodesign process. And for pushing to create appropriate policy environment for implementation of innovative health technologies developed by Indian innovators," tweeted Anurag Mairal, a Stanford University professor of medicine, before dashing to the airport to catch a a flight to India.
"He has a sweeping global vision to raise the standards of higher education and is very focused on what he and his government can do to open the boundaries. He asked questions, listened with great interest and shared with passion his ideas. This includes partnerships, bringing back faculty to India, deepening research and digital education," Grammy nominated artiste and vice-chairman of the board of trustees at New York University (NYU), who also happens to be former Pepsi CEO Indra Nooyi's sister, told ToI. In what is the largest single donation by Indian-Americans in the US, the Tandon's have given $ 100 million to what is now called the NYU Tandon School of Engineering.Watch PM Modi in US: Neil deGrasse Tyson, Paul Romer, Ray Dalio and Nassim Nicholas Talib speak about their meeting with PM Modi