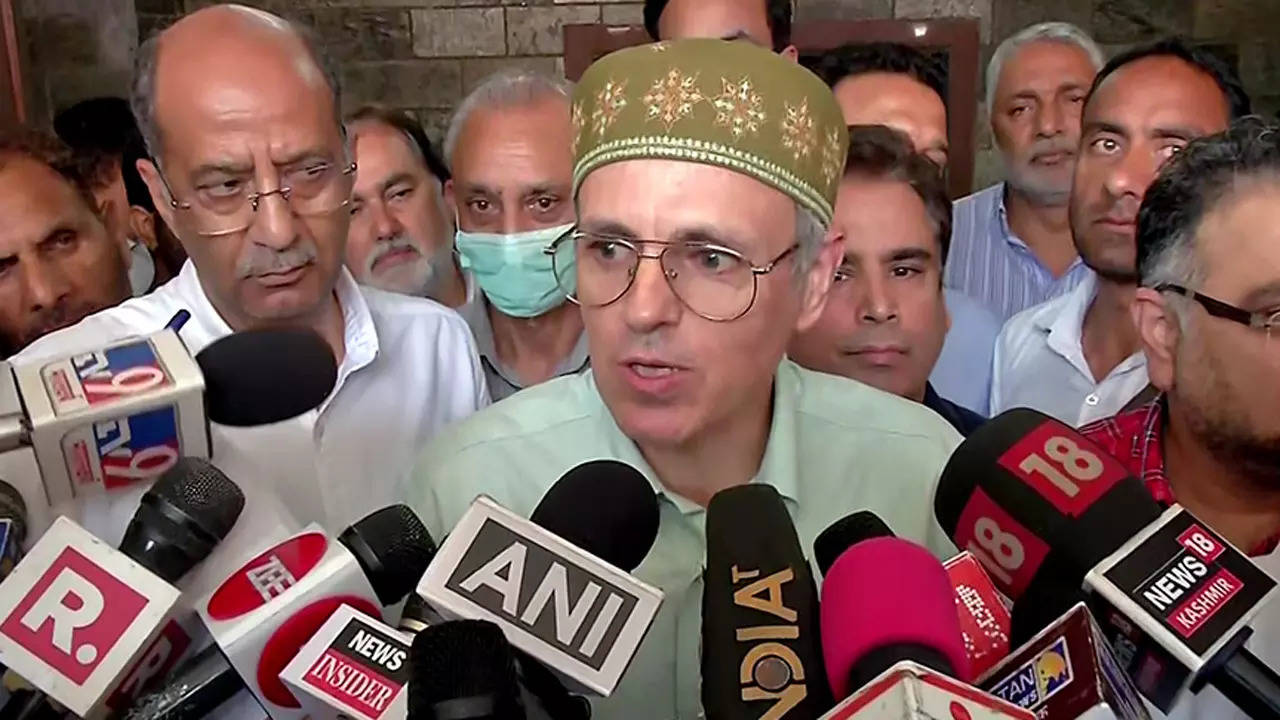 SRINAGAR: National Conference leader
Omar Abdullah
on Tuesday said bigger political parties with substantial presence in the Lok Sabha should show the way to smaller regional outfits on forging the opposition unity at the national level.
He also said the major opposition parties were cutting out each other by contesting elections in states where they barely have any presence.
"Our role is limited in this as at best we can win six seats — three from Kashmir, two from Jammu and one from Ladakh. The unity first should be among those who have 40 to 50 seats. What is the point of having expectations from us? Let them forge unity first. Often we have seen that the parties with 50, 100-200 seats are not able to unite but we are expected to do it," Abdullah told reporters after a party meeting here.
"A party from West Bengal puts up candidates in Goa and the one from Tamil Nadu does it in Delhi. What message of unity does it give? Those parties which have no presence in Jammu and Kashmir, they also try taking a flight here. Let them unite first and then we also can talk about it," he said.
Asked about the assembly elections in J&K, the former chief minister said the National Conference was ready for holding the Lok Sabha and assembly polls together in the Union Territory if the government could not hold them separately.
"If Parliament elections can be held in J&K, why not the assembly polls? If they don't dare to hold assembly elections alone, let them hold these polls with Parliament elections," Abdullah said.
Replying to a question about the lack of adequate water and electricity supply in some areas, the National Conference leader said every sector in Jammu and Kashmir was going through a crisis.
"We have so many crises here. If people were happy, don't you think they would have conducted the elections? Why are they scared of elections? Why don't they have courage to hold the polls? People are nowhere happy. You spoke of some departments. There is no department where there is no crisis. That is the reason why we don't have elections here," he said.
The National Conference had called a party meeting to discuss the rising menace of drug abuse in Jammu and Kashmir.
"Jammu and Kashmir is faced with a dangerous issue, which is drug addiction. This is not a political issue, the future of Jammu and Kashmir is being put at risk and the government is unmoved. We have heard a lot about tourism and investment. There was a lot of brouhaha about G20 but there is not a single mention about this major issue. Due to drug addiction, crimes including murders are on the rise. The aim of today's meeting was to brainstorm as to how best we can deal with this issue," Abdullah said.
He said the administration should tell the people where the drugs into Jammu and Kashmir were coming from.
"It is coming from somewhere. On one hand, we are told that borders have been sealed and even birds can't come in. If that is the case, then how are drugs coming in? Is there a weakness in the (LoC) fence? Is there a weakness in the anti-infiltration grid? If the drugs are coming via Punjab, why are these not stopped at Punjab-J&K border? If these are coming through the LoC, the government should tell us how. I am not starting a blame game. We only want that people here should stop using drugs," he said.
In response to a question about upcoming movie "72 Hoorain", Abdullah said there were some people who carry so much hatred for Islam that they cannot tolerate Muslims.
"Islam is not a weak religion that some movie can harm it. We also know that there are some people who have so much hatred against Islam that they would not tolerate us. So they keep on making such movies from time to time. We should also not get disheartened by such things. We have been fighting these battles since inception of our religion and we will continue in future as well," he added.