NEW DELHI: The Union health ministry has decided to send teams of officers to states experiencing heatwaves to assist the governments there. This was decided at a high-level meeting held by Union health minister Mansukh Mandaviya to review public health preparedness to deal with heatwave conditions prevailing in parts of the country.
"A team of experts from the Union health ministry, ICMR, IMD and NDMA will visit the states of Uttar Pradesh and Bihar to support them in public health response measures to address heat-related illnesses," the Union minister said.
Mandaviya has also directed ICMR to conduct research on how to minimise the effect of heat waves on health, with specific short, medium and long-term action plans.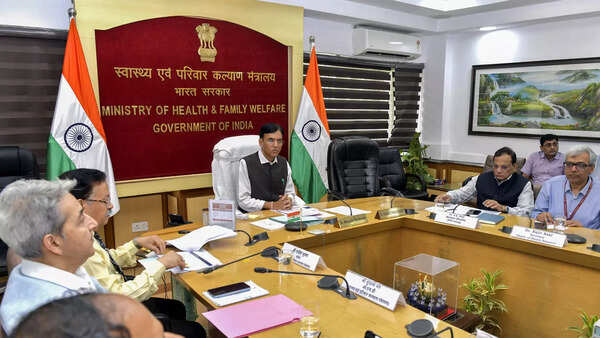 The Indian Meteorological Department (IMD) has been asked to issue daily weather forecasts in a manner which can be easily interpreted and disseminated.
"The Centre has taken timely measures ahead of the summer season to address the heat wave-related illnesses. Prime Minister Narendra Modi chaired a meeting to review preparedness ahead of the summer season in March while the Union health ministry issued a heat wave advisory in February where States were advised to review health facility preparedness in terms of essential medicines, intravenous fluids, packs, ORS, drinking water as well as dissemination of necessary IEC materials," he added. 02:54
Safdarjung doctor shares tips to beat scorching heat in Delhi, urges people to avoid street food
Dr V K Paul, Member (Health), Dr Rajiv Bahl, NITI Aayog, Director General, Indian Council of Medical Research (ICMR), along with India Meteorological Department (IMD) experts were also present at the meeting.
As per the ministry of health, during the meeting, Mandaviya was briefed on the status of heat waves in various states and about the preparedness of Central agencies in terms of the availability of required supplies and hospital infrastructure to provide timely and effective healthcare services.
It was also apprised that daily surveillance on heat-related illness under National Programme on Climate Change and Human Health (NPCCHH) has been ensured in all states and districts on the Integrated Health Information Platform (IHIP) and all the health facilities have been asked to participate using P-form level login, the ministry said.
Several states have been reeling under the impact of sweltering heat. Soaring mercury and power cuts have made life difficult for people in states like Bihar, Jharkhand, Uttar Pradesh, West Bengal, Chhattisgarh, West Bengal, Odisha and Andhra Pradesh.
The state governments have taken several measures to mitigate the sufferings of people due to intense heat.
Uttar Pradesh chief minister Yogi Adityanath held a meeting to review heat wave situation in the state and gave a slew of instructions to officials to ensure relief to people.
The state's deputy chief minister Brajesh Pathak has asked the CMOs and CMSs of all government hospitals to reserve 10-15 beds in the emergency departments and create separate wards for patients suffering from heat-related diseases, including diarrhoea, vomiting, fever and abdominal pain.
Additionally, at least two beds should be reserved in the ICU, he said. The minister has also directed the officials to ensure prompt availability of symptomatic treatment and make adequate arrangements of glucose, ORS, and medicine for vomiting, stomach pain and gas.
In Bihar, two people died at Anugrah Narayan Magadh Medical College amid soaring temperatures, the hospital informed.
1/7
How do extreme heat waves affect the body? Know the symptoms and how to manage it
Show Captions
<p><br />Heatwave condition is likely to continue in states like Uttar Pradesh, Bihar, Andhra Pradesh, Odisha, Madhya Pradesh, West Bengal, Telangana, Chhattisgarh, and Jharkhand till June 20, the India Meteorological Department (IMD) has said. As per reports, a severe heatwave has killed more than 50 people in UP's Ballia though there is no official confirmation of this. The patients admitted to the hospital had chest pain, the hospital authorities have told media. In view of the heatwave condition, it is extremely important to take care of your health. Read this article to know more.<br /></p>
A total of 58 patients were admitted at Anugrah Narayan Magadh Medical College on Monday. The Patna district magistrate has suspended all academic activities up to Class 12 in the state capital due to the ongoing heat wave. The order will remain effective till June 24.
(With inputs from agencies)
Watch Delhi: Union Health Minister chairs high-level meeting to review preparedness for heatwaves