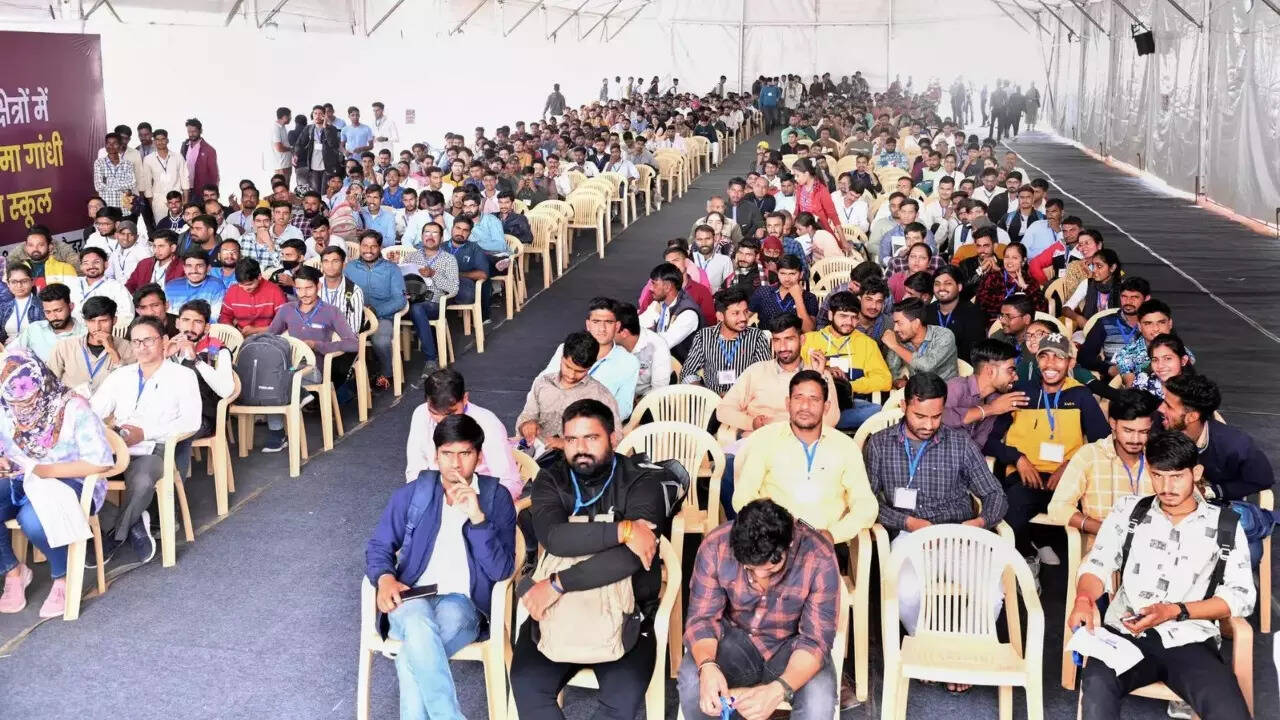 NEW DELHI: BJP on Monday lashed out at
Rahul Gandhi
for his "devious agenda" on public sector jobs.
It argued that the overall manpower in central PSUs had remained virtually unchanged since 2013, despite the privatisation of Air India and staff rationalisation at companies such as
BSNL
and MTNL, with the latest numbers expected to show an addition to the workforce due to the special recruitment drive launched by the Modi government.
"In 2013, the total number employed with PSEs stood at 20.3 lakh. The same number as in 2022 was 19.8 lakh, despite rationalisation in BSNL/MTNL and Air India's disinvestment. Additionally, as part of Mission Recruitment, CPSEs have added over 20,000 new jobs since June last year, which will reflect in this year's tally," BJP IT cell head Amit Malviya said in a series of tweets, while accusing the Congress of mutilating data.
He said the Congress party should "stop shedding crocodile tears" over the state of PSUs as several companies had seen an increase in manpower between 2013 and 2022.
"Like Indian Oil Corporation (increase of 79,828), Mahanadi Coalfields (36,418 additions), Nuclear Power Corporation (22,235 new employees), Northern Coalfields (incremental 17,674 jobs) and HPCL Rajasthan Refinery has added 16,422 new head count, among others," he said.
Gandhi had tweeted that the jobs in PSUs had reduced from 16.9 lakh in 2014 to 14.6 lakh in 2022. He mentioned the reduced number of employment in BSNL, SAIL, MTNL, SECL, FCI and ONGC. He also said the number of contractual employees had doubled, raising questions on whether the rise in contractual employees is a medium to "snatch" the constitutional rights of reservation.
Malviya tweeted, "Poorly conceived policies of Congress have brought down countless PSUs and sunk taxpayer's money, which could have been used for health and education. Due to massive corruption and foolish policies, Air India and BSNL were decimated under the UPA govt. While PSUs have been given far greater freedom under the Modi government."
He said that the profit of CPSEs had soared 93% from around Rs 1.3 lakh crore in 2013-14 to around Rs 2.5 lakh crore in 2021-22.
Malviya also said that Gandhi should stick to doing "choreographed interviews, which can be edited later, to remove bloopers and make you look reasonable". He said, "You ran a vicious campaign against HAL, SBI, and LIC too, eventually to look stupid, when each of these PSUs posted super profits."
He said contribution of all CPSEs to central exchequer by way of excise duty, custom duty, GST, corporate tax, interest on central government loans, dividend, and other duties and taxes stood around Rs 5.1 lakh crore in FY 2021-22 as against Rs 2.2 lakh crore in FY 2013-14, a jump of 130%. Malviya also said how the net worth of all CPSEs has increased from Rs 9.5 lakh crore as in 2014 to Rs 15.6 lakh crore as in March 2022, registering a growth of 65%.
"Truth is that Modi Govt has reformed PSUs and they are doing much better than they ever did under the Congress," Malviya tweeted.