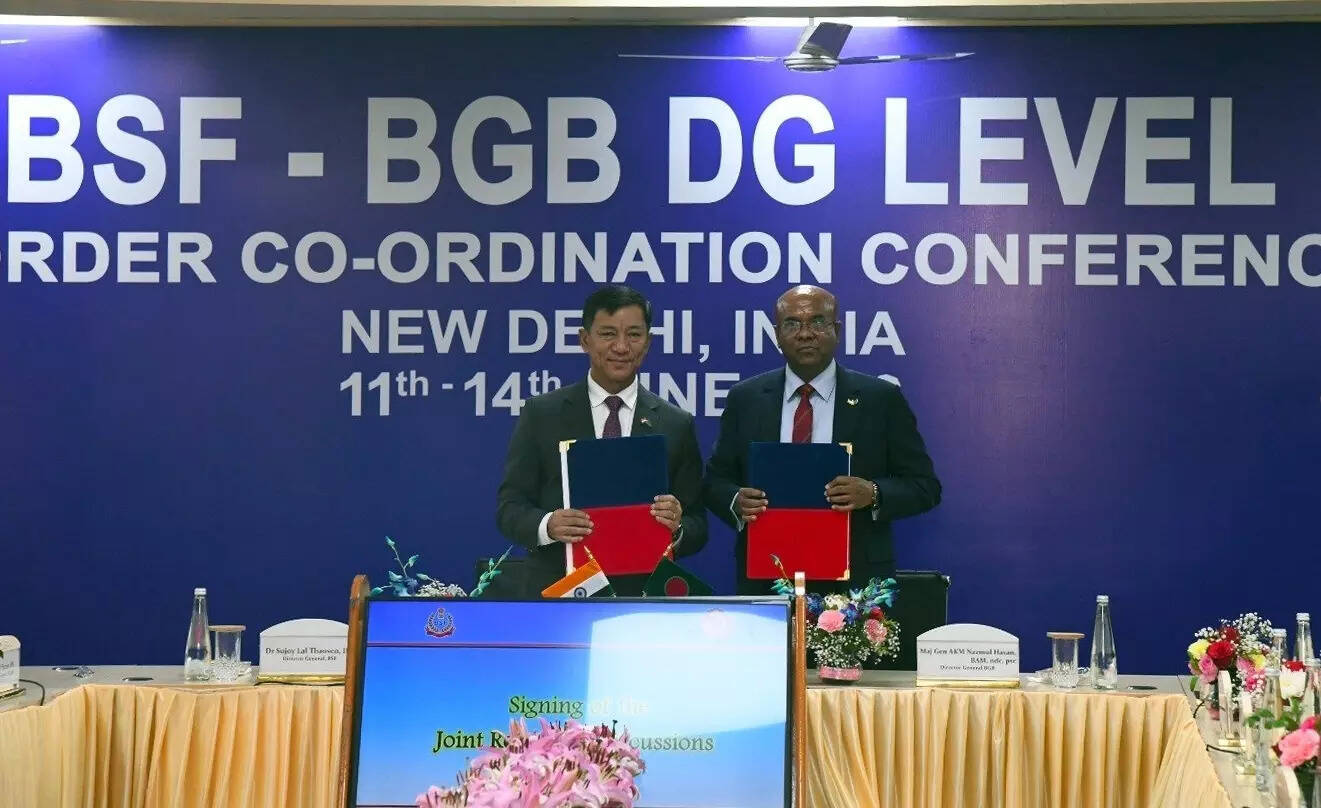 NEW DELHI: Border Security Force (BSF) and its Bangladeshi counterpart Border Guard Bangladesh (BGB) have agreed to undertake five developmental projects each — including building infrastructure like roads, bridges, schools, retaining walls and power supply works — on their side of the border. Among the works to be undertaken on the Indian side of the border are construction of a Bailey's bridge over River Sonia, a bridge near Ragna Bazar border post, retaining wall along River Bugai and a brick road to village Indiapara; besides repair on a 750-metre road.
The two border forces described the decision, taken during the border coordination conference that concluded on Wednesday, as a "momentous" one, saying that it will positively impact the lives of the border residents and further bolster India-Bangladesh relations, including trade ties.
At the border coordination meet — where the BSF side was led by DG S L Thaosen and BGB by his Bangladeshi counterpart, Major Gen A K M Nazmul Hasan — the two sides agreed to work independently and jointly to limit the instances of killing of Bangladeshi nationals close to the international boundary.
On the issue of violent incidents along the border, both sides concurred on working jointly and engaging professionally, enhancing night-time simultaneous coordinated patrol; sharing real-time information; intensifying public awareness programmes; and making all-out efforts to bring the perpetrators of violent crimes to justice.
Thaosen said the BSF troops were driven to use force "as a last resort" on suspected miscreants and smugglers who attacked or threatened its personnel. His BGB counterpart, however, raised concerns over the killings and sought restraint and better communication among troops on the ground to reduce these instances.
Thaosen insisted that the BSF strictly follows a policy of using only non-lethal weapons. "When we find that force was used by BSF personnel which was more than necessary, then legal action is taken against them," he said. The DG added that the BSF has decided to bring the numbers of border killings to a "minimum" and is accordingly sensitising and training officers on the ground.
Maj Gen Hasan said: "We have discussed various measures to reduce these killing incidents and sometimes it was seen that there was misunderstanding or miscommunication between lower-level or ground-level troops and we (BGB and BSF) are working together on this issue".
The BGB chief said illegal migration from both sides has been an issue but "we are working together to seal the border and undertake joint patrolling so that incidents of illegal trespass do not take place".
As per a joint record of discussions at the BSF-BGB conference from June 11 to 14, the decision on implementing or expediting developmental and infrastructure projects along the Indo-Bangladesh border, "highlights the commitment of both the prime ministers (of Indian and Bangladeshi) to prioritise developmental works aimed at the welfare of border population and fulfilment of their aspirations".
The two sides have agreed to hold a meeting of their nodal officers in a month's time to sort out matters relating to developmental and infrastructure works.
Both the BSF and BGB chiefs, during the talks, appreciated the efforts at strengthening mutual cooperation through confidence-building measures (CBMs), quarterly meetings at nodal officers' level, coordinated joint patrolling, and identification of the vulnerable areas. The DG-BSF suggested that they were exploring the possibility of water sports activities in the riverine border, a point well taken by the DG-BGB. Both sides agreed to continue with all bilateral engagements like games and sports, joint retreat ceremonies, goodwill visits, training exchange programmes, etc.