NEW DELHI: As part of a package for the farm sector, the government Wednesday announced a Rs 3.7 lakh crore scheme for fertilisers aimed at continuing urea subsidy for the next three years, while also promoting the use of organic fertilisers for better soil health. It also decided to increase the minimum price that mills must pay to sugarcane growers by Rs 10 per quintal for the 2023-24 sugar marketing season starting October.
Fertiliser minister Mansukh Mandaviya said the government hasn't capped the subsidy for the fertiliser sector till 2025-26 and, if required, more funds will be provided.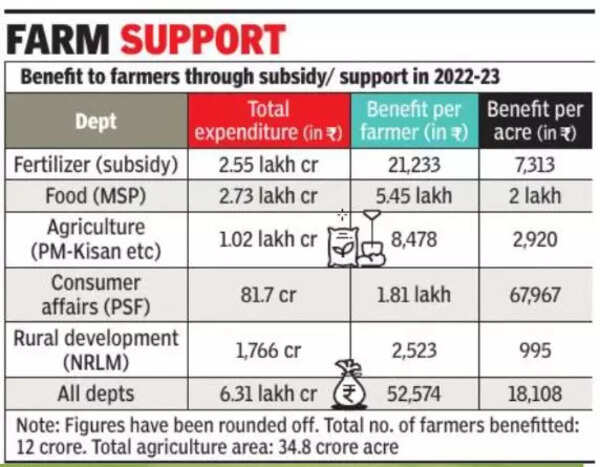 Among the decisions cleared by the cabinet was the PM Programme for Restoration, Awareness, Generation, Nourishment and Amelioration of Mother Earth (PM-PRANAM) which aims to promote sustainable use of fertilisers and involves the participation of states. Although a separate budget has not been provided, it will be financed through savings from subsidies as the government hopes to reduce the use of conventional fertilisers. According to the plan, half the savings on subsidy will be shared with states that get farmers to reduce the use of conventional fertilisers.
The cabinet approved an incentive of Rs 1,500 a tonne to support marketing of organic fertilisers produced as a by-product from biogas plants and compressed biogas plants set up under the umbrella Gobardhan initiative. Besides, the government cleared the launch of sulphur coated urea (or Urea Gold).
Announcing the decision on revision of fair and remunerative price (FRP) of sugarcane, information and broadcasting minister Anurag Thakur said farmers will receive a record mandatory price of Rs 315 a quintal, a 3.3% increase over the current level.
"With a view to protect the interest of sugarcane farmers, the government has also decided that there will be no deduction if recovery in sugar mills is below 9.5%. Such farmers will get Rs 291.9 per quintal for sugarcane in the ensuing sugar season 2023-24 in place of Rs 282.1 per quintal in current sugar season 2022-23," an official statement said.