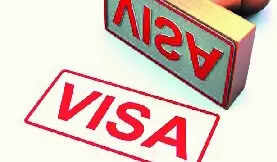 Canada
was increasingly becoming an attractive destination for Indian H-1B visa holders, who were caught in a decades long backlog for obtaining an employment-based green card. For them, Canada now becomes even more alluring as the country is set to roll out an 'Open work permit stream for H-1B holders' in the coming weeks. This will include granting of study or work permits to accompanying family members of the H-1B visa holder.
Sean Fraser, minister of Immigration, Refugees and Citizenship (IRCC) launched Canada's first-ever 'Tech Talent Strategy', on Tuesday, by announcing a plethora of immigration-centric initiatives. Other measures that were announced include development of a new 'Innovation Stream' to attract highly talented individuals, promoting Canada as a destination for 'digital nomads', a 'STEM-specific draw' under the Express Entry programme that offers permanent residency and improvements to its 'Start-up Visa Program'.
"Going forward, as of July 16, we will have a stream that will allow 10,000 H-1B visa holders in the US to come and workin Canada," said Fraser. IRCC states that, "Under this openwork permit stream, approved applicants will receive an open work permit of up to three years in duration, which means they will be able to work for almost any employer anywhere in Canada. Their spouses and dependents will also be eligible to apply for a temporary resident visa, with a work or study permit, as needed."
The immigration agency says this measure will remain in effect for one year, or until IRCC receives 10,000 applications. Only principal applicants, and not their accompanying family members, will count toward the application cap.
Fraser also said Canada will launch a digital nomad strategy, which would allow people having a foreign employer to come and work in Canada for up to six months and interact with local communities here. "Should they get a job offer while they are here, we are going to allow them to continue to stay and work in Canada," he emphasised.
An "Innovation Stream' will be launched by the end of 2023, under the International Mobility Programme to attract highly talented individuals. This would include grant of employer-specific work permits for up to five years for workers destined to work for a company identified by the Canadian government as contributing to its industrial innovation goals. The stream will also offer open work permits for up to five years for highly skilled workers in select in-demand occupations.
TOI had already reported on the launch of category-based selection for Express Entry a point-based popular route for Indians to gain permanent residency in Canada. A dedicated pathway will be available to aspirants in the STEM sector (covering those qualified in the science, technology, engineering and mathematics field). IRCC states that the first STEM round for category-based selection will open in the week of July 5.