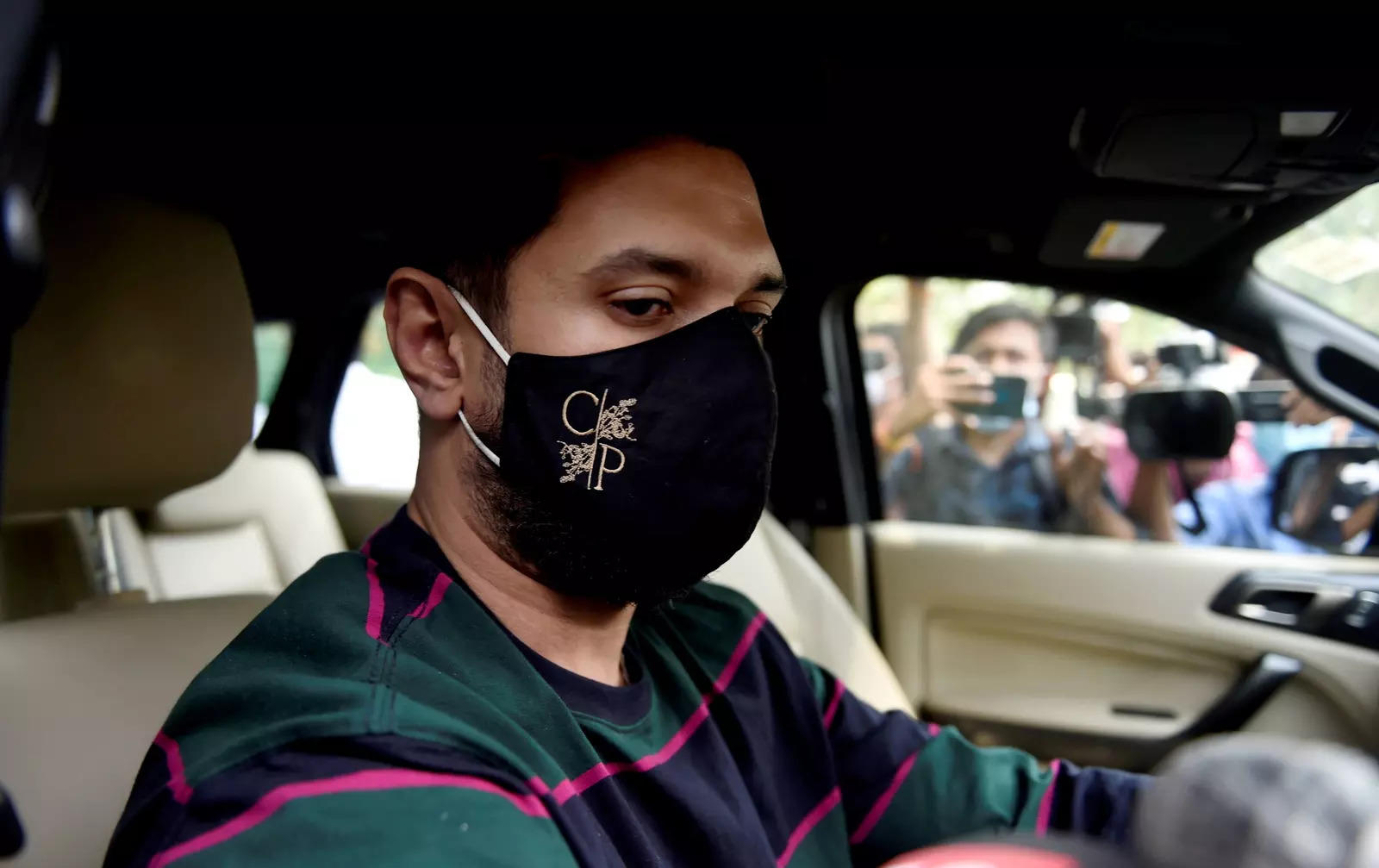 NEW DELHI: In a surprise turn of events,
Chirag Paswan
, the president of Lok Janshakti Party (LJP) founded by his father late
Ram Vilas Paswan
, was on Monday unceremoniusly unseated as the leader of the party in Lok Sabha.
Chirag, who took over the mantle of the party in 2020 after the death of Ram Vilas Paswan, stood completely isolated at the top within his party.
Five of the six members of Parliament of the LJP revolted against Chirag in an overnight coup and elected Pashupati Kumar Paras, his uncle, as the new leader of the party in Lok Sabha.
Besides Pashupati Paras, the rebel group includes Chirag's cousin Prince Raj, Chandan Singh, Veena Devi and Mehboob Ali Kaiser.
The group has already met Lok Sabha Speaker
Om Birla
to inform him about the changes in the party. In the coming days, the rebels may stake claim in the Election Commission to represent the real LJP and could also move to oust Chirag from the top party post.
'You reap what you sow'
Nitish Kumar's party, the Janta Dal (United), reacted with a sense of vindication to the deveopments within the LJP.
Chirag had led an aggressive anti-Nitish Kumar campaign in the 2020 assembly elections and in the process dealt a heavy political blow to the ruling Janta Dal (United) in Bihar.
Chirag walked out of the NDA in the state and contested the assembly elections against Nitish Kumar's party. He fielded nominees, some of them BJP rebels, against all the JD(U) candidates.
As a result, the JD(U) ended up losing several seats due to triangular contest and for the first time it became the junior partner to the BJP in Bihar NDA.
Little wonder, Nitish Kumar's party reacted with a dig at the developments within the LJP.
"You reap what you sow," said JD(U)national president RCP Singh as he blamed Chirag for doing negative politics.
"Chirag Paswan has committed so many blunders in the recent past. The people of Bihar and his own party workers and leaders were not happy with whatever he did during the Bihar assembly election. Now, it's results are coming in the form of a split in the party," Singh said.
Given the bitter political rivalry between the two parties since the 2020 assembly elections, sources close to Chirag Paswan accused the JD(U) for the split in the LJP.
The JD(U), on the other hand, blamed Chirag Paswan's negative politics for the rift within his party.
The lone LJP MLA in the Bihar assembly has already left the party to join the JD(U).
Chirag tries to meet Paras, but fails
As the events unfolded on Monday, Chirag Paswan drove to his uncle's residence in the national capital to meet him and Prince Raj.
Paswan, who has not been keeping well for some time, waited for over 20 minutes in his car before he was let into the house and then left after spending more than an hour inside.
He left without saying a word to waiting media persons.
It is believed that neither of the two rebel MPs met him. A household help said the two were not at home when the LJP chief arrived.
How will the BJP react?
It would be interesting to see as to how the BJP reacts to the latest developments in this game of one-upmanship between the JD(U) and the LJP in Bihar.
Chirag Paswan has all along kept a very strong pro-BJP and pro-PM Modi stand and announced ahead of assembly elections that he is working for a BJP government in Bihar.
Pashupati Paras, on the other hand, is percieved as pro-Nitish Kumar.
Paras today lauded Nitish Kumar as a good leader and "vikas purush" (development-oriented man).
With talks of Union Cabinet reshuffle, it would be interesting to see if the BJP decides to include Chirag Paswan to ensure that he is not completely marginalised within his own party.
The JD(U) has declined to comment on speculations about one or more rebel LJP MPs being inducted into the Union cabinet from the party quota or getting accommodated in the state ministry.
However, it has reiterated the party stand that all NDA allies ought to get a "respectable" share at the Centre.
'I have saved the party'
Pashupati Paras, who is an MP from Hajipur, a seat represented by Ram Vilas Paswan for several years, caimed that 99 per cent of LJP workers were unhappy with the leadership of Chirag Paswan in Bihar.
"There are six MPs in our party. It was the desire of five MPs to save our party. So, I have not broken the party. I have saved it. Chirag Paswan is my nephew as well as the party's national president. I have no objection against him," Paras said when asked about the developments.
Paras said his group will continue to be part of the BJP-led NDA, and added that Paswan can remain in the organisation.
Regarding the rumours that LJP will be joining the Janta Dal (United) in Bihar, the Hajipur MP said, "Existence of LJP will continue, we are not joining JDU. We will fulfill the ambition of Late Ramvilas Paswan."
Watch Pashupati Paras unanimously elected as LJP Parliamentary party leader in Lok Sabha