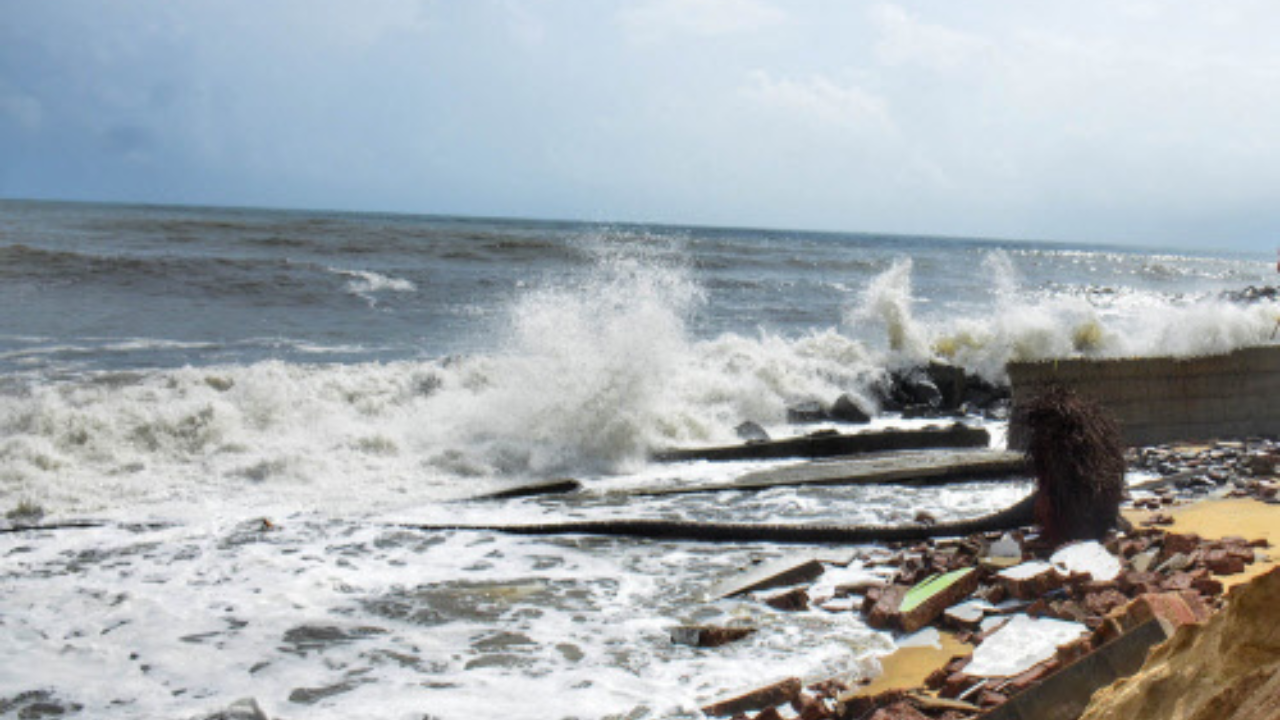 AHMEDABAD/MANDVI/NEW DELHI: As powerful cyclone 'Biparjoy' approaches the Gujarat coast, authorities have evacuated 50,000 people from vulnerable areas in a massive operation and deployed disaster management personnel for relief and rescue measures in the state set to be most impacted by the second storm to hit it in just two years, officials said on Wednesday.
With the cyclone, expected to make landfall near Jakhau port in Kutch district on Thursday evening, barrelling towards the Gujarat coast, parts of the Saurashtra-Kutch region received heavy rains accompanied by strong winds.
Gujarat Chief Minister Bhupendra Patel took stock of the situation with senior officers, while at the central level, Union Health Minister Mansukh Mandaviya and Defence Minister
Rajnath Singh
separately reviewed the preparedness to deal with the impact of the cyclone.
Nine talukas in Devbhumi Dwarka, Jamnagar, Junagadh, Porbandar and Rajkot districts received more than 50 mm of rainfall in the 24 hours ending on Wednesday morning.
The India Meteorological Department (IMD) said Biparjoy was set to change the path on Wednesday and begin moving north-eastwards towards Kutch and Saurashtra but it will still have landfall as a very severe cyclonic storm with wind speed ranging from 125-135 kmph, gusting to 145 kmph from morning to evening on Thursday.
The Gujarat government has undertaken a massive exercise to evacuate people living in villages within a 10 km radius of the coast, with a special focus on Kutch which is likely to be worst affected by the cyclone, and move them to temporary shelters.
The evacuation is in progress and is expected to be completed by Wednesday evening, officials said. "The cyclone is nearly 290 km away from Kutch at present. As a precautionary measure, we have already shifted nearly 50,000 people living in coastal areas to temporary shelters. The evacuation process is still on and the remaining 5,000 persons will be shifted by this evening to safer places" said State Commissioner of Relief, Alok Kumar Pandey.
Of the 50,000-odd evacuees, nearly 18,000 people were shifted to shelters in Kutch district while others were evacuated from Junagadh, Jamnagar, Porbandar, Devbhumi Dwarka, Morbi and Rajkot, Pandey told reporters in Gandhinagar.
He said 18 teams of NDRF (National Disaster Response Force), 12 teams of SDRF (State Disaster Response Force), 115 teams of state road and building department, and 397 teams of the state electricity department have been deployed in different coastal districts.
"Officials of departments of Electricity and Road & Building have also reached designated spots to restore connectivity and power supply. We have also deployed teams carrying HAM Radio sets and satellite phones in the coastal region for better communication," said Pandey.
Chief Minister Patel held a meeting with the state chief secretary and senior officers at the State Emergency Operation Centre (SEOC) and reviewed preparedness. Defence Minister Rajnath Singh spoke to the three service chiefs and reviewed the preparations of the armed forces to deal with the impact of the cyclone. After reviewing the preparations, Singh said the armed forces are ready to provide every possible assistance to civil authorities in tackling any situation or contingency that may arise due to the cyclone.
Union Health Minister Mandaviya reviewed the preparedness measures being taken in Kutch. He visited the Bhuj Air Force station to take stock of the preparations made by 'Garuda' Emergency Response Team of the Indian Air Force. He said "our jawans are fully prepared for the safety of life and property from the cyclone." Mandaviya also visited the K K Patel Super Speciality hospital in Bhuj to assess the emergency preparedness. He reviewed the availability of oxygen, ventilators and critical care beds in Kutch district government hospitals, trust-run hospitals and other hospitals in the region. Addressing a press conference in New Delhi, IMD Director General Mrutyunjay Mohapatra said Biparjoy was set to change path on Wednesday and begin moving north-eastwards towards Kutch and Saurashtra and have landfall on Thursday evening near Jakhau Port.
"For the past six hours, it has become very slow, practically stationary. This is an indication that the direction of the movement of the cyclone will change now. We are expecting that it will move towards the northeast and it will hit Saurashtra, Kutch and adjoining Pakistan between Mandvi and Karachi near to Jakhau Port," he said.
"If you look at the intensity, cyclone Biparjoy has slightly weakened further. But, it will still have landfall as a very severe cyclonic storm with wind speed ranging from 125-135 kmph, gusting to 145 kmph from morning to evening on Thursday," Mohapatra said.
A total of 33 teams have been earmarked by the National Disaster Response Force (NDRF) to undertake relief and rescue operations in Gujarat and Maharashtra, officials said in New Delhi.
While 18 NDRF teams have been placed in Gujarat, one has been stationed in neighbouring Diu in the newly formed Union territory of Dadra and Nagar Haveli and Daman and Diu, they said. In the neighbouring Maharashtra, out of the total 14 NDRF teams, five have been deployed in Mumbai while the rest have been kept on standby, the officials said.
Each of these teams have 35 to 40 personnel and they are equipped with tree and pole cutters, electric saws, inflatable boats and basic medicines and relief items, they said.
Shelter homes have been set up in government schools and offices in coastal districts, with arrangements for food, drink and medicine.
"Besides, adequate medical staff and necessary quantities of supplies, including medicines, have been made available in health centres and at government and private hospitals located at nearby places," officials said.
Several parts of the Saurashtra-Kutch region witnessed heavy rainfall accompanied by strong wind, the Met department said.
The IMD stated that the intensity of rainfall would increase as the cyclone approaches the Gujarat coast with the isolated places in the districts of Kutch, Devbhumi Dwarka and Jamnagar likely to witness extremely heavy rainfall during this period.
A few places in Porbandar, Rajkot, Morbi, Junagadh, and the remaining districts of Saurashtra and north Gujarat region are also likely to receive heavy to very heavy rainfall on Thursday, it said.
"As the cyclone crosses the Gujarat coast on Thursday evening, isolated places in Porbandar, Morbi, Rajkot, Jamnagar, and Kutch will receive heavy to very heavy rainfall with isolated extremely heavy rainfall. Devbhumi Dwarka may receive heavy to very heavy with isolated extremely heavy rainfall on Wednesday," said Ahmedabad IMD director Manorama Mohanty.