NALIYA (KUTCH): After swirling in the Arabian Sea for 10 long days, cyclone Biparjoy barrelled into
Gujarat
on Thursday evening, leaving lakhs of people in the Saurashtra-Kutch region haplessly staring at a horrifying aftermath that is expected to unfold when the tropical storm unpacks its devastating potential late into the night and over the next 24 hours.
The "very severe cyclonic storm" crashed into the coast at 6.30pm while its centre, around which winds of 115-125kmph intensity (gusting up to 140kmph) were swirling, tore through an area close to Kutch's Jakhau Port around midnight. PM Narendra
Modi spoke to CM Bhupendra Patel
over the phone in the night and sought the latest information on the cyclone's impact.
IMD officials said cyclone Biparjoy was 300-350km in diameter with its eye stretching some 50km. The cyclone will impact around 1 lakh sq km in Saurashtra-Kutch region.
Follow live updates: Cyclone Biparjoy
Furious winds howling at 110kmph yanked thousands of trees, some centuries-old, left communication towers collapsed, toppled transmission poles, flattened kutcha houses, sent solid objects flying, and raised dusty squalls that resulted in zero visibility.
A father-son duo died in Bhavnagar taluka trying to save their goats from a drain.
While nearly one lakh people were shifted to shelter homes, there were reports of 527 trees getting uprooted and 3,672 electricity poles collapsing until 9.30pm on Thursday.
Manorama Mohanty, head, IMD Gujarat, told TOI: "The impact of the cyclone would lead to a very rough tide which can go up to six metres."
Amid rain and wind fury, people's anxiety only doubled as hundreds of houses plunged into darkness in several villages of Kutch as electricity was snapped and chances of immediate restoration slim.
1/16
Cyclone Biparjoy makeslandfall on Gujarat coast
True to its meaning 'disaster,' Biparjoy not just purged nasty gusts that only intensified but raised a spectre of deluge with rainfall pounding at least 18 districts and the IMD forecasting more wet weather over the next five days.
The cyclone has triggered "astronomical tides" with a storm surge of 2-3 metres in height that could inundate low-lying areas in Kutch, Devbhumi Dwarka, Porbandar, Jamnagar, and Morbi districts during landfall.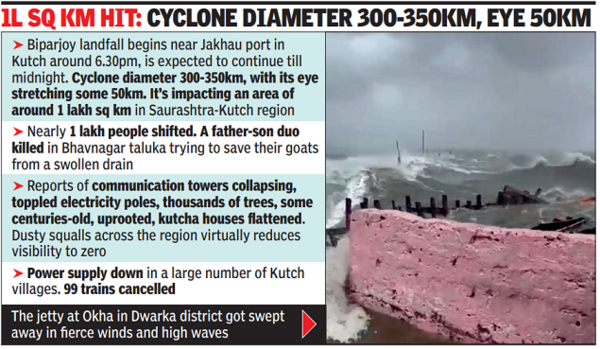 This is the second major tropical storm ravaging Gujarat after Cyclone Tauktae wrecked severe destruction in Saurashtra in May 2021, leaving at least 50 people dead.
At Okha port, a fire that erupted in a stack of coal started raging due to strong winds and help was sought from the Indian Coast Guard and Navy.
Police teams in Devbhumi Dwarka district worked overtime to clear roads blocked by uprooted trees at a large number of places in Khambhaliya, Vadinar, and Kalyanpur talukas. The cops also distributed thousands of food packets in the makeshift shelter homes. Teams of the local crime branch (LCB) and patrolling teams cleared the Khambhalia-Dwarka highway near Titodi village, Porbandar highway.
"Over 3,000 packets were prepared and distributed by the police staff themselves in villages of the talukas," said senior police officials.
Chief minister Bhupendra Patel has directed collectors of all affected districts to be prepared for making a preliminary damage estimate.
Junior home minister Harsh Sanghavi said, "Teams have already begun clearing roads for traffic and the task of restoring electricity will begin as soon as the landfall is complete."
Health minister Rushikesh Patel, who has been manning the control room in Kutch, said that there have not been any reports of any human casualties so far. "The damage to infrastructure is being ascertained and restoration work will begin at the earliest," he said.
The cyclone impact was seen in Ahmedabad and Vadodara too which received intermittent showers accompanied by strong gusts. At least 30 trees got uprooted in Vadodara and some of them fell on parked vehicles.