CHANDIGARH: The repeated release of Dera Sacha Sauda preacher Gurmeet Ram Rahim Singh on parole or furlough by the Manohar-Khattar-led Haryana government reveals a pattern — the release usually occurs just before any important election in Haryana or adjoining states. Ram Rahim is a convict in rape and murder cases.
Gurmeet walking out of prison on furlough on Tuesday comes just before the upcoming assembly polls in Rajasthan, where the dera claims significant clout.The sect chief's followers claim he has influence even in Madhya Pradesh and Chhattisgarh, where assembly polls are also being held.
A native of Gurusar Modia village in Rajasthan's Sri Ganganagar district, the dera chief has significant influence in some parts of the desert state, especially those sharing boundaries with Haryana's Sirsa district.Several top Rajasthan politicians have been seen visiting the dera in the past (before his conviction) to seek the blessings of the sect chief.
The dera has a political wing that decides and issues directions regarding support to candidates to its followers just before polling day. Before the 2014 assembly elections in Haryana, a senior BJP politician had visited the dera chief in Sirsa. Thereafter, the dera had announced support to BJP, which later formed government in Haryana with a full majority for the first time.
On July 20 this year, Ram Rahim was released on parole before the panchayat polls in Haryana for 30 days, and on parole on January 21 for 40 days. On Monday (November 20) he was granted furlough for 3 weeks and temporarily released on Tuesday.
On October 15, 2022 he was released on parole just before the panchayat elections and Adampur bypoll. On June 17, 2022, he was granted parole for around a month just before the state was to hold municipal body elections. On February 7, 2022, he was granted 21 days' furlough just before the Punjab assembly elections.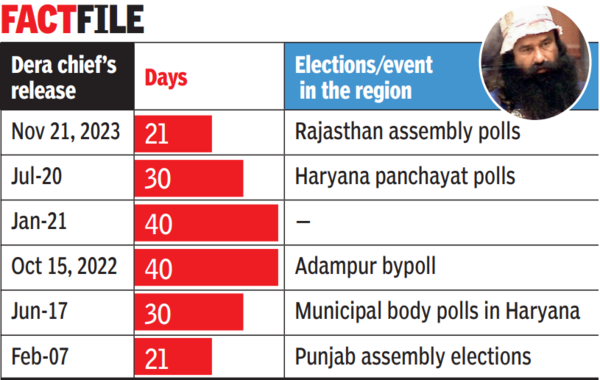 He was first granted such relief on October 24, 2020, just before the crucial Baroda assembly bypoll in Haryana — from sunrise to sunset to meet his ailing mother at a Gurugram hospital.
The dera chief has been in Rohtak's Sunaria jail since August 25, 2017, serving two 20-year sentences for the rape of sadhvis (female disciples). He is also serving two life sentences from January 17, 2019 and October 2021 — in connection with the murders of Sirsa-based journalist Ram Chander Chhatarpati and former Dera manager Ranjit Singh, respectively. Around 40 people had lost their lives in August 2017 in violence in Panchkula and other parts of Haryana and Punjab following his conviction in the rape cases.
Plea before HC against parole to dera chief
A petition filed by the SGPC challenging the temporary release of the dera chief on 40 days' parole in January is already pending before the Punjab and Haryana HC.
Jail manual on parole and furlough
According to the jail manual, a convict is entitled to 10 weeks of parole a year. The period the convict spends out of jail is added to the sentence and not deducted from the total sentence. A convict (who is sentenced to more than 10 years in jail) is entitled to 4 weeks' furlough a year and the period is considered as jail time served. With this, a convict can remain out of jail for a maximum of 98 days a year. However, such freedom is not easily granted to all jail inmates and depends on several factors, including the discretion of the authorities and clearance from the administration.
Difference between furlough and parole
Both furlough and parole are a short-term temporary release of convicts from jail. Furlough is a prisoner's right and granted periodically, and sometimes without any reason but the sole grounds of him/her maintaining contact with family. Parole is not a right and is given on specific grounds.