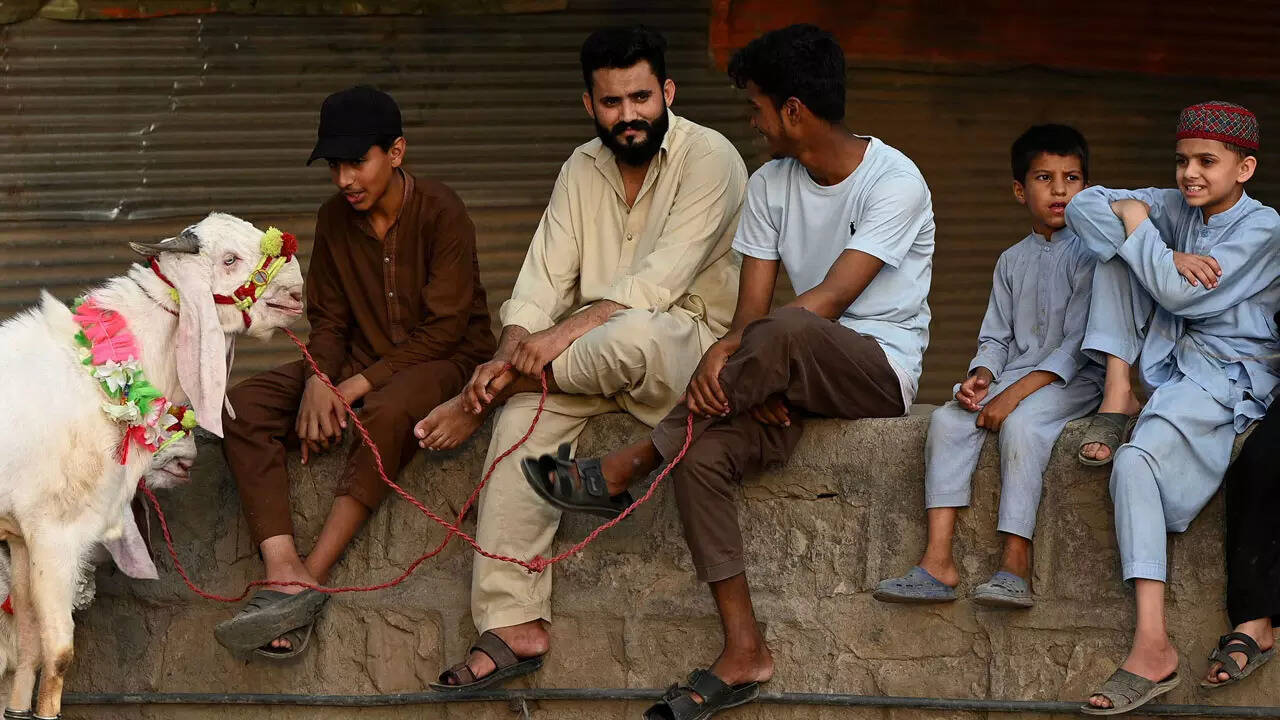 NEW DELHI:
Pakistan
's ongoing economic crisis has yet again dampened Eid celebrations in several parts of the country even as the Shehbaz Sharif government eagerly awaits a much-needed bailout from the International Monetary Fund (
IMF
).
From ATMs running dry to thieves stealing sacrificial animals, the affect of the worsening situation in Pakistan has spilled over to Eid festivities.
Sacrificial animals stolen ahead of Eid
According to reports, street crimes in cities like Karachi have risen sharply, with at least 46 people killed while resisting robberies in over 3,000 reported incidents.
Street criminals in the city have graduated from looting people to stealing sacrificial animals and carrying out daring hold-ups in restaurants and even graveyards, making life miserable for the over 17 lakh metro area population.
In a new trend witnessed ahead of Eid ul-Adha, criminals have taken to stealing and taking off with sacrificial animals with impunity, brought in large numbers by citizens during the holy festival.
Being sold this year for thousands and lakhs of rupees, sacrificial animals have become such a lucrative target for criminals that a special security force has been deployed by the Sindh police at the main animal markets set up for the upcoming Eid.
According to sociologist Dr Aima Akbar, the recent increase in street crimes can be attributed to the ongoing political and economic turmoil in the country.
"Criminals are emboldened because of the turmoil, and for a long time now, it is common knowledge the Sindh police does not have enough manpower to man a city like Karachi which is expanding rapidly," she said.
Shedding light on the reasons for rampaging street crimes, Aima Akbar said, "These are complex and multifaceted. Unemployment and poverty contribute to this. Many qualified youths are without jobs, and this leads to frustration and anger."
The combination of poverty with the large population of poor and underprivileged people in Karachi often leads people to turn to crime as their means of survival.
No takers for Eid camels
With the economic turmoil hitting hard, Eid camels, which are usually sold in large numbers, are finding few buyers this year.
Hundreds of farmers have camped at livestock markets between Islamabad and its twin city Rawalpindi for two weeks, hoping to sell animals ahead of the annual holy festival starting Thursday in Pakistan.
But with rampant inflation — reaching a record 38 percent in May — a seller who brought 18 camels to market after good profits last year has sold only one so far.
"People's purchasing power is over. Customers are not coming to the market, and those who come prefer to return empty-handed due to the high prices of the animals," Zakaria, 21, told AFP.
"Our income is the same but the prices are sky-high. From where would we get that much money?" buyer Ali Akbar, a 46-year-old builder, asked.
Camel sacrifice is not common in Pakistan, but some wealthier buyers prefer the animal because 11 families can share its meat, according to Islamic rules.
ATMs run dry
According to local reports, ATMs in some parts of the country, including cities like Karachi, have started running out of cash ahead of Eid.
"The ATMs are out of order before Eid. We have visited the ATMs many times since this morning but there is no cash," said people troubled with this issue.
Customers typically complain about the ATMs not working or running out of cash right before Eid.
IMF bailout
Meanwhile, PM Shehbaz Sharif said on Tuesday he hoped a bailout decision from the International Monetary Fund would come in a day or two, capping off protracted negotiations as the country faces an acute balance-of-payments crisis.
Islamabad is racing against time to unlock $1.1 billion under the lender's ninth review of a $6.5-billion Extended Fund Facility agreed in 2019. The programme expires on June 30.
Pakistan's economy has been in a free fall mode for the last many years, bringing untold pressure on the poor masses in the form of unchecked inflation, making it almost impossible for a vast number of people to make ends meet.
(With inputs from agencies)