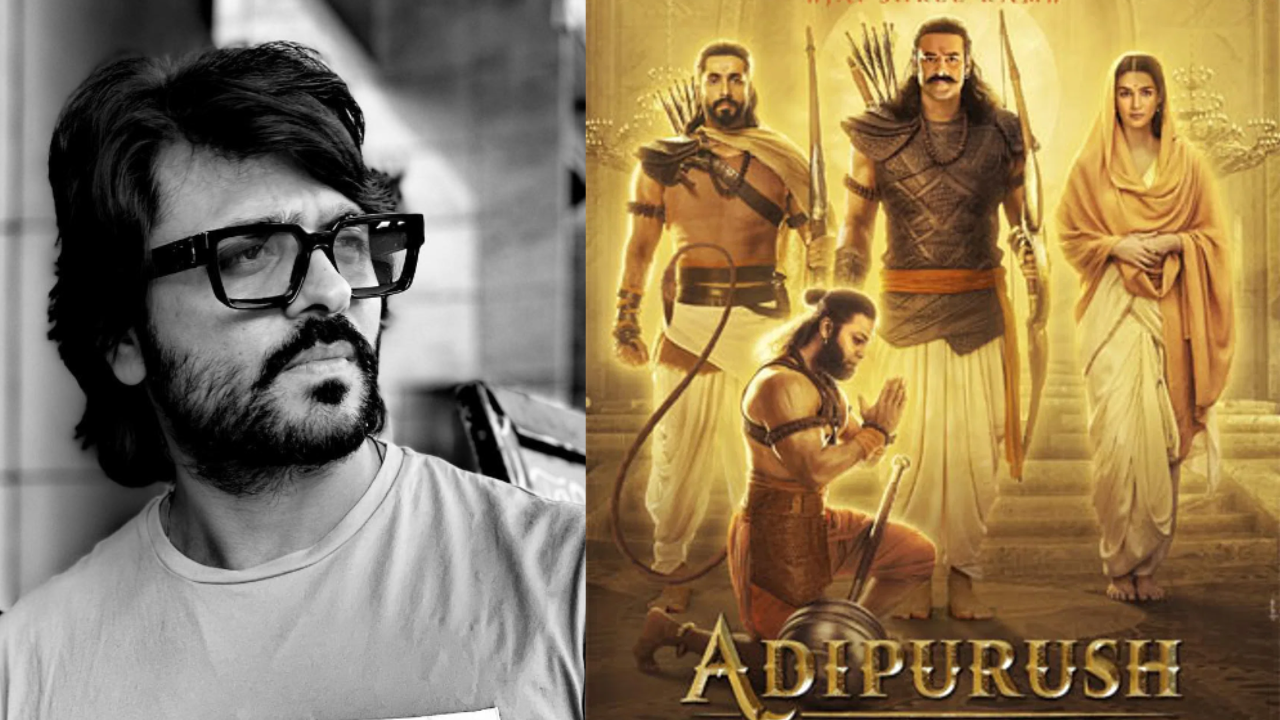 Siya Ke Ram actor Ashish Sharma, who played the role of Lord Ram onscreen', exclusively spoke with ETimes TV about his take on Adipursh. The actor not only reviewed the film but also pointed out the major loopholes in the plot and picturization of the characters. Take a look at what he had to share:
If you were to review Adipurush
It is a badly researched and ignorantly made depiction of Ramayan.Ignorantly because nobody intently wants to make a bad film. Everybody sets out to make a good film even for commercial reasons. Every producer, director, and actor wants to make a successful film.
Subjects like Ramayan and Mahabharat need loads of research. First of all, it needs the correct minds who understand the sentiment of these epics and truly believe in the ideology of the epics. Unless you do that, you can never make an authentic epic. There's no research done even on the basic levels. If I leave the epic or religious or belief side of it aside, only and only as a cinema lover and cinema student, it is not an authentic depiction or well-researched cinema piece for me at least.
When we make cinema based on a particular era and region the basic requirement is that the characters speak the language of that region and era. But if we are getting away with that citing it as creative liberty, that is sheer laziness for me. This film lacks basic cinema sensibilities.
We know that the term cinematic liberty is used when someone doesn't have enough reason to say anything on the screen. If you're making a film with an excuse, how can it be authentic? This film is made with a sheer lack of knowledge and honest effort to make Ramayan. For the Box Office business to happen, the entertainment needs to be correct. Let's say if we want to encash the Hindu sentiment or wave that's happening, the audience on our faces is saying, "Do not fool us". They're showing it by not watching the film. Why are we not listening to them?
About the makers defending the film
If you're making a film with an excuse, you'll keep on giving excuses. The summary of Ramayan is that when Ravan is dying, Ram asks Laxman to go and take knowledge from Ravan because he was that great a Brahmin. Ravan folds his hands and apologies to Ram for my sheer ignorance of the fact that the knowledge that I have needs to be shared and the first thing that my knowledge should teach me is humility. But because I have been egotistic, I lie here and I seek your forgiveness. If you're making Ramayan but not understanding even this much then for me you're making it from Ravan's point of view. Because you yourself are practising that. Our audience is so kind-hearted. If I would have done such a blunder I would have apologized to the audience a thousand times and will make a better film next time. And I know that the audience will forgive because such is our culture.
When you know that you've faltered, accept it, don't cover it up. Manoj Muntashir is an immensely knowledgeable person and a brilliant writer but when the time comes you have to actually imbibe the knowledge you have that is when your true character shows. So, practice what you preach. As a maker, you have the right to make the film you want and similarly, as a viewer, I have the right to say what I thought about the film.
On Prabhas' look as Ram
It's not just about his look but the overall look of the film. I think the filmmaker here has an inferiority complex when it comes to accepting our culture, traditions, and the way Bharat has been. Why do we shy away from wearing a Mukut (Crown)? It is written in our epics how exactly Ram looked physically and psychologically. It is written how Sita looked. When it's written just follow that. When they've set a parameter, and mentioned that they wear Saffron coloured Valkal (type of clothes), why aren't they wearing Valkal? There's a term and a Shloka to it. Kaikeyi takes a promise from Ram that they will wear Valkal throughout the 14 years of their exile.
If you're saying that you're making Ramayan for the next generation then tell them what exactly happened. Rewriting Ramayan is wrong. All the character sketches are written in Ramayan. You don't have to rewrite it, just read it.
Creative liberties
I don't know what kind of Pushpak Viman was in the film. Also, you can take the creative liberty to show how Ram must have used the Brahmastra but not the creative liberty to show him using Brahmastra just like that. The only time Ram gets angry in Ramayan is when he interacts with the ocean between him and Lanka. He gets furious for the first time and then he takes out the Brahmastra. They have shown that the ocean comes and apologies to Ram and says that the stones will float on water. The ocean doesn't say this. It could be a possibility that it is written like that in any other version of Ramayan which I haven't read. But the point here is that Ram doesn't look even a bit like what Prabhas looked in Adipurush. Even in popular culture, it's written that Shri Ram was 'Saumya' and Shri Krishna was 'Chanchal'. In Adipurush, Ram is far from being Saumya.
Because of years of colonization, we have become inferior in our identity and we feel that if we show our own culture in that richness, it is wrong. We would look poor. Let's take Game of Thrones and Lord of the Rings. WHY? They make films as per their sensibilities. Stick to your own history and be proud of it. Hanuman is God. He simply cannot say those lines.
Five factual errors in Adipurush
Laxman faints in the war and Vibhishan's wife tells about Sanjeevani. It is completely wrong. There's an entire sequence in Ramayan where Hanuman brings a Vaid (physician) from Lanka and the Vaid tells them about Sanjeevani and he refuses to treat Laxman. Ram tells him that his foremost duty as a physician is to treat the patient; not being loyal to his land.
Ram sees Sita getting kidnapped. When did he see that? And if he saw that, wouldn't he shoot his arrow? And he sees Jatayu dying in front of him? Completely wrong. On his way to find Sita, he meets Jatayu who is dying. Jatayu tells Ram that he doesn't know where exactly Ravan took Sita but seems like he went towards Kishkindha.
While Ravan is taking Sita to Lanka, she drops Chudamani given to her by Ram, not a pearl necklace. Again, factually wrong. There's a full Chaupayi written about it. Ram finds Chudamani and finds his way.
In the Vali-Sugreeva war in Adipurush, Ram comes across as a villain. Ram refuses to kill Vali. He shoots his arrow only when Sugreev tells him that Vali has kidnapped his wife and has committed a crime. That's when Ram agrees to use the weapon. Otherwise, why would Ram use a weapon in Malla-Yuddh (hand-to-hand combat)?
Mandodari was the biggest Pativrata Stree. She was keeping Ravan alive. It was her sheer will that was keeping Yama away from Ravan. In the film, she is shown as a widow even before Ravan goes to war. It's completely wrong.
The character of Ravan is factually Ravan. He was never a villain. That is what we're taught. They're both Ram, but Ram accepts the white and Ravan accepts the black. That's all. They're equals. Ravan is more intelligent and more knowledgeable. He had Trilok under his control.
About the language
It is a sorry excuse that we are making it for the next generation. When Ramanand Sagar's Ramayan was made it was made for the next generation of that time. when Siya Ke Ram was made, it was made for Gen Z, let's say and it is still relevant. I know 9-year-olds are still watching Siya Ke Ram right now. The show has Hindi and Sanskrit but the kids are understanding it. And as creators, it is our duty to bring our languages to the forefront. If Gen Z is not understanding that language then whose fault it is? And if we're giving them the language then we are doing a bigger crime because we're nurturing a generation that would be completely devoid of our language and culture.
We either boycott or review badly and then forget about it. We never discuss what the problem is. The big screen has been very small in its approach when it comes to historical and mythological films. They have nothing authentic in the last decade or so when it comes to history or mythology. TV screens have been very vital in making historical and mythological shows. I have done ten shows like that. They were authentic and well-researched in their depiction.
But the problem is that we are not nurturing great minds to make cinema that authentic because we're moving away from education from them. We're not nurturing a generation that is closer to our culture and epics and literature. It's the whole bloody system. It's a mindset I'm talking about. I am blessed that I was born into a household where I was made to read these epics. Today, I have an understanding of these things only because my mind was nurtured since childhood. It shapes your thought process and inclinations which we are not doing anymore. We are moving away from that. There's no new breed of filmmakers who actually believe in these things. The only silver lining I can see is that there are some filmmakers who are waking up to our scriptures because now the audience is also asking for them.
You can't tell an Indian story with a Westernized mindset. To tell an Indian story, you need to have an Indian mindset. There are very few filmmakers who are actually rooted in our culture. Ramayan and Mahabharat are ten times better than Marvel. The multiverse is written in both epics, thousands of years ago. Hanuman Ji and the Sun God are travelling in the Multiverse. There is one Indra for every Brahmand (Universe). We have ready-made multiverses already written. You just have to read it. Why do you want to make it like Marvel?ad