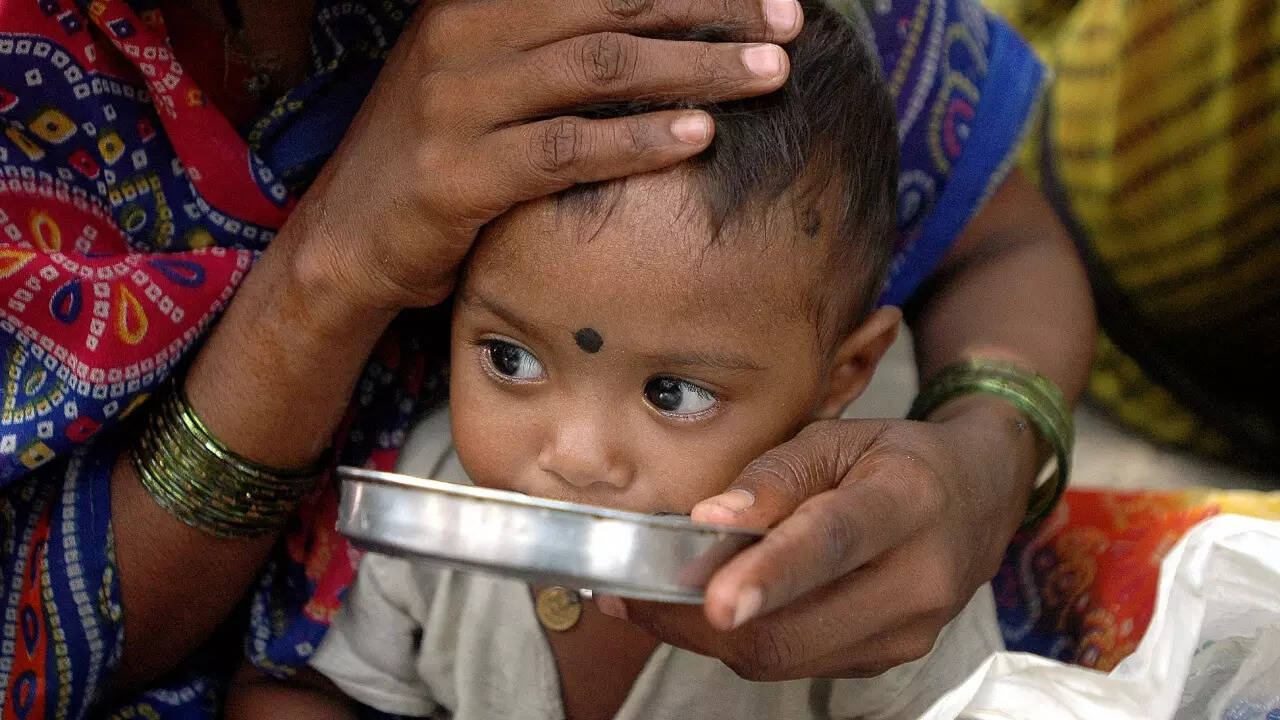 Several public health experts, demographers and development economists have expressed concern over a working paper from the
Economic Advisory Council
to the PM (EAC-PM) suggesting that India ought to have its own standards for various development indicators rather than follow international benchmarks. The experts pointed out that changing benchmarks may make India's performance look good and make international comparisons difficult, but would hardly change ground realities.
The paper suggested that India should recalculate child growth standards derived from indigenous characteristics, which it said were better suited to gauge malnutrition. It also recommended that India's Periodic Labour Force Survey ought to include "economically productive work done by women like poultry farming, milking of cows, etc. as part of their domestic duties". This would push up the female labour force participation rate, which at 19% in 2021 was below the world average of 25%. Lastly, the EAC paper rejected the UN Population division's estimate of a sharp decline in India's life expectancy at birth from almost 71 years in 2019 to just over 67 years in 2021 due to excess deaths from Covid, saying a "dubious methodology" had been used.
The recommendation to lower child growth standards had been countered by several experts when a similar suggestion had been made a decade ago. In a 2013 paper, paediatricians Rakesh Lodha and Yogesh Jain and public health expert C Sathyamala wrote that it would be a great disservice to the cause of child health and nutrition to suggest that Indian children had a low genetic potential to grow and therefore stunting in them would not be amenable to interventions. Within India, they pointed out, there is evidence that the height of different groups of children has increased with time, which indicated the yet-to-be realised potential for growth of Indian children. "The Dutch took nearly 150 years to increase their mean heights by 6 inches. For instance, from 1971 onwards, the mean heights of affluent boys in Delhi and Varanasi increased by 2.1 cm and 1.5 cm per decade respectively, indicating that there is a definite potential for Indian children to improve their heights. With this slow decadal increment even among elite children, indeed it may take many decades to catch-up with the developed world. The Dutch took nearly 150 years to increase their mean heights by 6 inches," stated the paper.
On female labour force participation rate, noted development economist Jayati Ghosh explained that simply adding on a section of women who perform some unpaid tasks (poultry farming, cow milking etc) to increase supposed labour force participation was meaningless and would completely distort the analysis. "It also leaves out others engaged in economic activities but in unpaid form – if all of those are included, work participation of women would be in the range of 86%. However, this is unpaid work, whereas the work participation rate is currently used synonymously with the employment rate (that is work for some remuneration, whether as paid labour or self-employed). The high preponderance of unpaid work especially by women, is a problem for India, not something to be proud of," said Prof Ghosh. Even going by the table used in the working paper, the declining trend in women's labour force participation is clearly visible, pointed out a senior researcher who works on women's employment.
Aashish Gupta, a demographer at the University of Oxford, pointed out that the claim in the EAC paper that UN life expectancy estimates were flawed was a result of a fundamental misinterpretation of how period life expectancy is calculated. The working paper claimed that the UN estimate was flawed since covid-19 kills only adults, and since the UN population division assumes that today's infants would be affected later when Covid was just a period shock. "Period life expectancy is a summary measure of mortality conditions in a period. It is not a projection, nor does the UN use any information on future mortality to arrive at an estimate of life expectancy in any given year. It is also worth noting that life expectancy at birth is a summary measure of mortality across the life course. So, increases in mortality at any age would lead to a decline in period life expectancy at birth," explained Gupta.