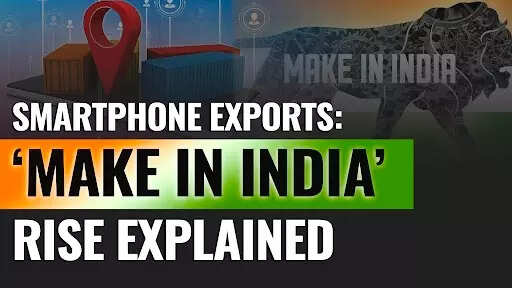 Smartphone exports: The exponential growth in the export of smartphones from India is seen as a 'Make in India' success story and one that other verticals in the electronic industry should look to emulate.
What will it take to make India the leading smartphone factory of the world, and one that not just assembles but also manufactures smartphones extensively? In this week's episode of TOI Business Bytes, Pankaj Mohindroo, Chairman of India Cellular and Electronics Association (ICEA) talks about how India has seen a paradigm shift in smartphone manufacturing. He explains how complex the process of assembling smartphones is.
Explained: How India has scripted a smartphone exports success story
"India is already the smartphone factory of the world. We are the second largest manufacturer in the world in volume with over 250 million smartphones being made here. Overall phone production is 300 million phones….Exports have grown very rapidly," Mohindroo tells TOI. "Last year we crossed the Rs 90,000 crore mark, which was a 100% growth over the previous year. This is from a period when 78% of mobile phones used to be imported for use in India. It's been an absolute paradigm shift," he says.
Watch the video above to know what's the road ahead for the Indian smartphone and electronics manufacturing industry. Mohindroo also talks about the role that the PLI scheme has played in the rise of smartphone exports from India and policy challenges such as ease of doing business, tariff structures and labour laws that still need to be addressed.
According to the ICEA chairman, the aim is to hit $100 billion in smartphone production in the next three years. He sees a 120% growth in the coming years and expects smartphone exports to hit Rs 350,000 crore by 2026.
Mohindroo discussed the importance of self-reliance in the semiconductor space and how the government and the industry are pushing for expertise in that area.