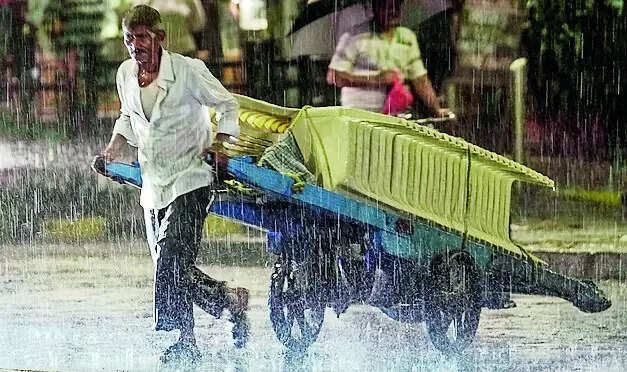 NEW DELHI: For the first time in 62 years, the monsoon arrived in Delhi and Mumbai on the same day — 14 days late in India's financial capital and two days ahead of the normal date in the national capital — as the rain-bearing system galloped across most of central and northwest India in a span of just four days after remaining standstill for nearly two weeks.
With a cyclonic circulation over Bay of Bengal set to move into Odisha, the monsoon has finally entered an active phase that promises to bring wet weather across south, central and northern regions over the next five to seven days.
The nationwide rainfall deficit in the month of June — 28% below normal, as on June 25 — is likely to steadily reduce over the coming week, the met office said, adding that the system is expected to cover more parts of Gujarat, Rajasthan, Haryana and Punjab, and the whole of J&K in the next two days.
The last time Delhi and Mumbai witnessed simultaneous arrival of the monsoon was on June 21, 1961, IMD officials said. As per the normal dates, the system hits Mumbai 16 days before making its way north to Delhi. But this year, a peculiar set of conditions lead to a weak onset over
Kerala
and the Arabian Sea arm of the monsoon, which progresses into western India, remained sluggish.
"The Arabian Sea arm remained weak due to cyclone Biparjoy taking away moisture from the system. At the same time, the remnant of the cyclone remained active as a low-pressure system over Uttar Pradesh and Madhya Pradesh for a number of days, drawing the Bay of Bengal arm towards the region," said D Sivananda Pai, senior IMD scientist.
For the past few days, the monsoon was progressing gradually into east and north India from the Bay of Bengal end while the Arabian Sea arm stood still. The situation changed in the last couple of days, with the formation of a cyclonic system over northwest Bay of Bengal.
"This disturbance is now expected to enter Odisha as a low-pressure system, and has energised the monsoon at both ends," said IMD chief Mrutyunjay Mohapatra. "A low pressure over Bay of Bengal often strengthens the monsoon at the Arabian Sea end as well due to stronger westerly wind flows. We expect active monsoon conditions to last for the next five to seven days."
The strengthening of the monsoon comes at a time when the countrywide rains so far in June have been poor. Except for Gujarat and some parts of north India such as Rajasthan, which were in the path of Biparjoy and its remnant system — along with Assam and Meghalaya in the northeast — there is a huge
rain
deficit in the country.
Watch
Southwest monsoon is active now: Dr Mrityunjay Mohapatra, DG, IMD