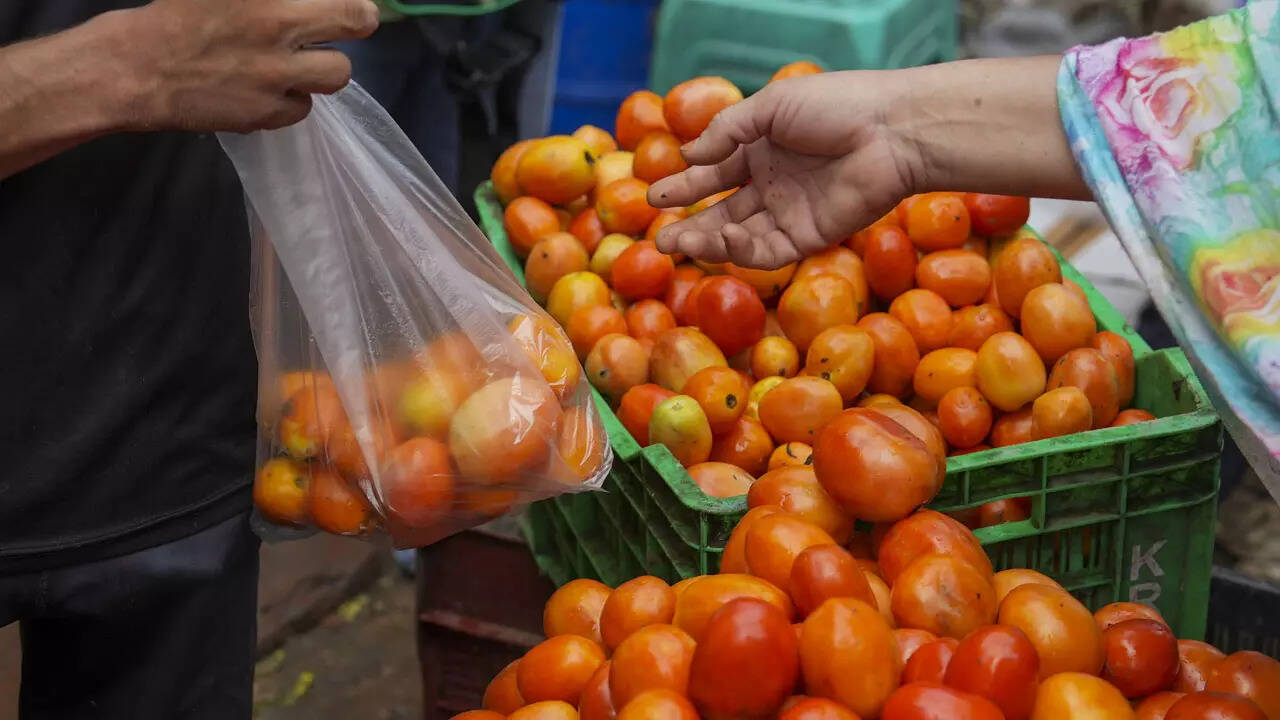 NEW DELHI: Several states across India are witnessing a major surge in prices of tomato — a kitchen staple in many households — amid the onset of heavy seasonal rains.
In some states,
the prices of tomato has skyrocketed
to over Rs 100 per kg, disturbing household budgets in many states.
The Centre, however, has assured that the spurt in prices is a "temporary seasonal phenomenon" and the rates will cool down soon.
Here's all you need to know …
Tomato prices
go through the roof
Over the last week, tomato prices saw a whopping 200% rise in Karnataka, going from Rs 40 a kilo in the third week of May to Rs 125 a kilo this week.
Similarly, in Delhi, tomato prices at Mother Dairy's Safal stores have doubled to nearly Rs 80 per kg in the last one week.
"We were selling tomatoes at Rs 25-30 per kg around June 15. It started to increase gradually after that to Rs 40, then Rs 60 and now we are selling at Rs 80 per kg," a vegetable vendor in Paschim Vihar, West Delhi, told PTI.
The prices at Azadpur, the biggest wholesale market of fruits and vegetables in the country, have increased sharply.
In Madhya Pradesh, the prices have shot up to Rs 110 per kg.
What does official figures say
According to the data maintained by the department of consumer affairs, the average price of tomato on an all-India basis is Rs 46 per kg on June 27. The modal price is Rs 50 per kg while the maximum price is Rs 122 per kg.
Across four metros, the retail price of tomato in Delhi is Rs 60 per kg, Mumbai is Rs 42 per kg, Kolkata is Rs 75 per kg and Chennai is Rs 67 per kg.
Among other major cities, the prices stood at Rs 52 per kg in Bengaluru, Rs 80 per kg in Jammu, Rs 60 per kg in Lucknow, Rs 88 per kg in Shimla, Rs 100 per kg in Bhubaneshwar and Rs 99 per kg in Raipur.
The maximum price of Rs 122 per kg has been reported from Gorakhpur (Uttar Pradesh) and Bellary (Karnataka), as per the department data.
Reasons behind price rise
Wholesale dealers have attributed the price rise to heavy rainfall in various regions of north India which has resulted in damage to the tomato crops, thereby limiting its availability.
Moreover, the price rise is also due to the disruption in output due to factors such as heatwave, delayed rainfall and lack of interest among farmers to grow the crop amid crashing prices in early May.
"With the onset of monsoon, the tomato crop is currently going through a seasonal transition. Rainfall in areas such as Himachal Pradesh and Uttarakhand have impacted the crop and also restricted its supply, resulting in a demand-supply gap," a Mother Dairy spokesperson said.
Anil Malhotra, a member of the Azadpur Agricultural Produce Marketing Committee (APMC), said tomato prices shoot up every monsoon but it was never this high.
"Prices go up every year during monsoon but the cost of tomatoes never went up this high. There is a major dip in supply due to the rains. Around half of our stock, which we got from Himachal Pradesh, got damaged," Malhotra told PTI.
These days, tomatoes are only being supplied from Maharashtra, while Rajasthan has stopped its supply following crop damages due to rains, Sunderdas Makhija, president of vegetable vendors' association at Indore's Devi Ahilyabai Holkar Sabzi Mandi told PTI.
In Karnataka, the short supply of tomatoes is being attributed to crop loss caused by the spread of 'white fly' disease.
Farmers who had faced losses for the last two years, chose not to grow tomatoes and switched to other vegetables instead. High perishability of tomatoes has also put paid to its availability in the market.
Price rise temporary: Centre
Meanwhile, a top government official said that the price in prices of tomato is a temporary seasonal phenomenon and rates will come down soon.
"It is a highly perishable commodity. Transportation gets affected in areas that received sudden rains. It is a temporary issue. Prices will cool down soon. It happens every year during this time," consumer affairs secretary Rohit Kumar Singh said.
As per the government data, tomato production is estimated to fall slightly to 20.62 million tonnes in 2022-23 from 20.69 million tonnes in the previous year.
Congress slams government
The rise in prices of tomato prompted Congress to take a dig at the central government.
Tagging a media report on the rising prices of tomatoes, Congress general secretary Jairam Ramesh said on Twitter, "The prime minister had described Tomato, Onion and Potato as 'TOP' priority. But because of his wrong policies… first tomatoes get thrown on the road then sold for Rs 100 per kg!"
The Congress has been attacking the Centre over the prices of essential commodities and urging it to provide relief to the common people.
(With inputs from agencies)
Watch Rising tomato prices in India's major cities spark concern among consumers