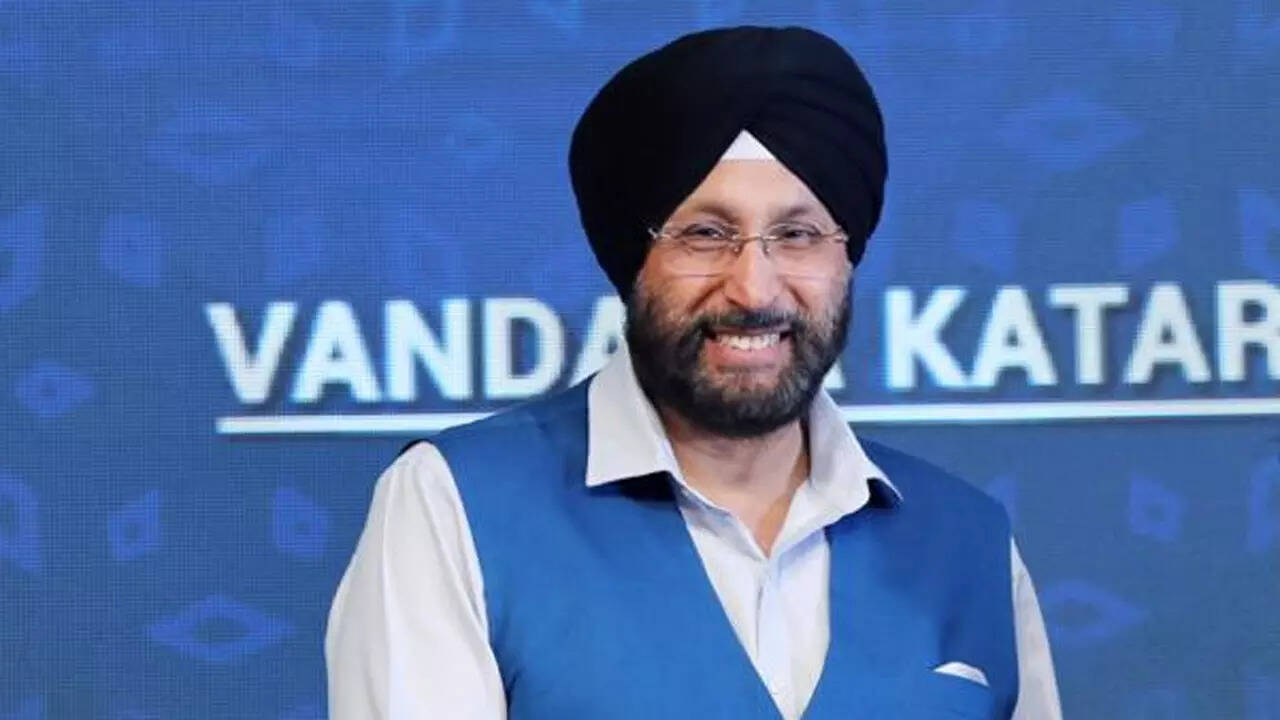 Following their exhilarating triumph in the Asian Champions Trophy, the Indian men's hockey side will be eager to further stamp their continental dominance at the 19th edition of the Asian Games in Hangzhou, China.
While India appear to be one of the top favourites to grab the gold by the end of the campaign, history and past records in the respective competition suggest that the third-ranked side in World Men's Hockey currently finds themselves as the third most successful overall when it comes to achieving the coveted feat. Pakistan lead the charge with eight gold medals, South Korea follow them with four, and India are third with three titles won in 1966, 1998 and 2014.
India have finished 15 times on the podium overall, with nine defeats in the final resulting in nine strokes of silver beside India's name. Ahead of the hockey extravaganza in Hangzhou this time, TimesofIndia.com spoke to two-time Asian Games medal-winner, Arjuna awardee and former India coach, Jagbir Singh about India's chances of winning gold this time which will see them qualify automatically for the 2024 Paris Olympics.
In an exclusive chat with
TimesofIndia.com
, the former coach of the Indian men's team not only sheds light on India's chances of winning gold this time, but also speaks in detail about the psychological difference between playing in the ACT (Asian Champions Trophy) and the Asian Games as well as the areas the Harmanpreet Singh-led side should be looking to improve in going forward.
As a former player and coach, what do you believe are the big strengths of the current Indian hockey team that can be advantageous in the Asian Games?
Well, the Indian men's team looks like the most confident side in Asia at the moment. They are mentally very strong and into the game. That's not only because of the current world ranking or the success they had in the Tokyo Olympics. Experience is on their side with one of the most dependable defenders in Harmanpreet, Sreejesh, and Manpreet, to name a few. They have the best penalty-corner conversion rate at the moment. The leading scorer is Harmanpreet for sure. He will be the main man. And also the attacking power which the Indian team has compared to the other Asian teams at the moment; so, these are a few major strengths India have compared to other teams.
What are the chances of this team winning the gold in the Asian Games and qualifying for the Olympics next year directly?
See, unfortunately, despite having the best side in Asia, India have not been very successful in comparison to the other teams. Let's say Pakistan, they have won more than India, they won it 8 times. After Pakistan and Korea come India, because I remember in 2018, there was no match for India. India crushed all the teams in the pool matches. But unfortunately, because of their overconfidence, they lost in the shootout (to Malaysia). And then, they couldn't even reach the finals. So this is something which worries me. However, I still say that India have the best chance to win the gold. This is how they should work on it and they should approach the tournament. Complacency should be anyway visible, but focus is also important. And they deserve to be the gold medal winners for sure.
How different is the mental pressure that players experience in an event like the ACT as compared to a tournament like the Asian Games?
A lot more is at stake during the Asian Games, not only because it's the Olympic qualification, but also because they are the Asian champions. When you participate in the Olympic Games as the Asian champions, this gives you more confidence, the team, the body language on the field. This is the difference between the Asian Champions Trophy or the other tournaments and the Asian Games.
And this time it's going to be especially different because the Asian Champions Trophy we played in Chennai was at home. So playing at home and winning a tournament and then playing away is also very different. Let's not forget that we had some hiccups, we had some problems during the Asian Champions Trophy playing at home also.
Asian Games: Indian hockey and shooting team at Hong Kong airport
We have seen the women's side doing well in major tournaments, what are the chances, according to you, of the women's team at the Asian Games this time?
With the variety of players, the mix of experience and youth, the combination which Janneke Schopman has brought in the team. The FIH Cup which they won and then qualified for the Pro League gave them more confidence, even though they didn't have the best outcome during this series or the tournament there. But still, I would say this Indian women's team has the best chances so far compared to the previous Asian Games.
Last time, they were unlucky though, they just lost in the finals (to Japan). Otherwise, they were much deserving then also; but this time, they look much stronger because the coach's contribution has been immense. She has done a great job with the team. It's very consistent with the confidence they carry after the Olympic Games and also the recent results against teams like Korea and Japan. They look much stronger this time.
Craig Fulton joined the Indian team just a few months back, what is your take on his spell so far?
I would say that he's one of the luckiest coaches who has taken over the Indian team so far. When he came in, the team was already over the moon after the Olympic success. The experienced players, most of the experienced players are still part of the team, and this is one of the most combined teams. I would say, at this stage when he took over, he had the opportunity to play a couple of Pro League matches with the team. Now, he already has an existing pool of players, around 30 good players. And he had the Asian Champions Trophy where he could even test his players at the Asian level. Yeah, so far, I'm sure he is looking forward to the Asian Games' success because this is his best chance. Craig is one of those lucky ones, and this success will bring him more confidence before the Olympic games.
Locker Room ft Sreejesh, on how he wants to sign off with another Olympic medal
What was your take on how India handled scoring off PCs as well as via open play in the ACT? Which are the areas you would like to see an improvement in?
Well, in a few matches, yes, we were successful (with PCs). But sometimes, I feel we depend a lot on Harmanpreet. And too much dependence on one player and not opting for other variations will invite problems because I remember, in ACT, having more than 12 penalty corners against Japan and not being able to score. We struggled a lot.
And even in the final also, we struggled against Malaysia. So yes, this is something which we have to be careful about. We lose focus. We don't play all four quarters consistently as a top team should be playing. Yeah, we tend to switch off at times. And in today's competitive hockey, you don't have even a second to switch off for the entire 60 minutes of play.
I could see a lot of unforced errors during the Asian Championships Trophy, which a team like India with the experience they have now, shouldn't be committing. I could see some rush tackles inside the circle, some panic movements inside the defence while defending and also conceding goals against a team like Malaysia, who have always been a problem team when they play India. But still, as a confident side, as a world-ranked number three team when you are playing, there should be a visible difference, which was missing at times. Not taking away the credit for what the Indian team has improved (on) so far, I would still say that these areas need to be addressed.
Harmanpreet Singh has recently said in an interview – 'We have the mentality that there is no captain,' – of course, this is a motivating factor because everyone is seen through the same lens and there is no hierarchy, but do you think this kind of statement could be a double-edged sword, given that Harmanpreet does carry the baggage of extra responsibilities?
He should have made a better statement. I would say he should have said that everybody should feel the responsibility like a captain. Gone are those days when people would say that team sports need no captains. I would say in today's sport, in today's hockey, you need a captain with command. I remember Sreejesh shouting from the goal line, what to do and what not to do. He still does that.
Harmanpreet is one of those very talented defenders India have after a very long time. He is very experienced, very cool, and composed. And the passing skills he has, the elimination passes which he sends for more than 50, 60 yards, not many defenders in the world can do that. And this quality player has to develop more command in captaincy. Definitely, a captain has to take the team along. But you need to have a captain on the pitch. You need to feel that captain's responsibility. And any good player should be very proud to carry that, not only to motivate the youngsters but also to showcase how well he can carry his seniors along. So while he should be open to all ideas, he should know his responsibility.
Are there any particular teams that you think Team India should be particularly wary of in the Asian Games this time and why?
Malaysia is one of those teams India should be wary of all the time. And I would say China, yes, being the host nation, could have some surprise punches, but overall, it will be Malaysia and Korea, which I am looking at. It shouldn't be a problem against Japan. Not that I would say be overconfident, but yes.
Against Malaysia, we need to be very cautious. Also, Korea, with the conversion rate they have in penalty corners and also how they played in the Asian Championship Trophy, remain a top team. They have a better success rate compared to India in the Asian Games. So these are the two teams I would definitely worry about.
What specific challenges do Team India need to overcome to perform well in the Asian Games, and how should they address those challenges?
I would say inconsistency is one of the very big challenges which India have. We play one match very good, the other match we are not sure how we will perform, and this is one area which is very challenging for the coach to keep his team focused throughout the tournament. Sometimes, we tend to get carried away, which should not be the case. And too much depends on individual players also, especially in terms of penalty corners. Yes, Harman will be one of the key drag-flickers, but we need to have some punches, surprise punches in this tournament.
And at no point, this complacency (should set in), I'm repeating the word every time because I saw it happen in 2018 when India scored the maximum number of goals ever in the history of the Asian Games. But we lost the gold medal which we were hunting for, even though we knew we were the best. This is one area. And at times when I read in the interviews where people say that nobody can beat India, nobody can defeat India, I would say India have to challenge themselves every time when they are on the pitch.
Are there any emerging talents that you think will play a significant role in India's performance in the tournament this time?
Yes, Indian team, they would be looking at Sanjay, whom they have brought in for a major tournament. (We also have) very dependable goalkeepers. Pathak is one of those great goalkeepers who is just ready to take on any challenge anytime. He is much better now in penalty shootouts.
All are equally talented. Abhishek coming in with Mandeep's scoring skills, Sukhjeet and now Lalit with dribbles and the ability to make penalty corners with ease; I think overall the Indian team package is a very good combination, even though I was surprised with Akashdeep not being part of the team. But ultimately, it's the coach's call and he knows how he has to utilise the players. So it is not about naming one or two, I would say the entire team is a good set of combinations.
Are there any particular strategies that you would like to see India adopting in the Asian Games? Both in defence and attack.
India need to show more flow in their attack, more combined moves, fast switchovers, which they have done in a couple of matches, and so many other things which as a coach, I'm sure, Craig would be the better person to prepare his strategies.
So the strategy is always from match to match, and team to team, and every quarter, depending upon the situation. So not very specific. But yes, I would hate to see the Indian team chasing goals and failing, then trying to rush.
They are the better side. They are the confident side. Now they have played numerous matches. They have got the best exposure before the Asian games, compared to the other teams. So, yes, they should just go ahead.
In case Team India don't win the men's gold, they will have to play the qualifiers for the 2024 Olympics. Is that going to add extra pressure on Team India?
God forbid, if the worst has to happen and India don't qualify for the Olympics directly after winning the gold, I would still say that India would be there in Paris. I don't see any reason why India shouldn't be there.
I would be the unhappiest person on earth if India don't win the Gold in the Asian Games because they are the best side. It's just about clicking and focusing completely on the very day. Forget about the world rankings. Forget about the best drag-flicker you had. Forget about the best goalkeeper you have or the midfielders like Hardik or Manpreet you have. You have the best attacking skills or scoring power in Manpreet and Abhishek and others. But still, I would say, just keep your focus. Asian games first; talk about the Olympics later.