NEW DELHI: When cricketer Pushkar Sharma left his home town of Diva in Thane, right outside the bustling 'city of dreams', Mumbai in 2020, his heart was heavy with sorrow. He had to leave behind his mother, who had lost her husband to cancer in 2017, and his two elder sisters.
His family was grappling with severe financial hardships. Despite Pushkar's past leadership experience of the junior Mumbai side, the batting all-rounder's attempts to seek help from senior players and administrators had proven fruitless.
The 22-year-old was down but not out. He had to take care of his family and chase his own dreams too.
Pushkar made the difficult decision to move forward. He began reaching out and applying to non-Test playing nations, hoping for an opportunity to continue his cricket journey.
One fortunate day, an opportunity knocked on his door – it was a call from Kenya. Pushkar, the sole provider for his family, saw this as a chance to script a new chapter in his and his family's lives.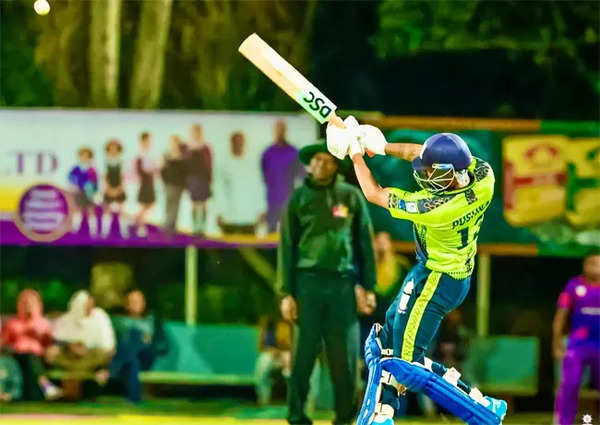 Image credit: TOI Special Arrangement
Pushkar signed a contract with Kenya Cricket. However, challenges still lay ahead for the 22-year-old cricketer.
According to the rules, a player must complete three years in a country to play at the national level. Pushkar, who had previously captained the Mumbai u-16 team alongside players like Prithvi Shaw and Bhupen Lalwani, was prepared to face this obstacle head-on.
He arranged for accommodation, secured a job, and began playing for the Ruaraka Sports Club in Kenya. Working during the day and playing at night became his daily routine. He diligently saved a portion of his earnings to send back home to his family in India, ensuring their support and well-being.
In the year 2021, the then 20-year-old sent the bowlers to the cleaners and smashed 841 runs in 14 matches, including 4 centuries and 3 half-centuries in the Nairobi Provincial Cricket Association (NPCA) League.
Next year (in 2022), he continued his sublime form and scored 518 runs in 12 matches with 1 century and 3 half-centuries in the same NPCA League.
Then, playing for another club – Nakuru Leopards – in the Dafabet Africa Cricket Premier League (ACPL Kenya T20), the batting allrounder scored 228 runs at a strike rate of 115 and claimed 5 wickets.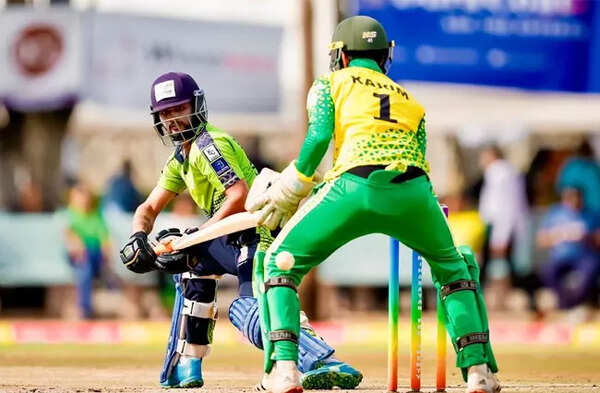 Image credit: TOI Special Arrangement
"Sachin Tendulkar sir always said – 'chase your dreams, they will come true'. I follow the same steps. My family wasn't doing well financially after my father's death due to cancer. We were in debt. We were struggling financially. I asked for help. In fact, some came and helped but that wasn't enough. I started working at IndiaFirst Life Insurance for survival. I used to play for them and received the Batsman of the Year award. I decided to move on because I wanted to take my family out of the situation they were in. I know that was a big decision but I am really happy now," Pushkar told TimesofIndia.com in an exclusive interview from Kenya.
"No one really came forward to help me. Yashasvi Jaiswal was the only one who supported me. He gave me some cricket gear and other things. I owe a lot to him. Before coming to Kenya, some people helped me get a job too. Mansukh Hirani, a Kenyan, has supported me a lot here. He was always there. He gave me food, accommodation, and a job as well. He held my hand in my bad times. I will never forget that support from him. Kenyan cricketers have given me a lot of support here," Pushkar further told TimesofIndia.com.
"A father's presence and support means a lot to a family. One sister was already married. My mother and I, with whatever money we had, conducted the wedding of my second sister recently. Things weren't good monetarily, but they are slowly coming back on track now", Pushkar said.
Pushkar went on to produce many match-winning knocks at club level for three years and then finally got his hands on a national jersey, a dream he was living for a long time.
"It was a dream come true. The wait was long but sweet (smiles). Of course, playing in India since childhood helped me a lot. I played under-16 cricket (in 2014). Prithvi Shaw played under my captaincy. I attended the under-19 camp in 2017 and 2018," Pushkar told TimesofIndia.com.
"I just wanted to score big runs and take wickets in the local tournaments. I played in many tournaments and thanks to God, I could perform well. My ultimate aim was to wear a national jersey."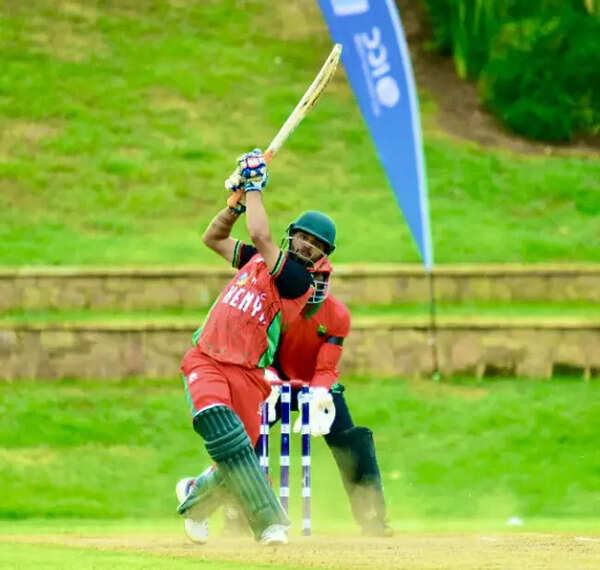 Image credit: TOI Special Arrangement
WHY KENYA?
Pushkar's decision to choose Kenya as his destination was driven by his aspiration to join the country's national cricket team.
"I had got a couple of more opportunities (in other countries), but the chances of representing those countries weren't very clear. It was difficult. That's why I chose Kenya over other countries. Because as per ICC rules, if I played local cricket for Kenya or domestic cricket for Kenya for 3 years, I would be eligible to play for the senior team", Pushkar told TimesofIndia.com.
"I came here (to Kenya) alone and explored as much as I could. I think I have settled down now and will bring my mother here soon too," Pushkar told TimesofIndia.com.
"I am a left-hander and I admire Gautam Gambhir. He is a left-handed batsman, I am also left-handed. He is an opening batter and I also open the innings for my team. I have learnt a lot from him. I met him a couple of times, but when I was a kid. I have seen his batting videos and match-winning knocks, especially the World Cup knock (2011). He is my idol," Pushkar further said.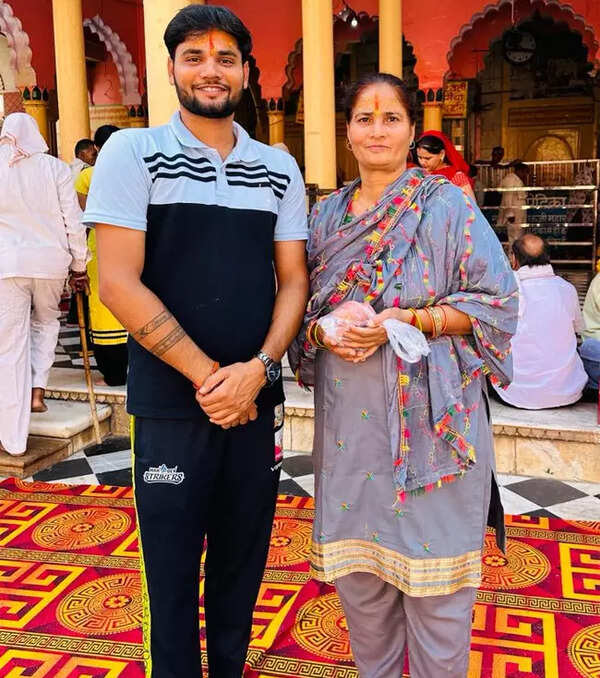 Pushkar with his mother (Image credit: TOI Special Arrangement)
EYES ON 2024 WORLD CUP
The road to the ICC Men's T20 World Cup in 2024 in the USA and the West Indies will kick off in July with the first set of qualifying events in Europe and the East Asia Pacific region. This will be the start of the pathway to the biggest Men's T20 World Cup, which is set to feature a record 20 teams.
The eight best performing teams in the ICC Men's T20 World Cup 2022, which was held in Australia, along with hosts USA and the West Indies will automatically qualify for the 2024 edition of the marquee tournament.
The next highest-ranked teams in the ICC Men's T20I Team Rankings as of 14 November 2022 will make up the 12 automatic qualifying spots.
The remaining eight spots will be decided by the regional qualifier events – two teams from each of Africa, Asia, and Europe will qualify for the event, along with one from the Americas and the EAP regions respectively.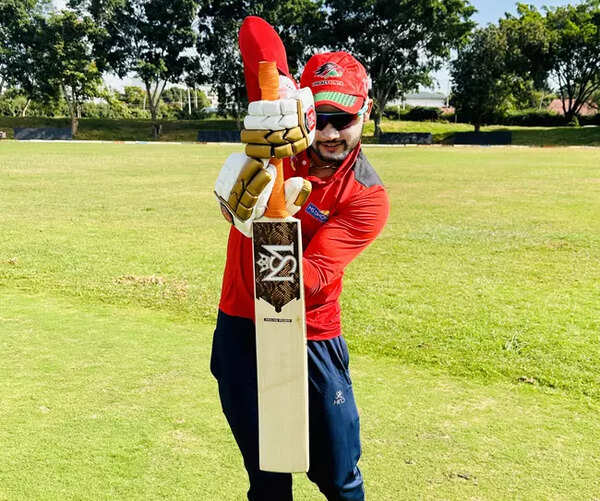 Image credit: TOI Special Arrangement
Pushkar's ultimate aim is to take Kenya into the ICC T20 World Cup 2024 qualifiers.
Kenya, Namibia, Nigeria, Rwanda, Tanzania, Uganda, and Zimbabwe will compete in the Regional Finals 2023 from November 20 and December 1 later this year. The competition will be hosted by Namibia.
"I am confident Kenya will play in the 2024 World Cup. Our team is really good. I am trying my best to make it a strong team. Cricket Kenya was not in the news but since its chairman has changed, there has been huge improvement. I am confident that this team can give better results," Pushkar signed off.