NEW DELHI: The ICC on Tuesday announced the final schedule of the 2023 edition of the ODI World Cup, with India's marquee clash vs arch rivals Pakistan being scheduled for October 15 in Ahmedabad.
This time 10 different cities will host the matches across India. A total of 10 teams will be in action. 8 qualified via the Cricket World Cup Super League.The other 2 spots will be determined after the conclusion of the ongoing qualifier tournament in Zimbabwe on July 9.
The Wankhede stadium in Mumbai and the Eden Gardens in Kolkata will host the two semi-finals, with the final scheduled to be played in Ahmedabad.
Here's everything you need to know about the 2023 edition of the ICC ODI World Cup:
What:
2023 ICC ODI World Cup
When:
October 5 to November 19
Where:
Across 10 cities in India
Number of teams:
10
Format:
Each team will play the other 9 in a Round-Robin format. Top 4 teams will go through to the Semi-Finals
Full list of Venues:
Ahmedabad
Hyderabad
Dharamsala
Delhi
Chennai
Lucknow
Pune
Bengaluru
Mumbai
Kolkata
When and where are the Knockouts scheduled for?
Semi-Finals –
Wednesday, November 15 – Semi-Final 1 – In Mumbai
Thursday, November 16 – Semi-Final 2 – In Kolkata
Final:
Sunday, November 19 – Ahmedabad
Full India Schedule:
India vs Australia, October 8 – Chennai
India vs Afghanistan, October 11 – Delhi
India vs Pakistan, October 15 – Ahmedabad
India vs Bangladesh, October 19 – Pune
India vs New Zealand, October 22 – Dharamsala
India vs England, October 29 – Lucknow
India vs Qualifier 2, November 2 – Mumbai
India vs South Africa, November 5 – Kolkata
India vs Qualifier 1, November 11 – Bengaluru
Full 2023 ICC ODI World Cup Schedule: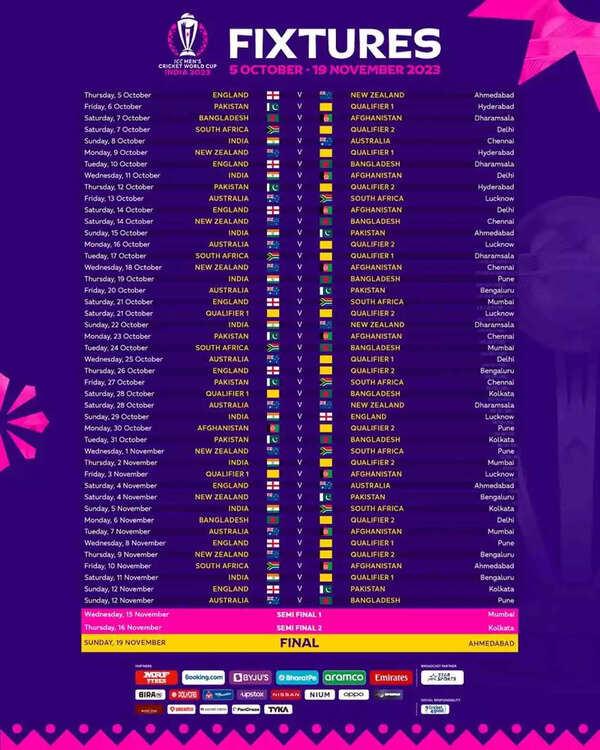 (ICC Photo)
Key Fixtures:
Opening match – England vs New Zealand on October 5 in Ahmedabad
October 12, Lucknow – Australia vs South Africa (Proteas won the last clash in the 2019 edition)
October 15, Ahmedabad – India vs Pakistan (India beat Pak in the last ODI WC clash in 2019 in Manchester)
October 20, Bengaluru – Pakistan vs Australia
October 21, Mumbai – England vs South Africa
October 22, Dharamsala – India vs New Zealand (India lost to NZ in the 2019 edition semi-final)
October 29, Lucknow – India vs England (England beat India in the semi-final of the 2022 T20 World Cup)
November 4, Ahmedabad – Australia vs England (England thrashed Australia in the 2019 semi-final to romp into the final, which they won)
November 12, Kolkata – England vs Pakistan