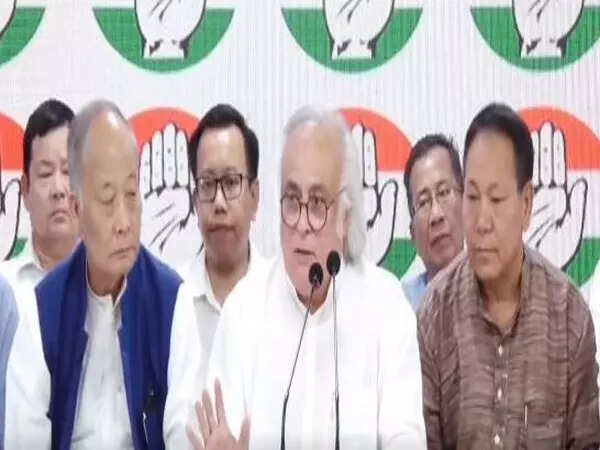 NEW DELHI: Senior Congress leader Jairam Ramesh on Saturday hit out at the BJP at the Centre over the prevailing situation in Manipur, blaming the unrest on the brand of politics of the saffron party and the ideology of the Rashtriya Swayamsevak Sangh (RSS), its ideological fountainhead.
"There is only one reason why Manipur is burning. It is because of the ideology of the RSS and the politics of the BJP. Everything else is a diversion from this basic fact," he said.
During a press conference at the All India Congress Committee Headquarters in the national capital, the Congress leader said 10 like-minded Opposition parties from Manipur on June 10 wrote to PM Minister Modi, seeking his intervention for the return of peace in the restive Northeast state at the earliest.
"Since June 10, ten Opposition parties from Manipur have been waiting for an opportunity to meet the Prime Minister. They wrote to him on June 10, requesting a meeting but are still waiting. They are still hopeful that the PM will visit them before he leaves for the US," Ramesh said.
Taking a further swipe at PM Modi for not responding to the request for a meeting with Opposition forces in the Northeast state, the former Union minister invoked late former PM Atal Bihari Vajpayee, recalling how he met an all-party delegation after violence had broken out for the first time in Manipur on June 18, 2001.
"On 18 June 2001, Manipur was burning…Imphal was burning…The Speaker's house was set on fire and a blockade was enforced for three months. Atal Bihari Vajpayee was the PM at the time and Opposition leaders had sought a meeting with him," the Congress leader said.
Citing a newspaper headline, he added, "An all-party delegation met PM Vajpayee at the time. He urged people to maintain calm and help the administration restore normalcy. He also exhorted them to not give credence to rumours."
Manipur Congress leader and former chief minister, Okram Ibobi Singh, and leaders of 10 other Opposition parties were also present at the press conference.
"This is the time for peace and reconciliation. This is the time to deal decisively with all the militant groups," Ramesh added.
As many as 9 people were killed and more than 10 injured in fresh violence in Manipur on Wednesday.
The state government announced a further extension of the suspension of internet services in the state till June 20.
On Wednesday, miscreants tried to burn down the official residence of Manipur minister Nemcha Kipgen in Imphal West. His home was partially burnt in the arson incident.
Violence gripped Manipur on May 3 after clashes erupted during a rally organised by the All Tribals Students Union (ATSU) to protest against the demand for the inclusion of Meiteis in the list of Scheduled Tribes (STs).