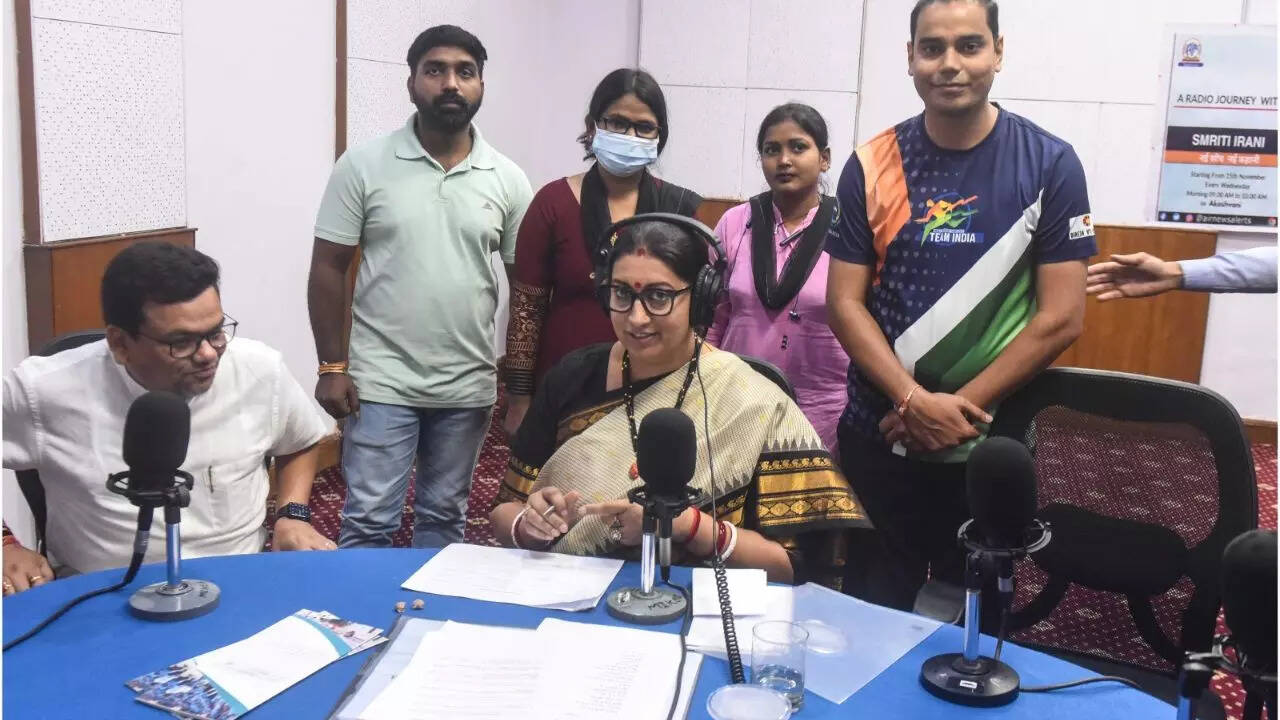 NEW DELHI: The All India Radio's recording studio at Akashwani Bhawan on Parliament street is these days witnessing union minister Smriti Irani playing radio jockey as she gives voice to unheard stories of ordinary people overcoming the odds while sharing about the government's welfare schemes and their impact.
The 13-part weekly series – 'Nayi Soch Nayi Kahaani – a radio journey with Smriti Irani' took off last Wednesday with the first hour long episode focussed on women and enterprise.The second episode on Wednesday morning from 9 to 10 am will bring together stories of women sports stars and their journeys.
When asked about Prime Minister's Mann Ki Baat and her radio show, Irani said that "through Mann ki Baat, Prime Minister Narendra Modi moved the focus beyond the policy and put the story of the people who are steering change centrestage. It holds a message for us to stay connected with the people for whom we make policies."
Irani's show, she says, is in line with the key message of 'Mann Ki Baat'. She said, "Here I aim to capture the stories of struggles and hope that lie behind the statistics we have and cite to make an assessment of impact of schemes like the national tuberculosis elimination programme or Ayushman Bharat."
TOI spent an afternoon watching the recording in progress at the All India Radio studio where Irani was seen interacting with recipients of organ transplant as part of an episode that will focus on initiatives related to health. Emerging from the recording, 29 – year old Rahul Prajapati, who underwent a heart transplant at the age of 23 at AIIMS in 2018, said, "I am happy my story will reach people in the villages. Organ donation is critical and more people should join the movement to give hope to another life and a family."
"I was an athlete before I got the heart ailment following a fever in 2012 when I was in class 10. After my heart transplant at AIIMS through the Organ Retrieval Banking Organisation I am back to running and feel grateful all the time to whoever's heart beats in my body," he added.
At 29 years, Rahul says he is living healthy and won a gold medal in running at the "national transplant games" in 2022. When asked by Irani during the recording about what these games are all about, he shared that these games provide a platform that bring together all those who have had transplants and showcase their achievements while they live normal and healthy lives.
Mother of three daughters, 32-year-old Lakshmi Devi from Krishna Nagar in Delhi said she felt good to know that people will hear her story on radio. Married to a rickshaw puller, her failing heart found hope when doctors at the government run Ram Manohar Lohia hospital in Delhi last year arranged for a transplant for her.
"My heart was working only 10% and the cost of a transplant in the private hospitals was cited to be about Rs 20 lakh. I had no clue about what to do but the doctors at RML did everything to ensure I get a chance to live. Today, I am healthy and can take care of my family," Lakshmi added.
On the idea behind choosing to share these stories through a radio series, Irani says that she sees radio as a powerful medium that can reach large number of people in far flung areas with information on subjects at wide-ranging as gender equality, economic empowerment of women, health issues like organ transplant, tuberculosis, women in sports, STEM education (Science, Technology, Engineering and Maths) and finance.