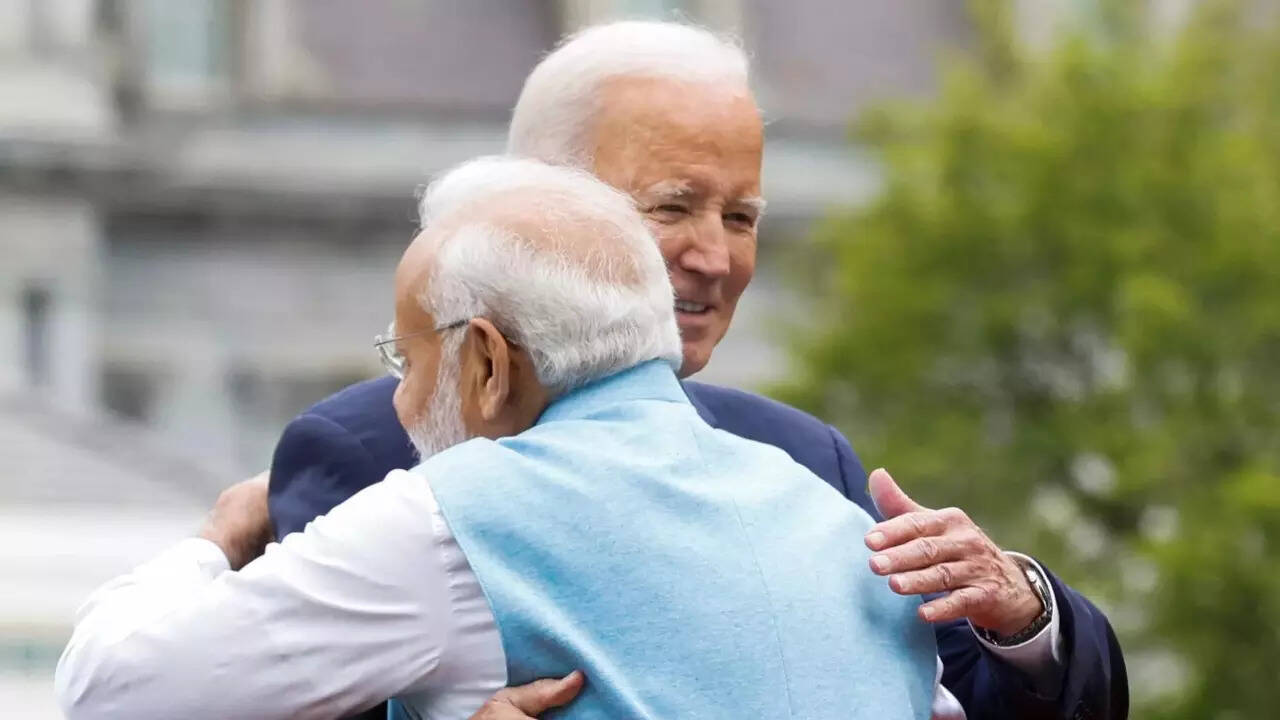 NEW DELHI: The decision of India and the US to end their six trade disputes at the
World Trade Organisation
(
WTO
) will help boost two-way commerce and strengthen economic ties, experts said.
They also said that both the countries should put in place a proper and strong mechanism to resolve trade related issues bilaterally so that they do not have to file complaints in the WTO.
India and the US have agreed to end six trade disputes at the World Trade Organisation while New Delhi will also remove retaliatory customs duties on 28 American products such as almonds, walnuts, and apples.
This comes amid Prime Minister Narendra Modi's state visit to the US at the invitation of President Joe Biden and First Lady Jill Biden.
International trade expert Biswajit Dhar said that this is a positive announcement and it would help in promoting bilateral trade between the two countries.
"We now have to see what trade-offs happen between the countries to finally end these trade disputes. The announcement overall looks positive. A strong mechanism needs to be put in place so that such disputes do not occur and be resolved bilaterally through mutually agreed solutions," Dhar said.
Welcoming the announcement, Federation of Indian Export Organisations (FIEO) Director General Ajay Sahai said it will help boost India's exports to the US, which is the largest trading partner of New Delhi.
"It is positive development. We were eagerly waiting for this decision. This will give a fillip to India's exports to the US," Sahai said.
Another expert said that this decision would help strengthen 2+2 dialogue between India and the US.
Indian Institute of Plantation Management Bengaluru (IIPMB) Director Rakesh Mohan Joshi too said that such decisions would help in further promoting trade.
The six disputes include three initiated by India and as many by the US.
These include countervailing measures on certain hot-rolled carbon steel flat products from India, certain measures relating to solar cells and modules, measures relating to the renewable energy sector, export-related measures, certain measures on steel and aluminium products, and additional duties on some products from the US.
According to trade experts, both countries can resolve the disputes on mutually agreed terms and later inform the Geneva-based WTO about the same.
In 2018, the US imposed 25 per cent and 10 per cent import duties on certain steel and aluminium products, respectively, on grounds of national security. In retaliation, India in June 2019 imposed customs duties on 28 American products, including chickpeas, lentils, almonds, walnuts, apples, boric acid, and diagnostic reagents. India had also filed a complaint against the US in the WTO on imposing these duties.
On 12 April 2012, India requested consultations with the United States with regard to the imposition of countervailing duties by the US on certain hot rolled carbon steel flat products from India. New Delhi had claimed that the countervailing duty investigation and related measures are inconsistent with WTO trade norms.
On 6 February 2013, the US requested consultations with India concerning certain measures of India relating to domestic content requirements under the Jawaharlal Nehru National Solar Mission for solar cells and solar modules. America claimed that the measures appear to be inconsistent with global trade provisions.
Similarly, on 9 September 2016, India requested consultations under the aegis of the WTO with the US regarding certain measures of the US relating to domestic content requirements and subsidies instituted by the governments of the states of Washington, California, Montana, Massachusetts, Connecticut, Michigan, Delaware and Minnesota, in the energy sector.
On 14 March 2018, the US asked for consultations with India concerning certain alleged export subsidy measures of New Delhi under Merchandise Export from India Scheme (MEIS), Export Oriented Units (EOU), Electronics Hardware Technology Parks (EHTP), Special Economic Zone (SEZ) and Export Promotion Capital Goods (EPCG). The WTO dispute panel ruled against India and New Delhi in 2019 appealed against the ruling at the appellate body.
On 18 May 2018, India requested consultations with the US concerning certain measures imposed by America to allegedly adjust imports of steel and aluminium into the US. India had claimed that these measures appear to be inconsistent with the WTO rules.
Similarly on 3 July 2019, the US asked for consultations under the WTO dispute settlement mechanism with India regarding India's imposition of additional duties with respect to certain products originating in the US.
The US is the largest trading partner of India. In 2022-23, the bilateral goods trade increased to USD 128.8 billion as against USD 119.5 billion in 2021-22.
According to WTO rules, a member country can file a case in the Geneva-based multilateral body if they feel that a particular trade measure is against the norms of the world body. Bilateral consultation is the first step to resolving a dispute. If both sides are not able to resolve the matter through consultation, either of them can approach the establishment of a dispute settlement panel.
The panel's ruling or report can be challenged by WTO's appellate body.
The appellate body is not functioning because of differences among member countries to appoint its members. Several disputes are already pending with this body. The US has been blocking the appointment of the members.