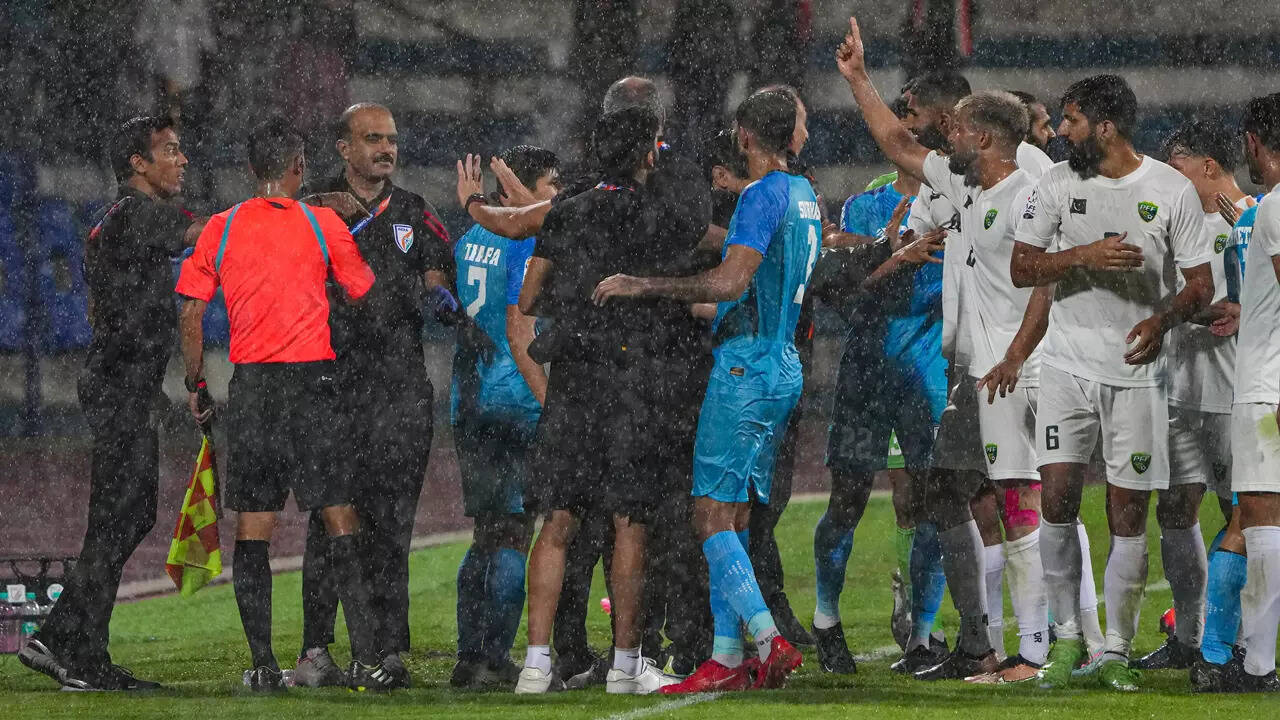 If the India vs Pakistan SAFF Championship
football
match made headlines days before it was scheduled to be played due to visa issues for the travelling
Pakistan
team, it made bigger headlines a day after the game thanks to some very good football played by the Indian team as well as an ugly fracas that saw players and coaches get involved and ended with a straight red card for Indian coach, Igor Stimac.
HOW THE BRAWL STARTED
Late into the first half cameras picked up the Indian coach, Simac knocking the ball out of Pakistan defender Abdullah Iqbal's hands as the player attempted to take a quick throw-in. This of course angered the Pakistan players as they rushed towards Stimac, gesturing angrily. One of the players, Rahis Nabi, who plays for English club Redditch United, had a heated exchange with Stimac. The referees got into the thick of things, while Indian players rushed towards the melee as well.
Indian defender Pritam Kotal and Iqbal were contesting for the ball as both players wanted to take the throw-in. Clearly, Stimac felt the ball had touched the Pakistan player before going out of the field of play and that the throw-in should have been awarded to India.
1/12
Captain Chhetri scores a hat-trick as India thrash Pakistan 4-0
HOW IT ESCALATED
What followed was bedlam as members of India's support staff clashed with Pakistan players. Indian defender Sandesh Jhingan was involved in a mini scuffle with a Pakistan player and members of Pakistan's support staff also rushed onto the field.
Pakistan Head Coach, Shehzad Anwar also got involved.
Pakistan's goal-keeping coach Marcelo Schroeder Costa was visibly animated. He shoved a few Indian players and angrily pointed his finger at some. India's assistant coach, Mahesh Gawli told reporters after the match that Costa had headbutted Indian team manager Velu Dhayalamani on the field and that Pakistan players had pushed Indian coach, Stimac.
CALMER HEADS PREVAILED
India captain Sunil Chhetri and Pakistan's Number 10 were seen calming things down, along with the referees. Eventually both sets of players and coaches were separated and the match resumed.
THE FALLOUT
The referee showed a straight red card to India coach Igor Stimac. He was no longer allowed to stay on the touchline for the rest of the match and assistant coach Mahesh Gawli oversaw proceedings for India.
Pakistan Head Coach Shehzad Anwar was shown a yellow card and the same punishment was meted out to players Rahis Nabi and Sandesh Jhingan.
WHO SAID WHAT
Mahesh Gawli, India Assistant Coach – "It was an offense that if you go by the book often attracts a red card. But then we feel it might have been a bit harsh on the coach….Pakistan players came and pushed him (Stimac). Either the referee didn't see that or deliberately didn't give (red cards to the Pak players)….There wasn't any red card for any (Pak) official, despite one of them headbutting our manager."
Torben Witajewski, Pakistan Analyst and Assistant Coach – "We did not initiate it, so I think we are on the fair side."
THE MATCH RESULT
India won the match 4-0 thanks largely to a hat-trick by captain Sunil Chhetri. It was a very good result for the Men in Blue, not just because it was a good start to the tournament for them, but also because the Pakistan team, though ranked below India in the FIFA rankings (195th), have as many as 9 players who play in foreign leagues.
India's next match is vs Nepal on Saturday.
Watch WATCH: India Vs Pakistan on ground fight viral video during SAFF Championship match, coach Igor Stimac shown red card