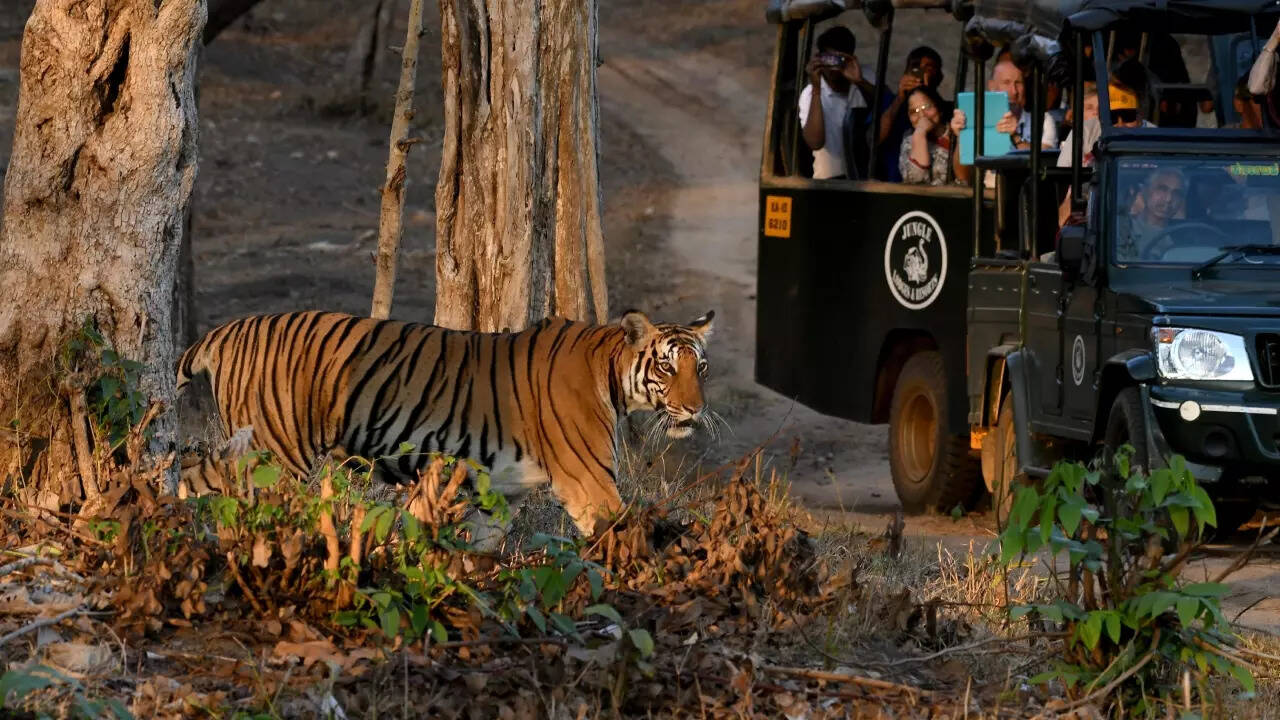 Project Tiger's astounding results have won praise for the Indian Forest Service. But is the service ready to answer the challenges posed by far wider sectors that interlink our forests to the
Earth
's changing climate? Reforms of such order would help India take a giant leap in conservation, say experts
The Indian Forest Service (IFS) has completed 57 years since its constitution from the erstwhile Imperial Forest Service of 1867. Over the decades, forest officers have proved their mettle by scientifically nurturing flora and fauna spread across the vast 80. 9 million hectares of forests in India. There are some, though, who believe the IFS is in need of an overhaul in view of the challenges posed by climate change and
global warming
.
Project Tiger is a shining example of conservation and collective responsibility taken up by the foresters. It commenced 50 years ago with nine tiger reserves covering 14,000 sq km with an aim to protect the last remaining 1,800 tigers and their habitat. Today, 53 tiger reserves nurture 3,167 wild tigers under Project Tiger.
The efforts of the National Tiger Conservation Authority (NTCA), a dedicated agency of the ministry of environment, forest and climate change (MoEFCC) for effectively implementing this project is winning both, hearts and accolades.
"In the 50 years of its journey, Project Tiger has given very fruitful results. It has proved to be a vehicle of ecological conservation and environment protection. This mega project has no parallels because all this while in our country when development processes and infrastructure as well as population expansion happened, Project Tiger continued to address the ecological and environmental concerns, appropriately," said Bharat Jyoti, director, Indira Gandhi National Forest Academy (IGNFA), Dehradun, Uttarakhand.
At IGNFA, some of the finest science and engineering graduates are trained every year to scientifically manage the forest and wildlife of India. However, aneed for change in the selection of IFS officers, course, training and other aspects of forestry has been felt by all, as climate change and global warming is hitting every aspect of every living entity on earth.
The charismatic tigers of Sundarbans are a reminder to all of us that each IFS probationer should have mandatory climate change, global warming and biodiversity curriculum during their formative days at the academy.
IFS BV Umadevi was the first forest officer to be appointed as the additional secretary in ministry of home affairs (MHA) last year. She was also a faculty member for four years at the civil services academy at Lal Bahadur Shastri National Academy of Administration, Mussoorie.
She feels wildlife is an integral part of forestry, and the thrust needs to be given on the larger issue. "Wildlife is a part of forestry, it cannot be separated at all. Rather topics like climate change and biodiversity should be a part of IFS probationers' curriculum at IGNFA, since 70% of biodiversity is in forests. Biodiversity loss and biodiversity conservation is directly interlinked with climate change, so forest officers are the best to deal with these issues, scientifically. Only science and engineering graduates become IFS officers so they have the natural temperament to understand and solve issues around these subjects," she said.
A global scientific study on wildlife — More losers than winners: investigating anthropocene defaunation through thediversity of population trend — analysed population trend of more than 70,000 species across the world, concluded with a worrying trend. "48% (23-76%) of species included in our analyses are undergoing population declines, while 49% (23-76%) remain stable. Only 3% are increasing population size," it said.
The study stated destruction of wild landscapes has many reasons behind it including climate change, which is 'increasingly' having worse impacts. To effectivelymanage the overall issues linked with climate change and forestry, their management and regulation under a single agency is the need of the hour. But the Indian Forest Service has not gained autonomy for this.
In our country, the Air (Prevention and Control of Pollution) Act, 1981, The Water (Prevention & Control of Pollution) Act, 1974, and Solid Waste Management Rules, 2016 are being regulated by different agencies, and different sets of civil servants rather than subject experts. But knowing the threat from changing climate, global warming to biodiversity,countries like the USA are dealing with these matters as an integrated issue. A dedicated single agency looks after these matters.
"A single agency or nodal officer at each district level should be held accountable for conservation of air, water, climate change and biodiversity conservation. Less fragmentation of these sectors would lead to almost scanty malfunctioning and more accountability thereby giving best results," said Ramon Magsaysay award winner IFS Sanjiv Chaturvedi.
Amid reforms, the veterans feel golden rules of forestry will continue serving the purpose of conservation. Former principal chief conservator of forests, IFS officer ID Pande, who joined the service when IFS was constituted in 1966, said, "Golden rules like inspecting forests for 180 days and 122 nights with proper inspection notes and usage of technology should be implemented more rigorously to resolve issues like encroachment and human-wildlife conflict. "
Similarly, others feel that forest officers have to work like a visionary to be able to tackle the challenges of the changing world, forests and wildlife, "Forest officers are guardians of open treasures. The timescale for forestry is not years or decades but even hundreds of years. They will have to think on a long time span to save the forest and wildlife from anthropogenic and natural pressures like climate change and global warming," said former IFS officer (retd) Rajiv Bhartari, former principal chief conservator of forest (PCCF) of Uttarakhand forest department.