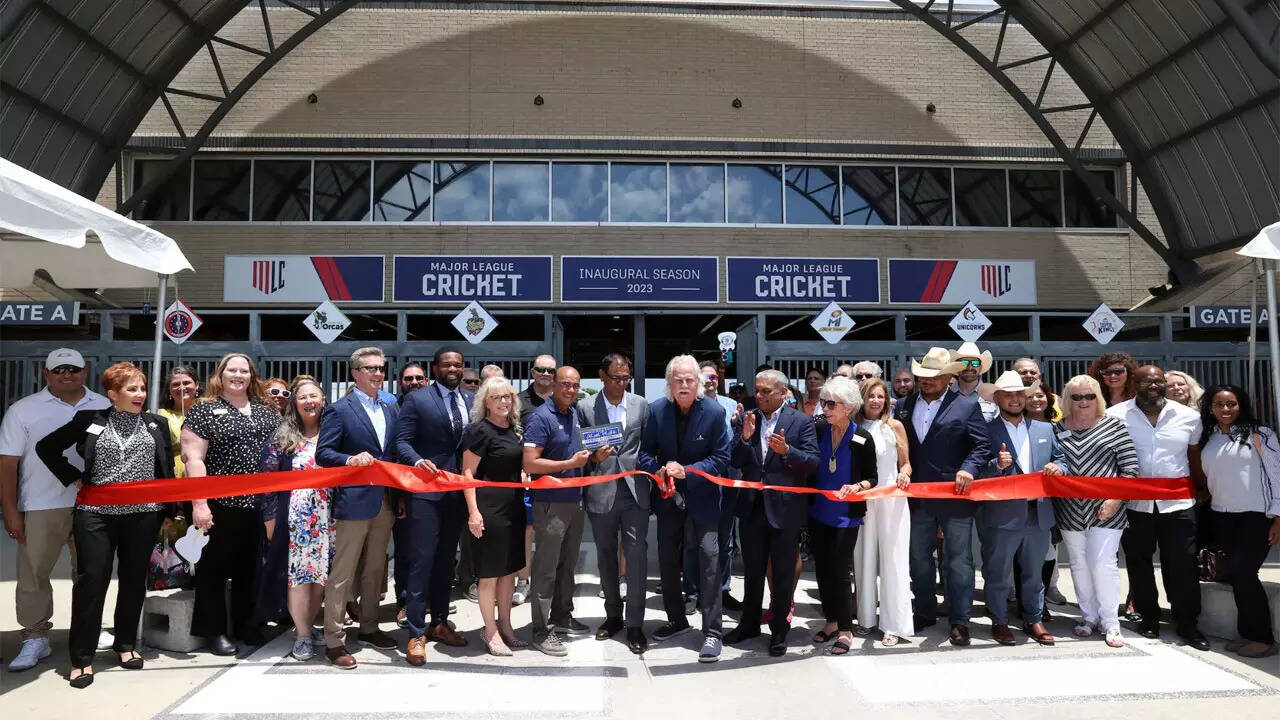 NEW DELHI: In its biggest attempt ever to crack the American market, the inaugural edition of Major League Cricket, backed by
Indian Premier League
heavyweight franchises, kicks off in Texas on Wednesday.
The historic night at the Grand Prairie Stadium will see Texas Super Kings rubbing shoulders with Los Angeles Knight Riders in the opener.
With plenty of money and expertise the league, unlike prior attempts, the MLC has the backing of Mumbai Indians and the Chennai Super Kings among others with world's biggest cricketing superstars featuring in the competition.
Along with the financial muscle and television deals, MLC has also been sanctioned by USA Cricket and the International Cricket Council — rubber stamps that have been absent from short-lived private ventures in the past.
Like the IPL, the league will play the shortest and most explosive version of cricket, Twenty20, and has recruited some experienced international players.
England opening batsman Jason Roy, Australian batsman Aaron Finch, South African pace bowler Kagiso Rabada and West Indies spinner Sunil Narine are among the foreign players drafted by the six teams.
While cricket has long been played at a recreational level in the USA — the first-ever international game being between the USA and Canada at New York in 1844 — there remains a shortage of facilities for the sport in a country where baseball is beloved.
A former baseball park in North Texas, Grand Prairie Stadium, has been transformed into a cricket-specific venue and will be the site of the opener when the Texas Super Kings face the Los Angeles Knight Riders.
Other games will be played in Morrisville, North Carolina, before the playoffs and final return to Texas.
While organizers expect good levels of support from fans with family backgrounds in cricket-loving countries, they aim to gradually win over the broader American public.
"The goal is to grow the game of cricket and expose the sport in the USA," tournament director Justin Geale, told AFP.
"We've got some of the best players in the world that can actually represent the product, do it justice. So it's going to be a good quality game of cricket that gives us the best chance to show existing fans and new fans the game.
"We've got as far as anyone ever has. So after all the false starts, I think it's finally here."
Part of the groundwork that MLC did was been the creation of Minor League Cricket, a 26-team competition which began in 2021 to spark domestic player development.
The teams will feature a maximum of six foreign players and a minimum of five domestic players and Geale says developing a talent pool for the USA national team is a big part of the mission.
"Building talent here domestically is one of our big pillars for sustainability," he said.
It will be a challenge for coaches and captains to manage teams with experienced international players alongside emerging domestic players but South African Robin Peterson, head coach of the Mumbai Indians-backed MI New York team, says it will work.
"In my experience, I found that the local boys tend to learn quite a bit playing alongside these superstars," he told AFP.
"I've seen it firsthand in the SA20 and even if you look at the growth and trajectory of the Indian cricket since the inception of the IPL, it has just been amazing the amount of talent that they're producing.
"I see the league here playing a similar role for USA cricket."
As well as the involvement of IPL teams, Australia's Cricket Victoria has a high-performance partnership with the San Francisco Unicorns and Cricket New South Wales has a similar role with the Washington Freedom.
The league has broadcast deals with streaming service Willow TV, whose owners are also investors in MLC, and also with Viacom18 in India.
Peterson is optimistic that T20, much more than longer forms of the game, has the ingredients to win eyeballs in the American market.
"It's becoming more entertainment," he said. "It speaks to the American sporting psyche where the players are a lot more physical, fitter, stronger, hit the ball further.
"It's an exciting project. I think it's about time people start taking cricket seriously in America."
(With inputs from AFP)