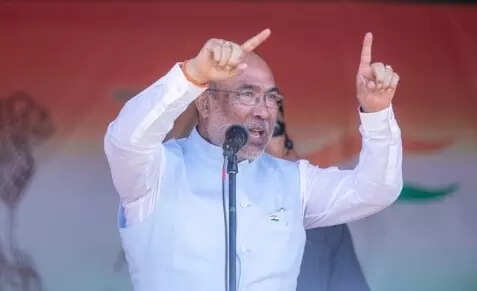 GUWAHATI: The BJP-led government in
Manipur
invoked the "no-work-no-pay" stricture on Monday against nearly a lakh employees across the hierarchy who have been away from their offices without authorised leave since
violence
erupted on May 3, especially those from the hill districts posted in the valley and vice-versa.
The general administration department's notice to employees playing truant is part of the government's multi-pronged approach to restoring normalcy and get offices functioning, most of which have been operating with skeletal staff.
The administrative secretaries have been asked to furnish by June 28 details of employees who "could not attend their official duties due to the prevailing situation in the state, with details such as designation, name, EIN and present address".
CM N Biren Singh said during his visit to New Delhi on Sunday that the state government and the Centre had been able to get a grip on the situation "to a large extent", pointing out that no casualty had been reported in violence since June 13.
When the flames of ethnic violence spread in May, security forces had carried out a massive evacuation of government employees and residents from both the hill and the valley districts. Violence has since ebbed but employees are reluctant to risk their safety and return to work in places away from their native districts, sources said.
Transfer isn't an option for employees of the general administration department, which functions from the state secretariat in Imphal. Senior officials have submitted a joint application to chief secretary Vineet Joshi, requesting either "utilisation or attachment" of such staff members to some other departments in districts of their choice for the time being.
A cabinet meeting chaired by CM Biren Singh on June 12 decided that the no-work-no-pay principle would apply to all government employees. The cabinet allowed transfers "for those belonging to communities involved in the crisis to facilitate re-opening of offices".
Many employees say it is unfair to expect them to report for duty immediately given the fact that the wounds inflicted by weeks of unrest were still fresh.
"On May 3, immediately after the violence broke out, we had to rush and take refuge in CRPF and Assam Rifles camps, leaving behind our belongings in rented houses or government quarters. One of our lady colleagues and her son were lynched by a mob near the DC's office on May 4 when they were trying to flee to a nearby CRPF camp," an officer in the state secretariat said.