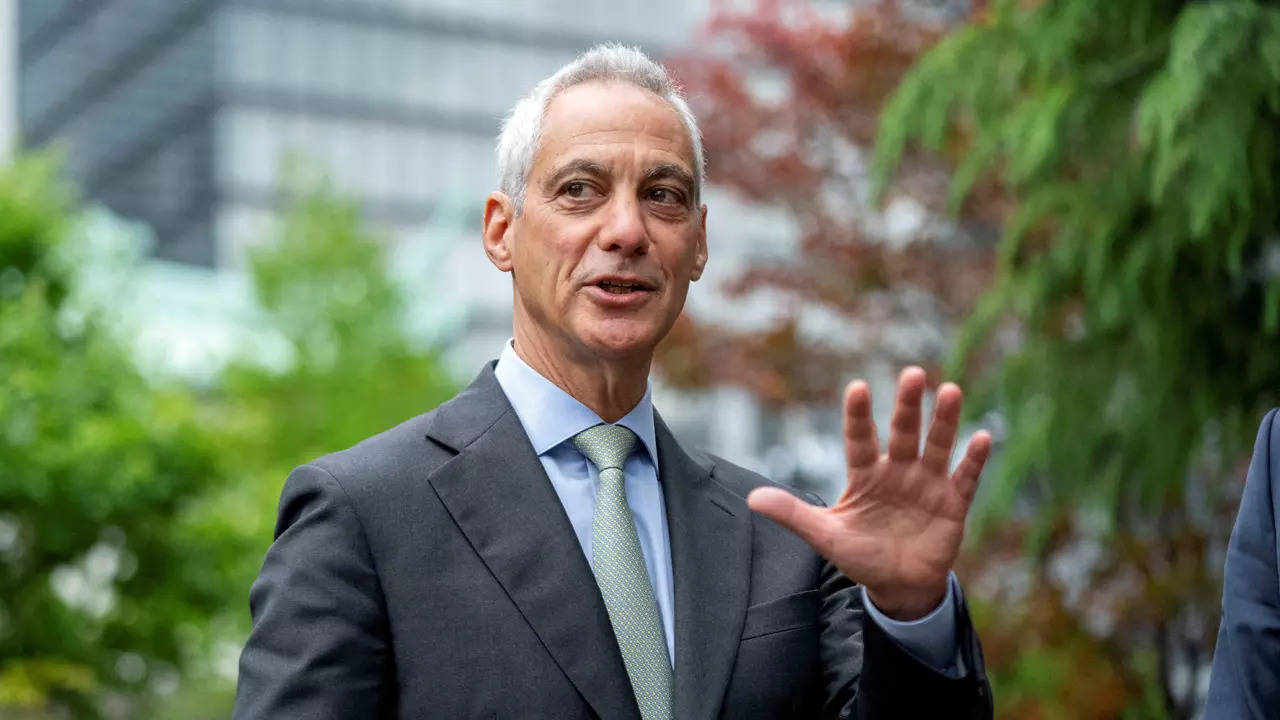 In a sort of role reversal, China is getting a bitter taste of its own 'wolf warrior' diplomacy medicine. The man dishing it out to President Xi Jinping and Chinese officials is
Rahm Emanuel
, the US ambassador to Japan.
Emanuel, who served as the White House chief of staff under President Barack Obama, has been posting one after another sarcastic messages on social media platform X about the disappearance of Chinese defense minister Li Shangfu from public view.
Here are two posts from Emanuel, nicknamed "Rahmbo", on X, formerly known as Twitter, regarding Li's disappearance.
"As Shakespeare wrote in Hamlet, "Something is rotten in the state of Denmark." 1st: Defense Minister Li Shangfu hasn't been seen or heard from in 3 weeks. 2nd: He was a no-show for his trip to Vietnam. Now: He's absent from his scheduled meeting with the Singaporean Chief of Navy because he was placed on house arrest???…Might be getting crowded in there. Good news is I heard he's paid off his mortgage with the Country Garden real estate developers. #MysteryInBeijingBuilding"
As Shakespeare wrote in Hamlet, "Something is rotten in the state of Denmark." 1st: Defense Minister Li Shangfu hasn't been seen or heard from in 3 weeks. 2nd: He was a no-show for his trip to Vietnam. Now: He's absent from his scheduled meeting with the Singaporean Chief of Navy…

— ラーム・エマニュエル駐日米国大使 (@USAmbJapan) September 15, 2023
"President Xi's cabinet lineup is now resembling Agatha Christie's novel And Then There Were None. First, Foreign Minister Qin Gang goes missing, then the Rocket Force commanders go missing, and now Defense Minister Li Shangfu hasn't been seen in public for two weeks. Who's going to win this unemployment race? China's youth or Xi's cabinet? #MysteryInBeijingBuilding"
President Xi's cabinet lineup is now resembling Agatha Christie's novel And Then There Were None. First, Foreign Minister Qin Gang goes missing, then the Rocket Force commanders go missing, and now Defense Minister Li Shangfu hasn't been seen in public for two weeks. Who's going…

— ラーム・エマニュエル駐日米国大使 (@USAmbJapan) September 8, 2023
Then this is on Chinese President's playbook about spreading false claims:
"Xi's playbook is clear: shamelessly exploit human tragedies for political gain without any regard for the lives lost. Xi's team is using AI to spread false claims that US 'weather weapons' caused the Maui wildfire, blaming the U.S. Army for bringing COVID to China, and spreading disinformation about Fukushima. Imagine a world where that energy was channeled into humanitarian aid and genuine concern for the global good. Like focusing on how to get the great Chinese youth back to full employment. Now that would be novel!!!"
While pointed sarcasm is commonplace on social media, it remains rare in the formal realm of diplomacy, where ambassadors' statements are meticulously reviewed and analyzed for subtlety.
According to a Reuters story, Emanuel's social media posts have prompted inquiries regarding whether they mirror the Joe Biden administration's perspective, given his long-standing relationship with President Joe Biden dating back to the Obama White House.
In 2010, Emanuel was elected Chicago mayor. However, he opted not to pursue re-election in 2019 due to the controversy surrounding his refusal to disclose video footage of the shooting incident involving Laquan McDonald, an African American teenager. As per Reuters report, this assertive Democrat is renowned for his penchant for employing vivid and occasionally strong language. During his early tenure in the Obama White House, his desk featured a nameplate, a gift from his siblings, bearing the inscription: "The Undersecretary for Go Fuck Yourself."
Bonnie Glaser, a China specialist at the German Marshall Fund of the United States, told Reuters, "I would speculate that the Chinese government interprets Ambassador Emanuel's remarks as authoritative and purposeful signaling. I'm inclined to doubt that is the actual case."
When asked about his posts, Emanuel questioned China's continuing silence over disappearance of officials. In an interview with the Wall Street Journal, Emanuel said, "Criticizing me is actually a deflection from the real problem. "Why isn't China transparent with anyone?" Emanuel said. He added, "Deceit and deception are traits that run through everything China does. That's unacceptable for a world leader."
China's 'wolf warrior' diplomacy
China's wolf warrior diplomacy is a new approach to foreign policy that is characterized by its assertiveness, nationalism, and willingness to confront other countries. It is named after the popular Chinese action film series "Wolf Warrior," which features a Chinese soldier who fights back against foreign aggression.
Wolf warrior diplomacy was first coined in 2019 by Zhao Lijian, a spokesperson for the Chinese Foreign Ministry. Zhao was known for his aggressive rhetoric on social media, where he often attacked critics of China.
Here are some examples of wolf warrior diplomacy in action:
In 2020, Zhao Lijian tweeted a conspiracy theory that the US military had brought the Covid-19 virus to China. The tweet was widely condemned by the international community.
In 2021, another Chinese official Hua Chunying accused Australia of being a "running dog" of the United States. The remark caused a diplomatic rift between China and Australia.
(With inputs from agencies)