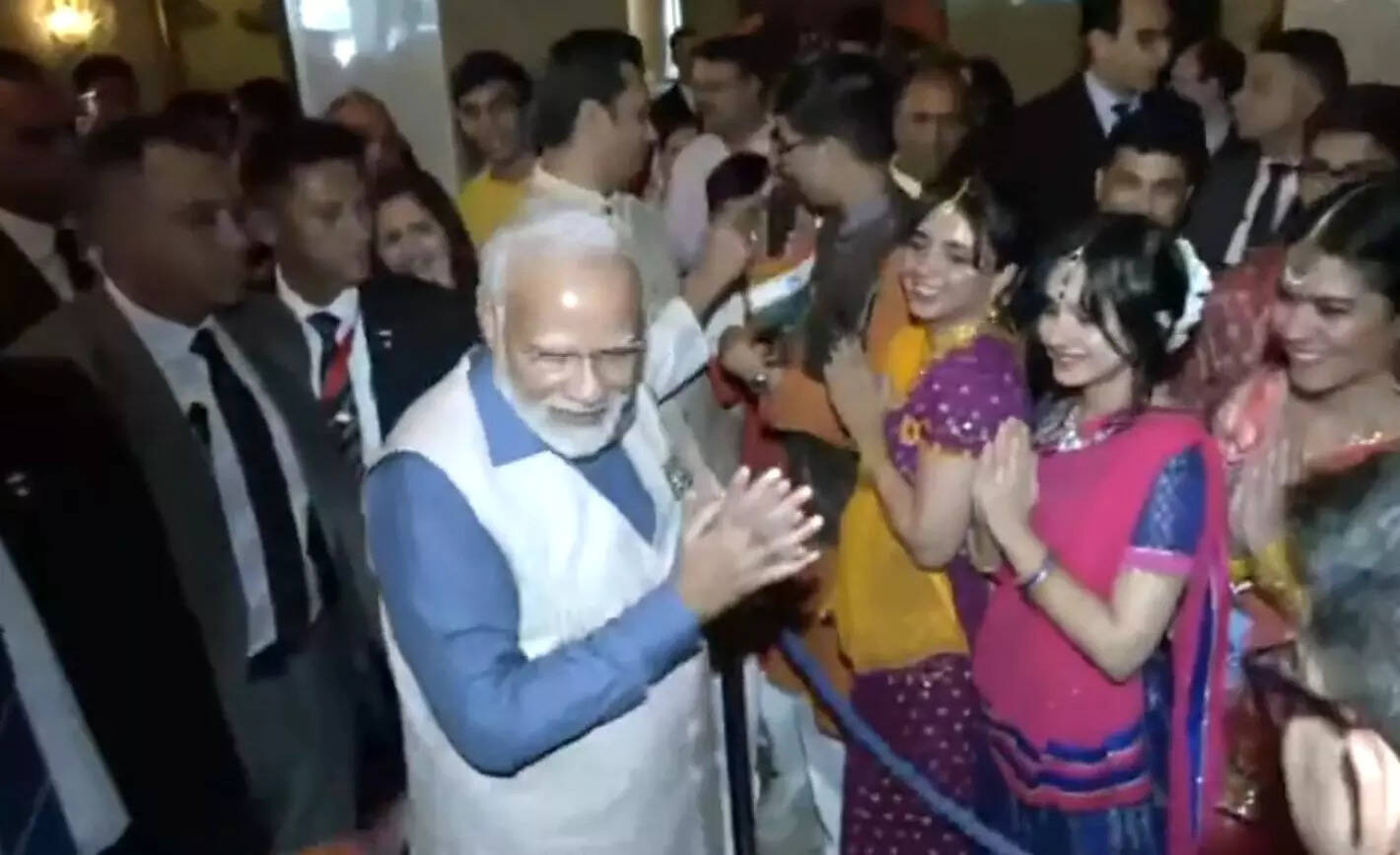 CAIRO: After landing in
Egypt
, Prime Minister Narendra Modi arrived at a hotel in Cairo amid a rousing welcome and chants of 'Vande Mataram' and 'Modi Modi'.
Several members of the Indian community were present at the Ritz Carlton Hotel to welcome PM Modi.
The Indian diaspora displayed their enthusiasm by waving the Tricolour and chanting "Modi Modi" and "Vande Mataram" slogans. Many children were also present in the diaspora. Many people also sang Indian songs and presented cultural programmes to welcome PM Modi.
Prime Minister Modi also greeted and interacted with the people of the Indian community, who were standing to welcome him.
Notably, PM Modi is visiting Egypt at the invitation of the Egyptian President Abdel Fattah El-Sisi, which he extended in January 2023 when he graced India's Republic Day celebrations as the 'Chief Guest.'
The Prime Minister will have various engagements with the leaders and Indian diaspora during his visit here. He is set to hold a roundtable meeting with the Egyptian PM Mostafa Madbouly and also meet Egyptian President Abdel Fattah El-Sisi.
Indian Ambassador to Egypt Ajit Gupte on Friday said that for the first time, a round table meeting between Prime Minister Narendra Modi and the Egyptian Prime Minister will take place.
Prime Minister will spend nearly half an hour at the Al-Hakim Mosque– a historic and prominent mosque in Cairo named after Al-Hakim bi-Amr Allah (985-1021), the 16th Fatimid caliph. The mosque of al-Hakim bi-Amr Allah is an important cultural site for the Dawoodi Bohra community in Cairo.
During his first Egypt tour, the PM will also visit Heliopolis War Grave cemetery to pay tribute to the Indian soldiers who made the supreme sacrifice fighting for Egypt during the First World War.
The visit is of significance as Egypt has traditionally been one of India's most important trading partners in the African continent. India-Egypt Bilateral Trade Agreement has been in operation since March 1978 and is based on the Most Favored Nation clause, according to the Egyptian Central Agency for Public Mobilization and Statistics (CAPMAS).
India was Egypt's fifth largest trading partner in the period April 2022-Dec 2022. It was the 11th-largest importer of Egyptian goods and the 5th-largest exporter to Egypt during the same time.
Moreover, India and Egypt share a close political understanding based on a long history of contact and cooperation in bilateral, regional and global issues.
India and Egypt share close political understanding based on a long history of contact and cooperation in bilateral, regional and global issues. The joint announcement of the establishment of diplomatic relations at the Ambassadorial level was made on August 18 1947.Since the 1980s, there have been four Prime Ministerial visits from India to Egypt.
Rajiv Gandhi visited the country in 1985, PV Narasimha Rao in 1995, IK Gujral in 1997, and Manmohan Singh in 2009.From the Egyptian side, President Hosni Mubarak visited India in 1982, in 1983 (NAM Summit), and again in 2008.
High-level exchanges with Egypt continued after the 2011 Egyptian Revolution and then President Mohamed Morsi visited India in March 2013. External Affairs Minister (EAM) visited Cairo in March 2012 and the Egyptian Foreign Minister visited India in December 2013.
On April 14, 2022, Egyptian Cabinet announced the inclusion of India in the list of accredited countries which can supply wheat to Egypt, thus ending a long pending Non-Tariff Barrier.
India cleared shipment of 61,500 metric tons of wheat to Egypt on May 17, 2022.