WASHINGTON: Asserting that yoga is
universal
and unifying given its origins in India, Prime Minister
Narendra Modi
, in a landmark event at the
United Nations
on Wednesday, urged its practice globally to bring humankind closer and improve the health of the planet.
"Yoga comes from India and it is a very old tradition. Yoga is free from copyrights, free from patents and free from royalty payments.
Read Also
PM Modi-led yoga event at UN creates Guinness World Record
The yoga celebration was led by PM Modi during his inaugural state visit to the United States, following an invitation from President Joe Biden and First Lady Jill Biden. The event, commemorating the 9th International Day of Yoga, witnessed the presence of esteemed UN officials, diplomats, and
Celebrities, spiritual leaders, politicians join PM Modi for star-studded yoga event in US
From Hollywood actors and singers to politicians and Yoga gurus, prominent personalities from different walks of life joined PM Modi on Wednesday as he led the mega Yoga Day celebrations outside the UN headquarters in New York.Among the people who attended the event were Hollywood actor Richard
All you need to know about Annelies Richmond, instructor who led Yoga Day celebrations at UN with PM Modi
Annelies Richmond added another feather to her cap as she led the International Yoga Day celebration along with Prime Minister Narendra Modi at the UN headquarters in New York on Wednesday, creating a Guinness World Record for the participation of people of most nationalities.
Yoga is unifying; it is for everyone, for all ethnicities, for all faiths, for all cultures. Yoga is truly universal!"Modi said in remarks before participating in international yoga day under the aegis of UN.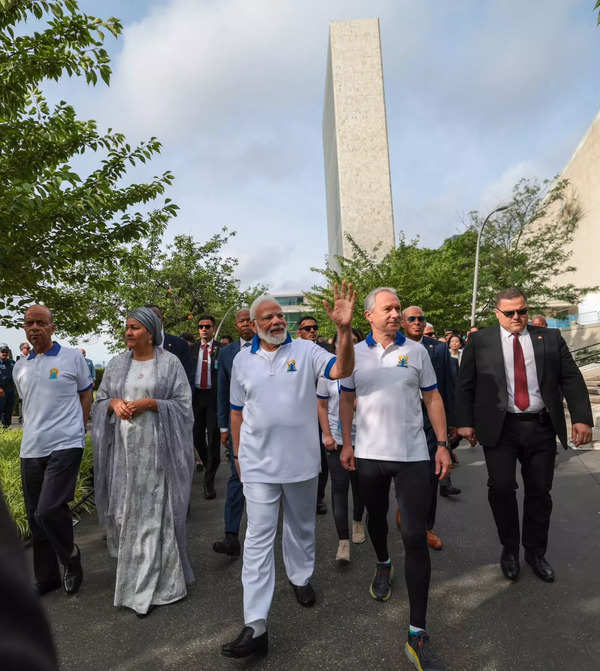 The Prime Minister brief comments were an implicit rebuke to a country notorious for excessive and often spurious patent protections where some yoga gurus, notably Indian teacher Bikram Choudhury, sought to copyright poses. A US court rejected the claim. Chaudhury is currently on the lam from US after he was ordered to pay damages in a case of alleged sexual harassment, which he has denied.
While acknowledging yoga is universal and advocating its global practice, Modi also asserted its Indian origins, with no reference to religion. Some critics, mostly a malingering minority, have accused him of promoting yoga as tool "to conceal a political agenda steeped in #Hindutva & caste supremacist ideology & policies," a charge that has found little resonance at the UN, which has officially endorsed the International Yoga Day, first proposed by the Modi government in 2014 and supported by 180 countries.
In fact, UN Secretary General Antonio Gutteres specifically backed Wednesday's event in a video message, saying, "In a divided world, yoga unites millions of people across the globe, for whom it is a source of strength, harmony, and peace. On this #YogaDay, let us embrace this spirit of unity, and resolve to build a better, more harmonious world for people & planet."
"Fully agree with @UN Secretary General @antonioguterres on the importance of Yoga. May Yoga Day bring us all closer and improve the health of our planet," Modi responded.
Still, the dissenters were out and about on news channels, notably the BBC, claiming a political motive for India's yoga promotion, which they saw as a BJP initiative that is part of the "Hindutva agenda." Broad participation by 135 nationalities, which the host said was a Guinness world record for maximum number of nationalities in a yoga session, belied the charge.
While critics contended that the Indian Prime Minister is an "exhibitionist" and yoga spread across the world long before he began promoting it, his supporters and government functionaries exulted in the UN outreach.
"A landmark day for India. The world witnessed the power of India's culture as PM @narendramodi Ji practised Yoga at the UN HQs… Modi Ji not just promoted Yoga on a global platform but reclaimed India's glory by gifting a new worldview of unity," tweeted union home minister Amit Shah.
Among celebrity participants at event was the actor Richard Gere, who said described Prime Minister Modi as a "product of Indian culture" and his message of universal brotherhood and sisterhood "is the one we want to hear again and again."
Watch Yoga is free from copyrights & patents, free from royalty payments: PM Modi at UN headquarters