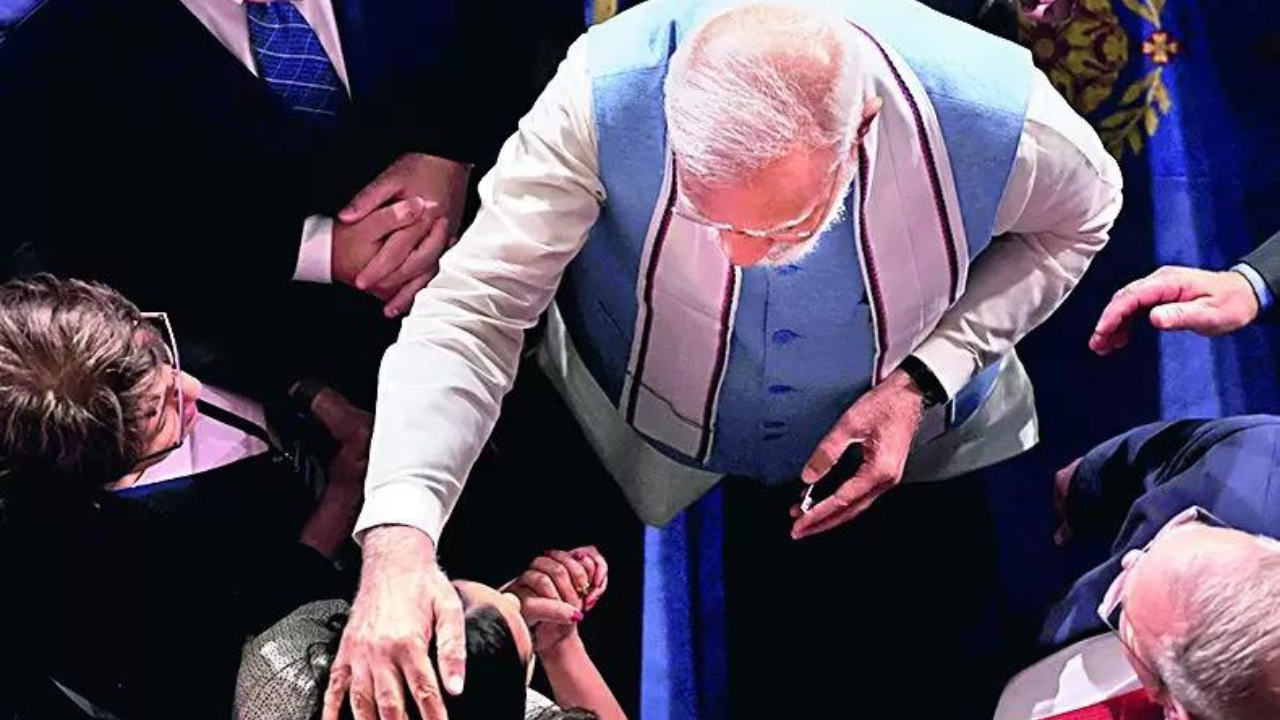 Hours after he pushed back at a question on minority rights and free speech from an American reporter at the
White House
– saying "I'm surprised that you say, 'people say India is a democracy', it is a democracy" – Prime Minister Modi doubled down on his assertion by uttering the word 'democracy' as many as 14 times in his address to the joint session of the US Congress on Thursday.
Going by the sheer number of references, 'democracy' ranked next only to 'India', 'world' and 'US/America'.
India has consistently showcased its democratic credentials to seek closer ties with the US and other western democracies and, clearly, the insinuation about erosion of rights and freedoms on his charge failed to deter Modi from brandishing the selling proposition yet again. "In the evolution of the democratic spirit, India is the mother of democracy," said the PM, adding, "Last year, we celebrated a remarkable journey of over 75 years of freedom, after a thousand years of foreign rule in one form or another. This was not just a celebration of democracy, but also of diversity."
Looking at ease, he appeared to assure his audience that democracy in India faced no risk as was being alleged when he said "democracy is one of our sacred and shared values", the formulation suggesting that adherence to democratic norms was a civilisational commitment rather than an exclusive feature of a particular party. The formulation "everyone wants to understand India's development, democracy and diversity" looked to be at once a suggestion to critics to bone up on their understanding of Indian democracy with all its infuriating complexity and a confident invite to those who could be interested in a ringside view of its working.
'Democracy' was among the threads that ran through the speech. Very often, the references appeared to rebut the specific charges levelled against him.
Thus, while pointing out that "the US is the oldest and India the largest democracy", Modi stressed, "a spirit of democracy, inclusion and sustainability defines us", in what was seen by many as a riposte to the charge of majoritarianism and allied ills. In the same vein, the PM said, "Democracy is the culture that gives wings to thought and expression," in what appeared to be a response to the charges of erosion of freedom of speech and curbs on dissent. Similarly, the assertions that "democracy is a spirit that supports equality and dignity" and "the idea that welcomes debate and discourse".
If that was indeed his intent, Modi must have been pleased with the response as almost every mention of the D-word was greeted with applause and even standing ovation – something that seemed to signal the bipartisan acceptance of his declarations. "Our partnership augurs well for the future of democracy" seemed to tap into and stoke the across-the-aisle endorsement.