NEW DELHI: The Enforcement Directorate on Tuesday attached properties worth over Rs 750 crore, including the well-known Herald House near ITO, belonging to Associated Journals Ltd (AJL), the publisher of National Herald and other party mouthpieces of the Congress, in a money laundering case against party leaders Sonia Gandhi and her son Rahul, and Young Indian, which now controls AJL.
Congress slammed the ED's action as "shameful vendetta politics in a frivolous case" and dubbed BJP the "murderer" of democracy.
Young Indian is registered as a charity and is majority-owned by the Gandhis, the only two shareholders in the entity, which has Congress president Mallikarjun Kharge as its CEO.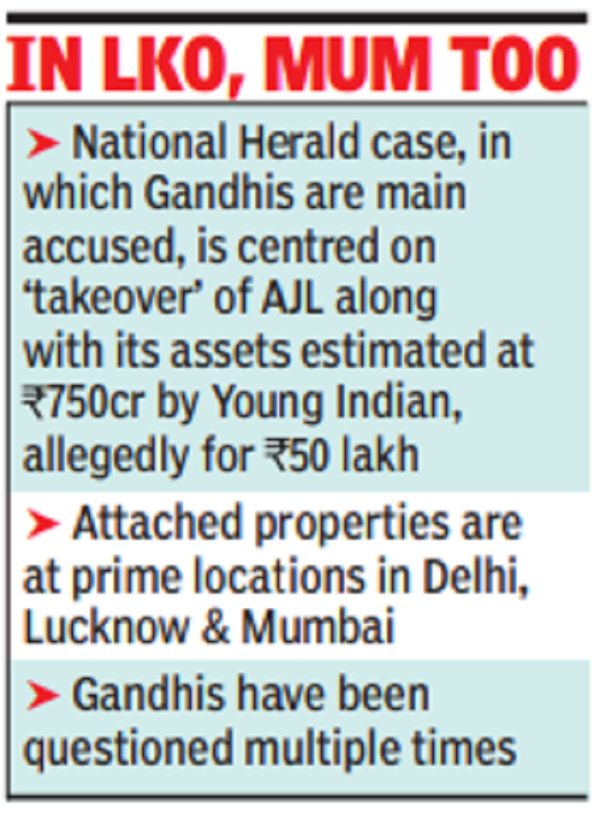 The National Herald money laundering case, in which the Gandhis are the main accused, is centred on the "takeover" of AJL along with its assets estimated at Rs 750 crore by Young Indian allegedly for Rs 50 lakh.
The attached properties are situated in prime locations in Delhi, Lucknow and Mumbai and have been estimated at over Rs 661 crore. The ED categorised these assets as well as others worth another Rs 90.2 crore as "proceeds of crime", the agency's description for illegally acquired properties, in the hands of Young Indian.
"Investigation revealed that AJL is in possession of proceeds of crime in the form of immovable properties spread across many cities of India such as Delhi, Mumbai and Lucknow to the tune of Rs 661.6 crore and Young Indian is in possession of proceeds of crime to the tune of Rs 90.2 crore in the form of investment in equity shares of AJL," the ED said in a statement.
The Gandhis, who are on bail in a related case, have been questioned multiple times along with Kharge and others about the transactions. They may be summoned along with other accused for recording their concluding statements based on the "money trail" and the findings of the probe within a year as the agency is legally bound to file prosecution complaint (chargesheet) during the next 365 days: i.e. one year from the day of attachment of the "proceeds of crime".
"BJP must realise that going after India's largest opposition party is akin to going after Indian democracy," party general secretary K C Venugopal said.
In a statement, the ED said its money laundering case in connection with the acquisition of AJL assets by the Gandhis-controlled Young Indian was in pursuance of a court order. "The ED initiated a money-laundering investigation on the basis of a process issued by the court of metropolitan magistrate of Delhi after taking cognisance of a private complaint (Subramanian Swamy vs Sonia Gandhi) on June 26, 2014. The court held that seven accused, including Young Indian, prima facie committed offences of criminal breach of trust u/s 406 of IPC, cheating and dishonestly inducing delivery of property u/s 420 of IPC, dishonest misappropriation of property u/s 403 and criminal conspiracy u/s 120B of IPC," the ED said.
The agency further said, "The court had held that the accused persons hatched a criminal conspiracy to acquire properties worth hundreds of crores of AJL through a special purpose vehicle, Young Indian."
The ED said AJL, which was given land at concessional rates in various cities for publishing newspapers, started using the properties for commercial purposes after it ceased publication of National Herald and other Congress organs. "AJL had to repay a loan of Rs 90.2 crore to the All India Congress Committee (AICC). However, AICC treated the said loan of Rs 90.2 crore as non-recoverable from AJL and sold it for Rs 50 lakh to a newly incorporated company, Young Indian, without any source of income to pay even Rs 50 lakh. By their action, the shareholders of AJL as well as donors of Congress Party were cheated by the office-bearers of AJL and Congress," it added.
The agency said its probe found that "after purchasing the loan of Rs 90.2 crore from AICC, YI demanded either repayment of loan or allotment of equity shares of AJL to it. The AJL held an extraordinary general meeting and passed a resolution to increase share capital and issue fresh shares worth Rs 90.2 crore to YI. With this fresh allotment of shares, shareholding of more than 1,000 shareholders was reduced to a mere 1% and AJL became a subsidiary company of YI. YI also took control over properties of AJL."
Venugopal said BJP had unleashed a vendetta because it was on the verge of losing state elections and was running scared. "They are staring at a historical loss in the ongoing five state polls and in 2024 LS polls. If they think they can intimidate us or tarnish our reputation in the people's eyes, they are grossly mistaken," he said.
ED interrogates senior Congress leader Mallikarjun Kharge for over four hours
"BJP and its allies are the murderers of Indian democracy… 1.4 billion Indians will give a befitting reply to this fascist politics of revenge and intimidation. Satyamev Jayate," he added.