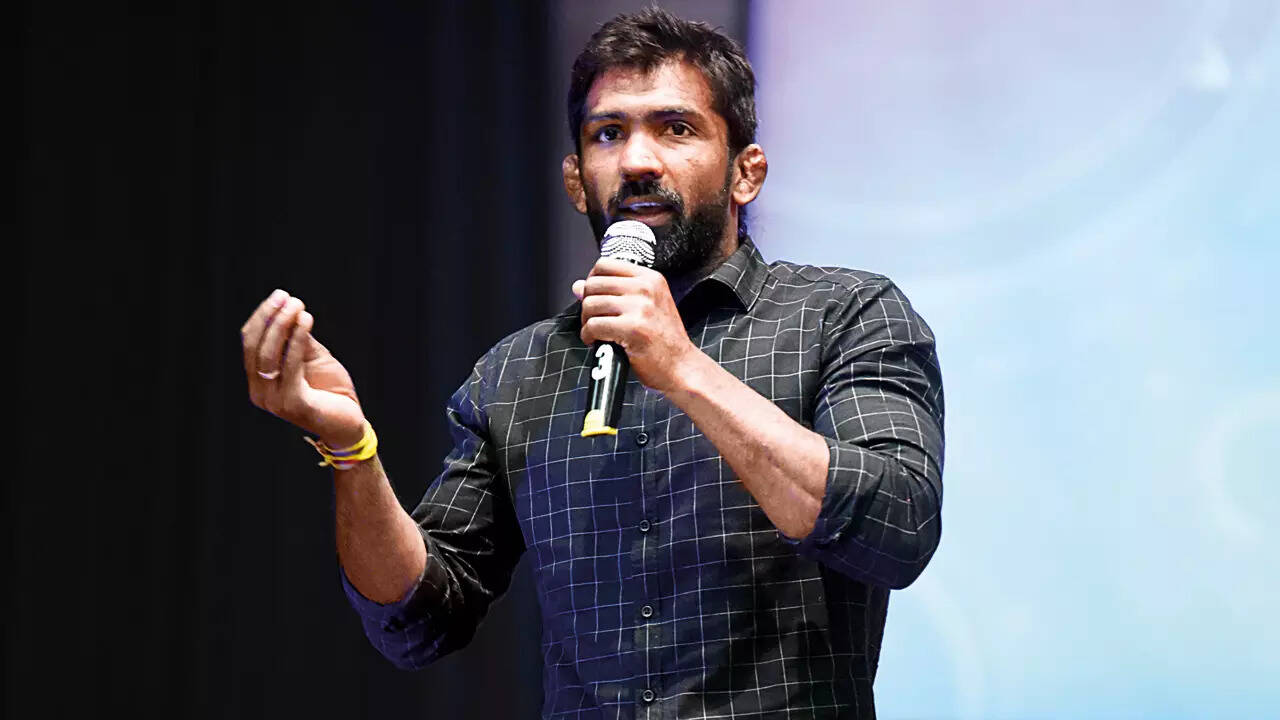 NEW DELHI: London Olympics bronze medallist wrestler
Yogeshwar Dutt
on Sunday clarified that the claim made by Bajrang Punia about 'him asking Bajrang to concede bouts on purpose' is a 'blatant lie' as the mud-slinging match between the top wrestlers of the country continued.
"I never told him to lose any match. It's a blatant lie," Yogeshwar told PTI when asked about Bajrang's claim.
Bajrang, in a live social media address, had claimed on Saturday that Yogeshwar several times asked him to lose matches on purpose in the past.
"During the (2016) Olympic qualification, he was part of the 65kg trials but we were not pitted against each other. Amit Dhankar had defeated him. In the final bout, I fought against Amit," Yogeshwar said in his clarification.
"In the Pro Wrestling League, we fought against each other. There I won 3-0. If I wanted, I could have scored more and everybody knows that it was a show fight."
Yogeshwar, who is now a BJP leader, said he always took Bajrang on foreign training trips as his sparring partner.
"Before the 2016 Olympics whenever I went abroad I took Bajrang along with me. Despite all this, he has betrayed me. I don't know why he is accusing me and tarnishing my image."
Yogeshwar feels that Bajrang is just trying to settle scores against him by levelling such false allegations after they decided to split in 2018.
"In 2018 Bajrang told me that 'let me go to Commonwealth Games and you go to Asian Games' but I told him I will go through the trials. After that he got angry with me and we stopped talking to each other," he claimed.
"After the 2016 Rio Olympics I never participated in any tournament, I never attended any camp. In camps there are many wrestlers in one weight category. Anybody can beat anyone.
"But I was never in the reckoning, I left wrestling, anyone could have beaten me easily. I left competitive wrestling in 2018, I am now a former wrestler."
Bajrang had claimed that in a final match in Italy, Yogeshwar told him to concede the final.
"You told me that I am first and you are second. You did not think of your junior player that if he wins, it will benefit him," Bajrang said.
However, Yogeshwar did not accept that he did something like that.
"In our religion 'gau mata' (mother cow) is considered holy and I can swear on gau mata that I never asked Bajrang to concede a match," said Yogehswar.
Bajrang's accusations came after Yogeshwar questioned the exemption from Asian Games and World Championship trials was handed to six protesting wrestlers by the IOA ad-hoc panel.
Bajrang, Vinesh Phogat, Sakshi Malik, Sangeeta Phogat, Satyawart Kadian and Jitender Kinha were handed the favour of the IOA panel.
Yogeshwar had questioned the logic behind the move and had exhorted the junior and other wrestlers to raise their voice against the decision.
Infuriated by Yogeshwar's opposition, Bajrang alleged that the former wrestlers himself had received several favours from the WFI, including exemptions from selection trials for internationals tournaments.
"Why is he blaming me that I was selected without trials for a tournament in 2014. The federation had such guidelines then. Sometimes they go by your achievements and seeding and exempt you from trials. Every federation has different rules which you have to obey."
Yogeshwar also quoted a picture on twitter, posted by Bajrang in August 2019 when the latter called him his Guru.
"How low will you stoop? If you had stopped talking in 2018 then why are you thanking God for a Guru (Dutt) in 2019?," Dutt tweeted this morning.
Not only Bajrang and Dutt are locked in a war of words, a few days back, Sakshi Malik and Babita Phogat, who is also associated with the BJP, attacked each other on social media.
(With inputs from PTI)