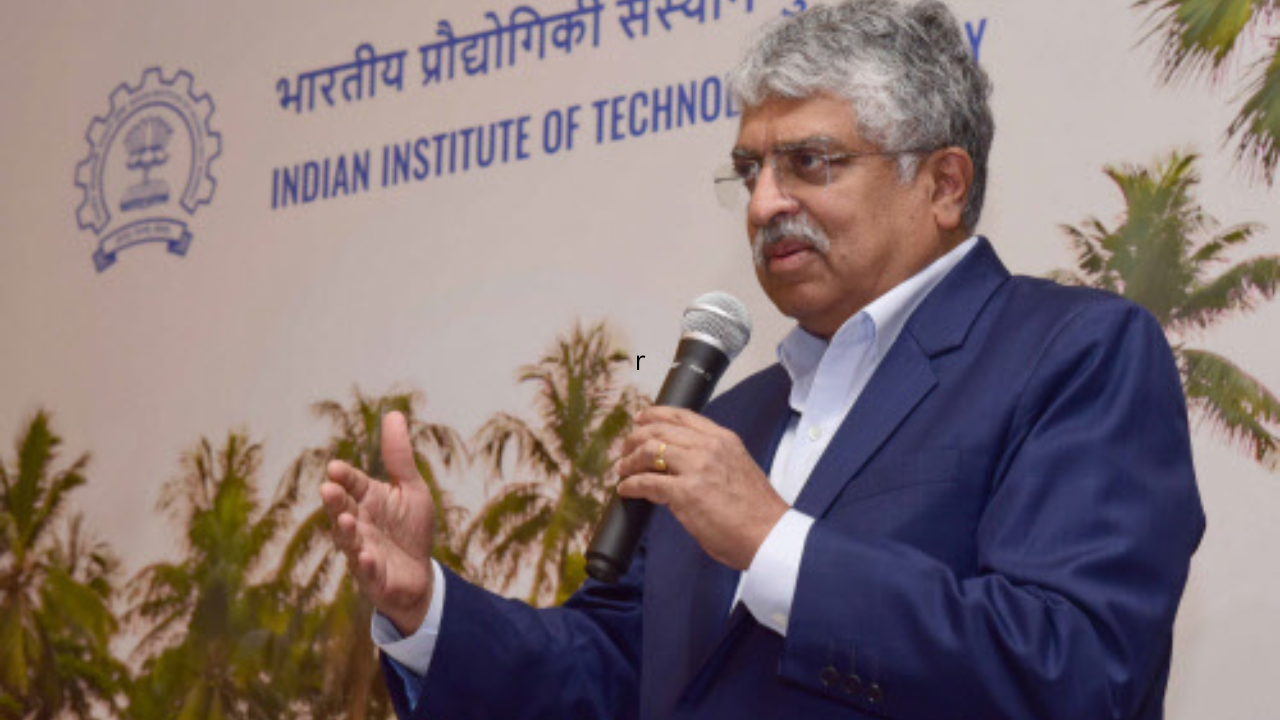 BENGALURU/MUMBAI: Marking 50 years of his association with the institute, Infosys co-founder
Nandan Nilekani
announced a donation of Rs 315 crore (US$ 38.5 million) to IIT-Bombay on Tuesday. Nilekani joined the institute in 1973 for a bachelor's degree in electrical engineering.
The endowment takes Nilekani's total contribution to Rs 400 crore adding up on his previous grant of Rs 85 crore, which was partly used to build hostel facilities. This is the highest ever single private donation not just for the IITs but for any Indian university. The donation will be made over a period of five years.
IIT-B has been a cornerstone in my life, has given me so much: Nilekani
Nilekani signed an MoU giving away Rs 315 crore of his wealth to alma mater IIT Bombay in the presence of institute director Subhasis Chaudhuri and three former directors, in Bengaluru on Tuesday.
Nilekani has become the anchor donor in the institute's plan to raise $500 million (Rs 4,200 crore) by 2030. The funds would be deployed to accelerate R&D and step up infrastructure. In the last financial year, IIT Bombay raised Rs 180 crore from donors.
Nilekani has left it to the discretion of IIT Bombay to spend the money. "It's as un-tied as possible for them to identify key areas of development," he said.
"I have benefited from IIT. I'm what I'm because of IIT. It's more than money – an emotional commitment to IIT," Nilekani told TOI on Tuesday. "Joining IIT Bombay was an act of teenage rebellion. I went for an interview at IIT Madras. And in those days, there were no mobile phones. My father sent me a telegram asking me to join IIT Madras chemical (engineering). I was 18 and "you do the opposite of what your father tells you at that age." I joined electrical engineering at IIT Bombay, and I don't regret that decision," he said.
Nilekani, founding chairman of the Unique Identification Authority of India in the rank of a cabinet minister from 2009-2014, took to social media to announce the endowment. In a press statement, he said, "IIT Bombay has been a cornerstone in my life, shaping my formative years and laying the foundation for my journey. As I celebrate 50 years of my association with this esteemed Institution, I am grateful to give forward and contribute to its future. This donation is more than just a financial contribution; it is a tribute to the place that has given me so much and a commitment to the students who will shape our world tomorrow."
IIT-B director Chaudhuri called it a "historic donation, that will accelerate the growth of the institute and set it on a path of global leadership." He said Nilekani is IIT-B's most distinguished alumnus and his giving "is a giant step for Indian philanthropy". In a statement, Chaudhuri said, "We are extremely delighted to see our illustrious alumnus continuing his foundational and pioneering contributions to the institute. Nandan's contribution will catalyse philanthropic contributions towards advancing research and development at universities in India."
While speaking to TOI, Chaudhuri said the donation constitutes 10% of the funding they are hoping to raise by 2030. "To my knowledge, this is the largest single private donation made in the country in the university system. This 'anchor contribution' will be used to boost our educational and research infrastructure further. There are plans to build research facilities, hostels and we will also seek his mentorship in our plans," said the director.
Nilekani said it's not fair to expect the government to pay for the future growth of these institutes. "First-gen IITs must look at their alumni and their firms, going forward. They have thousands of graduates, and many have been successful. They must start giving back. We wanted Subhasis to have something in his hand so that he can tell those chaps sitting in Silicon Valley, who are making billions, that it's payback time." He told Chaudhuri, "I hope you come back with a rich load of commitments from your trip." Chaudhuri is embarking on a US roadshow, shortly.
"As IITs become more scalable in their intake they will have more bright people come out and more things will happen," Nilekani said. To create this virtuous cycle, capital is crucial to accelerate research efforts in AI, nano tech and quantum. "IIT Bombay is foundational for all of it. We came out street smart. I also met Rohini (wife) when I was at IIT. I guess that was icing on the cake. If we can really take IIT Bombay to the next orbit, that's the best thing you can do for all of us," Nilekani added.
Over the years, Nilekani has stayed connected with the institute in multiple roles. He served on the board of the IIT Bombay Heritage Foundation from 1999 to 2009 and was on the Board of Governors from 2005 to 2011. His initial contribution of Rs 85 crore was instrumental in constructing new hostels, co-financing the School of Information Technology, and setting up India's first university incubator giving a big fillip to the Indian startup ecosystem. He was awarded the Distinguished Alumnus Award in 1999, followed by an honorary doctorate in 2019 as part of the 57th convocation of IIT Bombay. Nilekani was instrumental in setting up the Society for Innovation and Entrepreneurship (SINE).