MUMBAI: Just like India's 2011 World Cup-wining team had dedicated the title win at home to
Sachin Tendulkar
, former India opener
Virender Sehwag
, at an event here to unveil the
World Cup schedule
, said he wants Rohit Sharma's men to win the Cup for Virat Kohli this time around.
Kohli was also a part of the squad in 2011 and lifted Sachin over his shoulders as Team India embarked on a victory lap at the Wankhede Stadium after the win.
India were defeated in the semifinal stage in 2015 and 2019.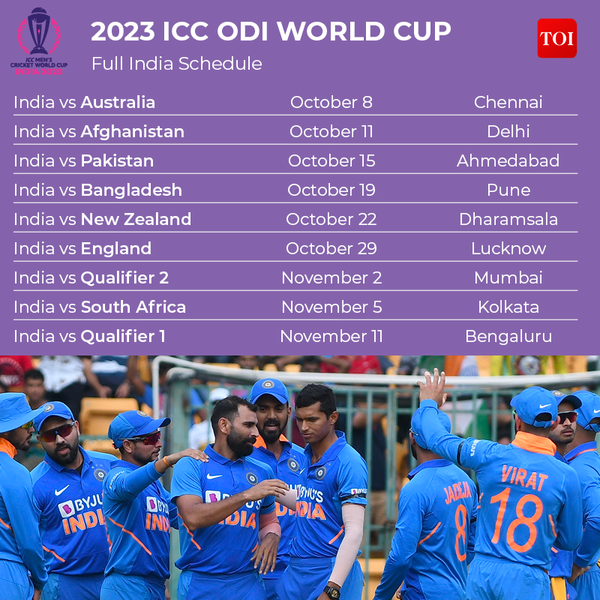 "We played that World Cup (in 2011) for Tendulkar. If we won the World Cup, it would have been a great exit for Sachin paaji. Virat Kohli is the same now. Everybody (in the Indian team) will look to win the World Cup for him. He always gives more than 100%. I think Virat Kohli is also looking at this World Cup. Nearly 100,000 people will watch you at the Narendra Modi Stadium in Ahmedabad. Virat knows how the pitches will behave. I am sure he will score a lot of runs and he will do his best to win the Cup for India," Sehwag said.
It wasn't a surprise that Sehwag listed the highly-anticipated clash between India and Pakistan on 15 October in Ahmedabad as potentially the "most exciting" contest.
Explaining why he feels that India are the favourites going into the clash, Sehwag said, "I feel India handle the pressure (better), that is why they win.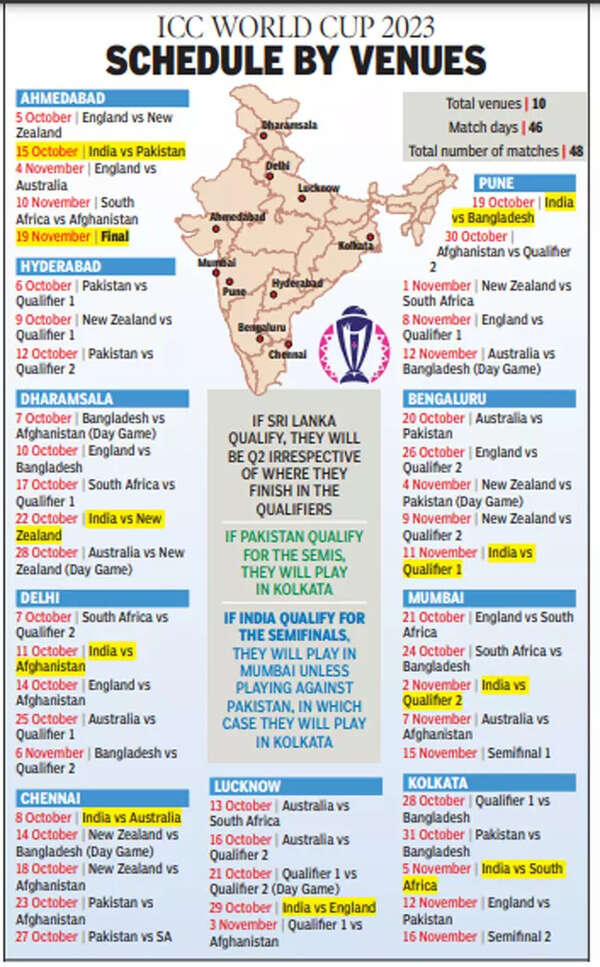 Pakistan have a burden that they haven't won against India. In the 1990s, Pakistan were good at dealing with pressure but after 2000, India soak it better. If any player says that they don't feel pressure, I don't think it's right. We used to say it too but at the end of the day, it's an India-Pakistan game and emotions run high."
Sehwag tipped India, Pakistan, defending champions England and Australia to make the semifinals.
LOOKING FORWARD TO PLAYING IN MUMBAI: VIRAT KOHLI
Kohli himself said that he was excited to be playing at the Wankhede Stadium in Mumbai during the World Cup.
"I'm looking forward to playing in Mumbai. It'd be great to experience that atmosphere again," Kohli said in a video message at the event.
The 34-year-old said that the Wankhede will always remind him of the atmosphere of the 2011 World Cup final, in which India defeated Sri Lanka.
Virat scored 35 and shared a crucial 83-run partnership with Gautam Gambhir for the third wicket after India had lost the key wickets of openers Virender Sehwag and Sachin Tendulkar while chasing 273.
"I was quite young then. I saw what it meant to the seniors. I can understand what they went through and how special it is to play a home World Cup and how excited they are going to be," Kohli said.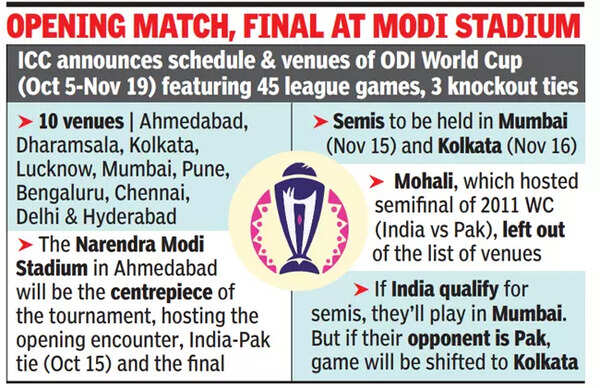 UNFORTUNATE THAT SRI LANKA ARE PLAYING IN QUALIFIERS: MURALITHARAN
Off-spin legend Muttiah Muralitharan, meanwhile, rued that Sri Lanka were forced to play the ongoing World Cup qualifiers in Zimbabwe as they "hadn't played to their potential for the last 4-5 years".
"It is unfortunate for a country like us to be playing in the qualifiers. But I think Sri Lanka has very good talent, they have good spin bowlers and good batsmen. Unfortunately, we haven't played to our potential in the last 4-5 years. They are doing well in Zimbabwe at the moment. If they qualify, we'll be a threat to all the good teams. We are not going to be pushovers," Muralitharan said.