NEW DELHI: As India and the United States look to remove barriers that forestalled defence and hi-tech trade between then, an irked China on Monday called upon "relevant countries" to act in ways conducive to mutual trust between regional countries in "the field of security and stability" in the region.
A recent hi-tech trade summit saw India and the US signing a landmark agreement for co-production of jet engines with unprecedented transfer of technology, in a major boost to defence cooperation between the two countries. The US has rarely, if ever, signed a similar agreement with a country that is neither a Nato member nor a treaty ally. Also in offing is the purchase of 31 armed predator drones by India from the US.
"It has been China's long-standing position that military cooperation between states should not undermine regional peace and stability, target any third party, or even harm the interests of any third party," said a Chinese foreign ministry spokesperson, responding to a query about the deals signed during Prime Minister Narendra Modi's visit to the US.
The reaction followed commentaries in the Chinese state media expressing similar sentiments about India's ties with the US.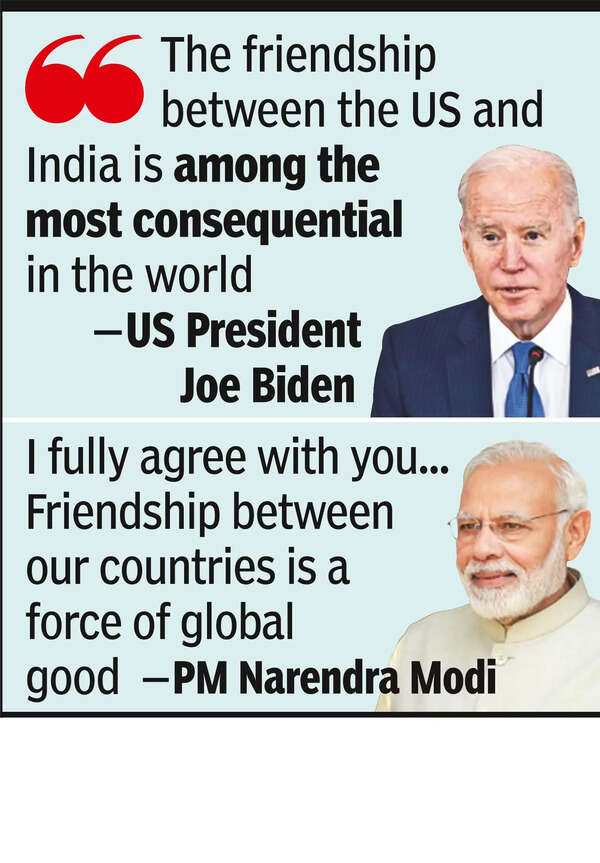 The Global Times newspaper said in an editorial on Saturday that the US was going to lose its bet on China's "neighbouring region" and that becoming a pawn in US' "containment of China" didn't align with India's interests and principles, nor did it preserve its dignity as a major power.
"The more strategically independent a country is, such as India, the less likely it is to strictly follow the script written by Washington, especially when it demands actions that go against its own national interests. We believe that New Delhi will make calm and sober choices, as history has proven," it said, claiming that differences between India and the US were deliberately glossed over during Modi's visit to the US.
Watch A new and glorious journey of India and US relations has begun, PM Modi in US