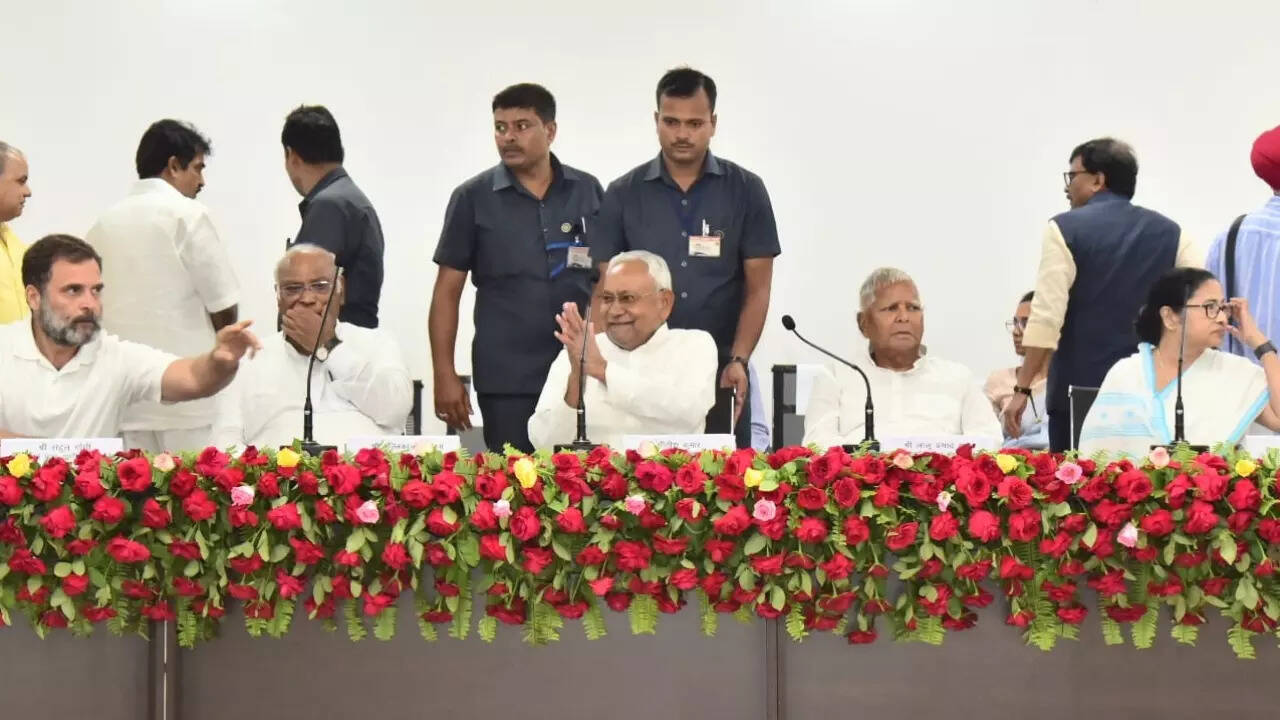 NEW DELHI: At a joint press briefing that followed an opposition parties meeting in
Patna
on Friday, participating leaders said 17 opposition parties will fight the upcoming 2024
Lok Sabha
elections together to defeat the
BJP
. They said the next round of this first-of-its-kind meeting has been scheduled for next month, in
Shimla
.
The press conference was held after an almost four-hour meeting, during which, Bihar chief minister Nitish Kumar said the leaders will meet again soon to finalise their plan of fighting together.
Good meeting: Nitish
"We had a good meeting and several leaders expressed their views during the meeting… 17 parties have decided to work together and contest the Lok Sabha elections unitedly," Kumar, who hosted Friday's meet, said.
He said they were working in the national interest and accused the BJP of acting against the national interest as it was trying to change the country's history.
Will work together to dethrone the BJP: Kharge
Congress president Mallikarjun Kharge announced that the next meeting of opposition leaders would be held in Shimla in Himachal Pradesh next month.
"We have decided to prepare a common agenda and will take decisions in the next meeting on how to move forward. We will have to evolve separate plans for every state and we will work together to dethrone the BJP at the Centre," he said.
Will work to protect our ideology: Rahul
Meanwhile, Congress leader Rahul Gandhi, talking about the meet and the roadmap chalked, said, "We may have some differences but have decided to work together with flexibility and will work to protect our ideology".
Meeting beginning of history: Mamata
West Bengal chief minister and TMC supremo Mamata Banerjee said the first meet was organised in Patna as "whatever starts from Patna, takes the shape of the public movement". She added that Friday's meeting was a beginning of a history.
"We all are united and will fight unitedly against BJP," she said and added that "the BJP wants to change history but we'll ensure that history is saved".
She also said that they should not always be marked as "opposition" as they too are the citizens of the country, and do not lag behind when it comes to patriotism.
AAP skips press briefing, slams Congress over ordinance
The Aam Aadmi Party, however, skipped the press briefing and came out with a statement condemning the Congress' "silence" over the Delhi central ordinance.
Party founder Arvind Kejriwal, Punjab CM Bhagwant Mann and Rajya Sabha MPs Sanjay Singh and Raghav Chaddha, who represented AAP at the meeting, were conspicuous by their absence at the press conference.
The party came out with a statement asserting the centrality of the "black ordinance", which "not only aims to snatch democratic rights of an elected government in Delhi but poses a significant threat to India's democracy and constitutional principles".
The statement noted that among the parties that attended the meeting in Patna, "12 have representation in the Rajya Sabha" and "except for the Indian National Congress" all others have "clearly expressed their stand against the ordinance and announced that they would oppose it in the Rajya Sabha".