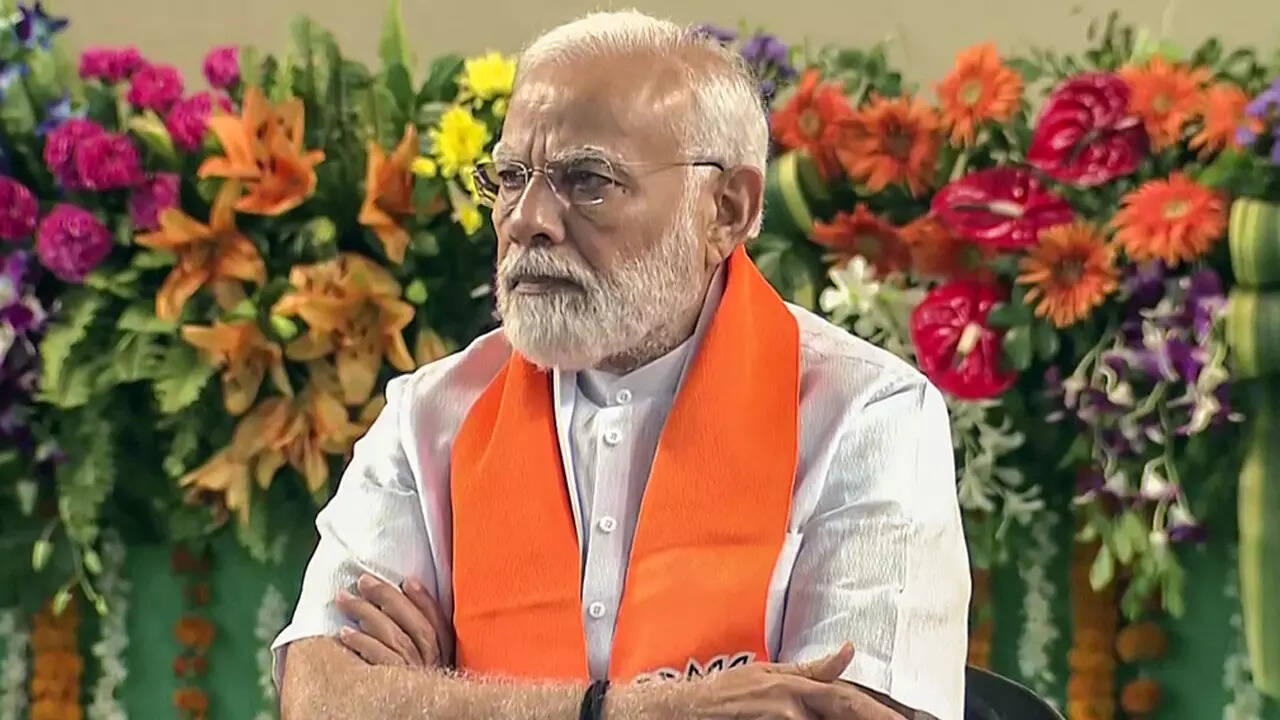 NEW DELHI: A political slugfest erupted on Wednesday a day after Prime Minister Narendra Modi made a strong pitch for the implementation of Uniform Civil Code (UCC) in India.
The opposition accused the
BJP
of using
UCC to divert attention from "real issues"
while the BJP hit back at its rivals for creating "communal confusion" by politicising the debate. The AAP refrained from joining the opposition bandwagon and called for a wider consultation on the topic.
Meanwhile, the Muslim personal law board went into a huddle on Tuesday night to oppose any future move by the Centre to introduce UCC across India.
Notably, UCC has been a key poll promise of the saffron party with several BJP-led state governments promising the implementation of a unified legal structure in their election manifestos.
Here's the latest on the issue …
AIMPLB prepares draft opposing UCC
The All India Muslim Personal Law Board (AIMPLB) held a meeting on Tuesday night through video conferencing in which the draft document to be submitted to the Law Commission was discussed.
AIMPLB member Khalid Rasheed Farangi Mahli said that meeting was a routine one and should not be linked to the the Prime Minister's statement on UCC.
However, he said that July 14 is the last day for filing of objections and "we have got down to discussing the matter".
"Our stand is that UCC is against the spirit of the Constitution and we will oppose it strongly," the AIMPLB member underlined.
"India is a country where many religions and cultures are followed. So, the UCC is not only going to affect the Muslims, but also the Hindus, Sikhs, Christians, Jains, Jews, Parsis and other miniscule minorities," he added.
AAP backs UCC, with a rider
Despite several opposition parties taking a stand against UCC, the Arvind Kejriwal-led party said it has decided to extend "in-principle" support to the proposal.
However, it said that UCC should be brought in with a consensus after extensive consultations with stakeholders.
The government should hold extensive consultations on the proposal with all stakeholders, including political parties and non-political entities, AAP national general secretary (organisation) Sandeep Pathak said.
"The AAP supports UCC in principle. Article 44 (of the Constitution) also supports it," Pathak told PTI.
Opposition slams UCC; BJP hits back
Several opposition parties expressed strong reservations over PM Modi's stand on UCC.
The Congress accused PM Modi of making such remarks only to divert attention from the real issues like unemployment and Manipur violence.
Congress general secretary, organisation, K C Venugopal said the Prime Minister can say anything, but "he has to answer the real questions of this country – unemployment, price rise and Manipur issue".
Congress leader P Chidambaram said UCC cannot be forced on people by an "agenda-driven majoritarian government" as it will "widen divisions" among people.
AIMIM leader Asaduddin Owaisi asked whether the country's pluralism would be "snatched away" in the name of the UCC.
"It seems Modiji did not understand Obama's advice properly. Will the PM end 'Hindu Undivided Family'. (law) Because of HUF, the country is losing Rs 3064 crores every year. When PM Modi speaks about UCC, he is speaking of Hindu Civil Code. I challenge him to abolish Hindu Undivided Family (law), can he do so," he asked.
Bihar minister and senior JD(U) leader Vijay Kumar Chaudhary alleged that by touching upon the UCC, Modi was aiming at communal polarisation.
RJD leader Manoj Jha said the Prime Minister should not make such issues an instrument of "dog-whistle politics".
Launching a strong counter-attack, the BJP hit out at the opposition, saying the UCC has been provided in the Constitution as directive principles of state policy, and the Supreme Court has also endorsed the provision in its various judgements.
"This (UCC) is written in our Constitution. In Article 44 of the Constitution, it has been mentioned as the directive principle of state policy. There is a Supreme Court decision also in this regard," Union Minister Bhupender Yadav said.
"There should not be any discrimination. There should not be any discrepancy, Right to Justice should be ensured to everybody, including those who are exploited, deprived and oppressed in society. There should be equality in society," he said.
BJP leader and former Union minister Mukhtar Abbas Naqvi said the time has come to make the Uniform Civil Code free of these "communal crafters" as it is not for any particular community but for the entire society.
Talking to reporters, he said the Congress should clarify whether it stands with the constitutional commitment to the UCC or is a part of "communal conspiracy" against its implementation.
Naqvi said from the constituent assembly to Parliament, from the streets to civil society and the Supreme Court, the demand and need for the UCC was raised on several occasions.
However, "communal confusion" created over it hijacked the constitutional commitment and instead of becoming a part of the Constitution, the UCC remained a part of its directive principles, he added.
Monsoon session could be a stormy affair
PM Modi's loud public articulation of UCC coincides with signs that after scrapping the special status of J&K and construction of the Ram Mandir in Ayodhya, the government could be verging towards fulfilling another of its "core" pledges.
The Law Commission recently re-energised the issue of UCC by seeking comments from the public.
The 30-day window set for the purpose by the commission gets over on July 14.
Parliament's monsoon session is set to begin around the third week of July and if the government indeed brings the UCC legislation, it will ensure that the sittings, the first in the newly-inaugurated building, turn out to be a stormy affair.
PM Modi's pitch for UCC
On Tuesday, Prime Minister Narendra Modi had made a strong push for UCC, asking how the country can function with dual laws that govern personal matters.
Addressing BJP workers in Bhopal, PM Modi accused the opposition of using the UCC issue to "mislead and provoke" the Muslim community.
He asserted that the BJP has decided it would not adopt the path of appeasement and vote bank politics, adding that the policy of appeasement practised by some is "disastrous" for the country.
(With inputs from agencies)