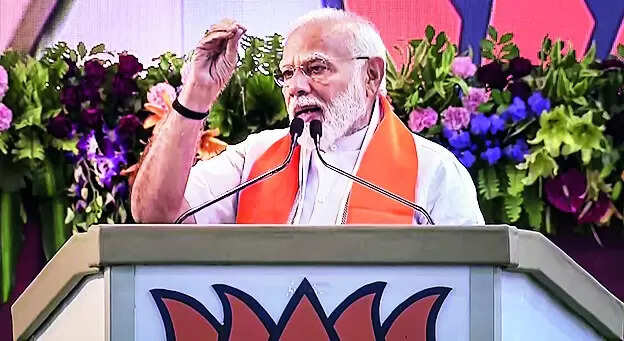 BHOPAL: The unity meet of opposition parties in Patna last week was merely their "compulsion" to save themselves from action against corruption, PM Modi told BJP workers in Bhopal.
"We saw the 2014 and 2019 Lok Sabha elections.
BJP's opponents were not as restless then as they are now
. Parties that used to consider each other sworn enemies…are now bowing down to do the 'sashtang pranam'," the PM said, responding to a question by a BJP member from Gujarat during a digital rally of party workers representing 10 lakh booths across the country. Referring to the meet, he added, "See the photo, all those parties that have come together, is the guarantee for corruption of at least Rs 20 lakh crore."
The 15-party opposition bloc's unity conclave in Patna last week was little more than a "flustered cabal of the corrupt" joining forces in their compulsion to save themselves from BJP's continued drive against graft and commitment to calling out their lies, including Congress's "Rs 20 lakh-crore guarantee of corruption", PM Narendra Modi said in Bhopal on Tuesday.
Modi interacted with 3,000 booth workers for more than two hours.
"It is clear from their (the opposition) restlessness that the people of this country have decided to bring back the BJP government. BJP's massive victory in 2024 is already determined, and this is why they decided that a few months before the parliamentary elections, they will get together to mislead the people," he said.
The PM named Congress, SP, RJD, NCP and NC as purveyors of dynastic politics that benefit only their progeny and extended families.
"You have to think and decide whose benefit you want? If you want the benefit of the son and daughter of the Gandhi family, then vote for Congress. If you want the betterment of Mulayam Singh's son, then vote for Samajwadi Party. And if you want the improvement of Lalu Prasad's family, then vote for RJD. If you want the progress of Sharad Pawar's daughter, then vote for NCP. If you want the advancement of the Abdullah heirs, then vote for National Conference. If you want to help KCR's daughter, vote for BRS. But my countrymen, if you want the progress of your son, daughter and grandchildren, vote for BJP."
Modi termed Congress's "guarantees" to voters in MP, where assembly polls are due this year, "a guarantee of corruption and scams".
"Today, a new word is being popularised. You may have heard about 'guarantee'. Repeatedly, they say 'guarantee'. It is a big responsibility of BJP workers to tell the people about this guarantee," he said. "A few days ago, there was a function (again referring to the opposition unity meet in Patna) for a photo-op. See the photo, all those corrupt parties… Congress's scams alone total more than lakhs of crores."
The PM told BJP's booth workers that the party "won't tread the path of appeasement" allegedly chosen by its rivals, working instead for the "satisfaction and 100% saturation of government schemes".
"If electricity is given, it will be for everyone. If water flows from the tap, then it will go to every home. There will be no discrimination between caste, creed or relatives. When there is no discrimination, there will be satisfaction, and that is the path we are treading."
Watch
PM Modi hits out at Opposition unity, says 'Corrupts joined hands to save themselves'