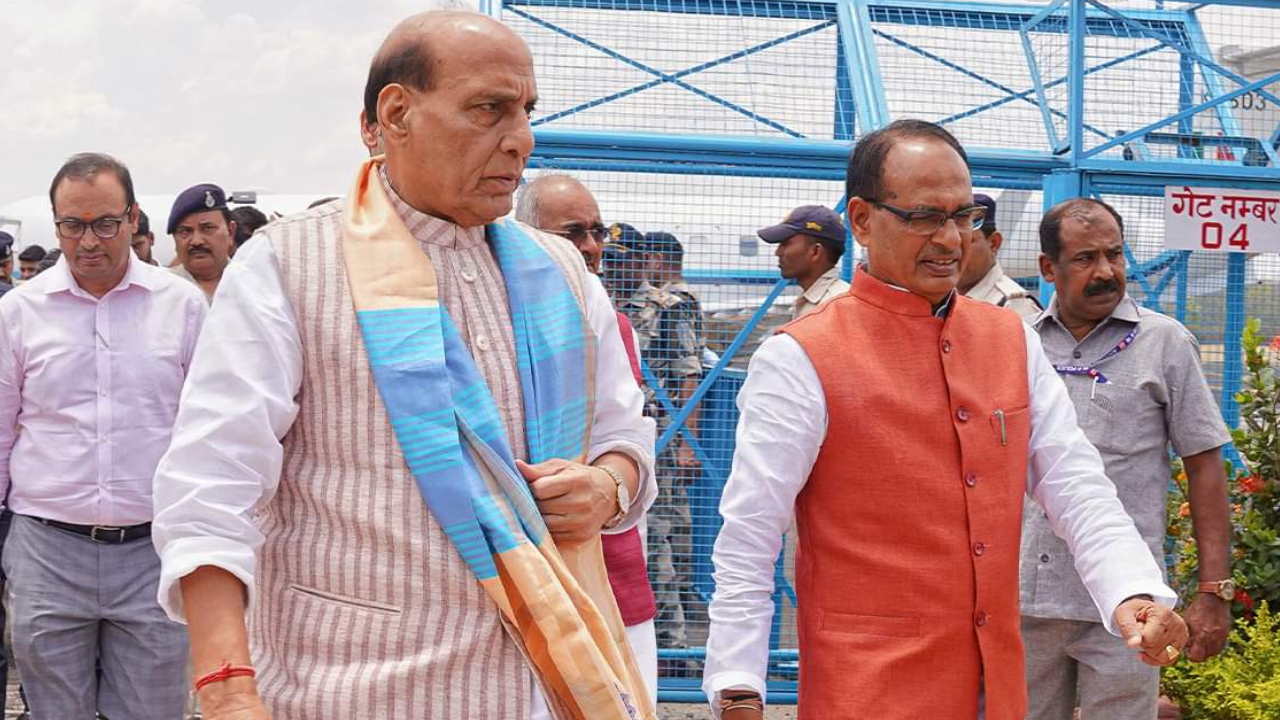 BHOPAL: Defence minister
Rajnath Singh
on Tuesday termed Congress leader
Priyanka Gandhi
Vadra a "mausami" (seasonal) Hindu without taking her name, a day after she offered prayers to Narmada river in Madhya Pradesh.
Addressing Kisan Mahakumbh or congregation of farmers at Rajgarh, Singh said India has become strong under the leadership of Prime Minister
Narendra Modi
"who is a man with the 56-inch chest, though the country follows the principle of not to attack first".
Singh alleged that Congress has been misleading the people, who should understand the reality.
"Now some people have become 'mausami' (seasonal) Hindus. Now Narmada ji's prayers are being performed before any programme. Why didn't you remember Narmada ji earlier? Why is Narmada ji being remembered now? If anyone has done the work of conserving Narmada ji, it is your popular Chief Minister
Shivraj Singh Chouhan
," Singh said.
Taking potshots at Congress, he said they are holding a public meeting with Lord Hanuman's gada (mace).
"Earlier, it was like a (proverbial) mountain falling on them (Congress) when we used to take names of Ram and Hanuman. The names of Ram and Hanuman had to be taken secretly. This is the same Congress which opposed when we had taken a resolve to construct the Ram temple in Ayodhya. We had to sacrifice four governments.. Now they have come to mislead the people by taking Hanuman's gada," Singh said.
On Monday, Priyanka Gandhi kickstarted the campaign for upcoming Assembly polls in Madhya Pradesh by offering prayers at the Narmada river, considered sacred by Hindus, in Jabalpur. Replicas of the gada (mace) of Lord Hanuman were also installed by Congress at the venue of her public meeting.
Singh said the BJP has promised to construct a Ram temple in Ayodhya, and according to information, the idol of Lord Ram will be consecrated on January 22 next year.
"Hanuman's gada exists where Lord Ram is," he said.
He alleged Congress has failed to fulfil promises made before the last Assembly elections in MP.
"Now, they are assuring five 'guarantees' afresh. They even didn't fulfil the first guarantee of waiving loans of farmers," the defence minister said.
He said India has become powerful in the world and no one can dare to challenge us.
"Terrorists from Pakistan had attacked Indian soil. After the attack, our prime minister called us and decided in 10 minutes. After that Army personnel went to the soil of Pakistan and succeeded in eliminating the terrorists," he said, apparently referring to the 2016 surgical strike beyond LOC.
"We have given a message to the whole world that India is no longer a weak India. We have that power within us that we can kill on this side as well, and if needed we can go and kill on the other side as well. It is the character of India," Singh said.
He said India has neither attacked any country in the world nor occupied an inch of the land of any country, which defines the character of India.
"This character remained because we consider the people living on the other side of the border as members of our family. We don't attack anyone. We don't disturb others but don't leave those who disturb us. Our Prime Minister has the 56-inch chest," Singh added.
On the occasion, Singh transferred an amount of Rs 2,000 each reaching to cumulative Rs 1,400 crore to the bank accounts of 70 lakh beneficiary farmers under the 'Mukhyamantri Kisan Kalyan Yojana'.
Chief Minister Shivraj Singh Chouhan said he had promised that the state government will deposit the interest accrued on agriculture loans of farmers who didn't repay as the then Congress government promised to write off their loans.
An amount of Rs 2,123 crore was transferred by the Defence minister as an interest to such farmers.
Singh also transferred Rs 2,900 crore of crop insurance to the bank accounts of beneficiary farmers.