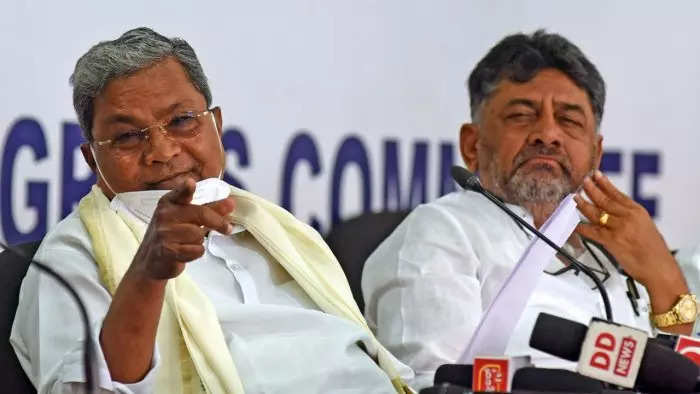 NEW DELHI: A remark made by Karnataka deputy chief minister D K Shivakumar could potentially put under pressure the delicate peace brokered between him and CM Siddaramaiah by the Congress high command to ensure that the party forms the government in the southern state.
While addressing an event in Hassan district, Shivakumar said: "Many people suggest the construction of tunnels and flyovers in the state.In the previous Siddaramaiah government, they wanted to build a steel bridge, but there was a massive uproar over it. At that time Siddaramaiah got scared and backed down from the project."
"If it were me, I wouldn't have succumbed to the noise made by protesters and gone ahead with the project," he added.
Asked about Shivakumar's remark, Karnataka minister Priyank Kharge said: "I wouldn't say that Siddaramaiah got scared. The CM is sensitive to public opinion … Sometimes false narratives get floated and good decisions are delayed. I think that is what the Dy CM meant."
After registering a resounding win in the Karnataka elections, the Congress was thrown into a tizzy as both Siddaramaiah and Shivakumar staked claim to the CM's post. After numerous rounds of talks, Shivakumar was convinced into stepping down.
Both leaders have put up a united front since the government was formed but the BJP has repeatedly stated that it was just a matter of time before the cracks widen and the government is toppled.
(With inputs from agencies)